We accept the Challenge to be a Healthy City!
By Courtney Restivo Wollard
Did you know that not eating enough fresh produce can lead to poor health problems such as obesity and heart disease? Data shows McLennan County residents don't eat enough fruits or vegetables.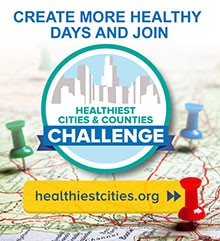 Wacoans are making great strides to eat more fruits and vegetables, so we have been accepted as one of 50 communities to compete in the National Healthy Cities and Counties Challenge to increase healthy eating of fresh produce in order to improve the health of residents. The challenge is a partnership between the Aetna Foundation, the American Public Health Association and the National Association of Counties and will allow for winners able to show measurable change over the course of several years to be awarded prize money for their community.
We plan to show measurable change by addressing the Healthy Behavior Domain, one of five health domains to choose from, to increase fruit and vegetable consumption in two years by implementing or expanding six programs:
Offering monthly cooking demonstrations at our local farmer's market,
Offering Healthy Soul food and Tex-Mex demonstrations at community centers and churches,
Adding more locations for The Veggie Van,
Working with local farmers to get more fresh produce to our food pantries,
Working with Mission Waco to open a non-profit grocery store featuring low cost healthy foods and nutrition educators on staff, and
Starting a Community Health Worker Program to connect residents to healthy resources.
The challenge comes at a critical time for Waco. Based on the 2013 Community Health Needs Assessment, 65.7% of adults in McLennan County were considered overweight or obese, and 51% were not eating the recommended servings of produce.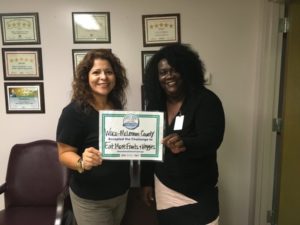 The nine local partners involved in Waco's Healthiest Cities Challenge are Baylor University, Caritas, Live Well Waco, Mission Waco, Waco Downtown Farmers Market, Waco Foundation, City of Waco, Waco-McLennan Public Health District, and the World Hunger Relief Veggie Van.
Waco-McLennan County has accepted the challenge to eat more fruits and veggies! Try to challenge yourself and your family to eat more fruits and veggies!
To learn more about the Challenge, please visit www.healthiestcities.org.
To see the 50 communities selected, click here and find Waco-McLennan County's section here. 
---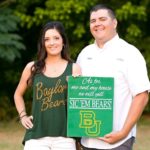 Courtney Restivo Wollard is a lifelong Waco resident who works as Public Health Education Specialist Lead at the Waco-McLennan County Public Health District and serves as Chair for Live Well Waco, the group working to decrease obesity rates under the Prosper Waco Health Committee Initiative. She is also an alumnus of the Waco Foundation LeadershipPLENTY Institute. Courtney graduated with her Masters of Public Health from Baylor University and right away began her career as a health advocate. She is married to Kyle, with whom she has two fur babies – a Chihuahua and a Labrador. Courtney hopes to continue to create healthier environments for McLennan County residents filled with healthy eating and physical activity opportunities.
The Act Locally Waco blog publishes posts with a connection to these aspirations for Waco. If you are interested in writing for the Act Locally Waco Blog, please email [email protected] for more information.
(Visited 15 times, 1 visits today)