National Pregnancy and Infant Loss Remembrance Day: The Face of the One in Four
by Dena Quigley
October 15th is National Pregnancy and Infant Loss Remembrance Day.  Did you know?  Five years ago, I was completely and blissfully ignorant.  But since then I've learned that one in four women will have a pregnancy that ends in either a stillbirth or a miscarriage… one in four!  That means when I go to dinner with three friends, one of us should expect such a loss.  Multiply that by several tables of women and this number quickly increases.  It's an unpopular conversation starter for sure, but occasionally we need to be made uncomfortable so that we can be made aware.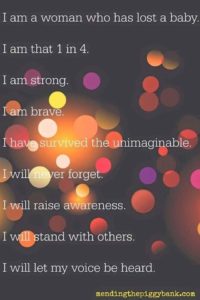 Jay Neugeboren writes, "A wife who loses a husband is called a widow. A husband who loses a wife is called a widower. A child who loses his parents is called an orphan. There is no word for a parent who loses a child. That's how awful the loss is."  As a mother who has lost her daughter, I can relate to his words and I can attest to the loneliness that comes with such a loss.  At Cradled, we often refer to the loss of a pregnancy as a "silent sorrow."  Not everyone can or is willing to relate to such a loss.  I've had friends literally and figuratively turn their backs on my grief, leaving my husband and I to not only pick up the pieces of our tattered hearts, but to seek out and find new community.  I am fortunate that I found Cradled by Love, Hope and Healing, a local group that provides support and resources for women and families experiencing the loss of a baby through miscarriage, stillbirth, early infant loss, and infertility.  They gave me shelter to express my fears and sadness, and the support and love I needed to move forward.
At Cradled, we are not happy to meet you or have you attend a support group, because that means you have suffered as no parent should suffer.  But we will meet you in your grief and loss and walk with you through your journey.  We offer empathy, and are willing to climb down into the hole with you, partake in your silent sorrow, and share our experiences along with other practical techniques to help ensure that you won't be in the hole always.  For some families this journey is relatively short, and for others who come to Cradled, we walk a mile, and then a mile more, and another if needed.  It is an honor to be with them.
To the other three women who never experience a loss, we, the one in four, celebrate your successful pregnancies with you.  You deserve happiness and joy through the life of your baby.  All we ask is that you do not forget our babies.  Our babies meant just as much to us as yours do to you.  We understand that it is difficult to know what to say, but sometimes "I'm sorry, I will always remember" is just enough.

If you, or someone you know, is one in four, please know that Cradled is here for you. If your loss was yesterday, last year or last decade, we are ready to listen to your story.  Please visit our website at Cradled.org for more information about upcoming events and support groups.
---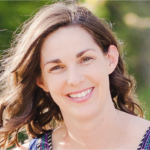 Dena Quigley is a recent graduate of Baylor University having earned her PhD in Education.  She is a wife and a mother of two beautiful boys on earth and a daughter in heaven.  She has been a volunteer with Cradled by Love, Hope and Healing since 2013, and regularly co-leads support groups and is currently help to develop new curriculum.
The Act Locally Waco blog publishes posts with a connection to these aspirations for Waco. If you are interested in writing for the Act Locally Waco Blog, please email [email protected] for more information.
(Visited 69 times, 1 visits today)