A Space for Grace: Shepherding a City
By Leslie King
In the early 1990s I lived on the South side of Chicago.  Safety was an issue, so I did what people sometimes do: I went in search of a dog.  At the Chicago animal shelter I met Lucky.  She was a young Shepherd/Collie mutt.  There was something about her…the commanding ears, the dark serious eyes.  I thought, "She will keep me safe."  We became regular features at the seminary courtyard that doubled as a dog park several times a day.
When new dogs came to the dog park, Lucky greeted them from head to tail and ran around them as if blessing their presence.  She would do a victory lap around the perimeter for each dog who entered.  She did this for three years; each and every dog received her shepherding attention.  Her shepherding instinct is a beautiful memory for me.  She took in whoever arrived.  There was some crazy diversity at the dog park.  Lucky shepherded the diversity as it arrived.
First Presbyterian Church, like any downtown congregation, has had to have a similar discipline.  Diversity has risen up around our congregation over its better than 150 years.  Not too many years ago, we had a decision to make in the midst of urban blight and sprawl.  The question was, would we continue our ministry in this location or would we find greener pastures?
Even though there were more vacant buildings than occupied, and there was no promise of an uptick in its economy on the horizon, we chose to stick with downtown Waco. First Presbyterian stayed committed to the complex and diverse urban environment.
Years later, things are booming.  It's so very exciting to see the development and expansion.   We have stayed mindful of the growing pains as development increases values and taxes.  We have held in prayer those who live in poverty, our neighbors at Talitha Koum and Mission Waco, who have settled into an urban core only to experience displacement as it develops.  As Waco took off, we knew that sooner or later the issue of how to shepherd in this city would come knocking on our door.  And it has…literally…
A real estate developer dropped by the church office one Monday morning asking to speak with me.  We were not very far into our conversation when I realized that he was not coming to tell me about changes in the neighborhood.  Rather he was coming to invite me/us to help make some changes happen.   He looked at me with bright and twinkling eyes and said, "For a mere $200,000, we can simply make Oak Lodge go away!"
Oak Lodge is the Motor Inn across the street from the church. I wouldn't be surprised to hear some call it a "flophouse."   It is an example of the diversity that has arrived as the city has risen up around us.  In our attempts to get to know and understand the people at Oak Lodge, we have appreciated the consultation of Jimmy Dorrell, who has cautioned us as middle class Americans.  He has cautioned us about our intent to change people or transform them.  He has said to me on more than one occasion, "Don't try to fix all their problems; there are agencies who are working on that.  Just begin learning their names.  Look them in the eye and recognize their humanity so that they can recognize yours."   In other words, attend with a shepherding instinct that honors and gathers those who arrive to your shared space.    He has been a good guide and friend to us because there are threats to the shepherding instinct.
A first threat has to do with our self-understanding.   It is very tempting as church folks to understand that we are the flock to be cared for and guided.   And that might be true inside the sanctuary walls, but beyond those walls we need to recognize that our true role is as ambassadors of the Shepherd.
A second threat is in regard to how shepherds work.  It's why Lucky is a helpful image to me of shepherding.  You see, I am so often tempted to imagine that a shepherd shops for and selects the sheep. That there are some sheep that are suited to a flock and others that are not.  It is humbling to remember that God as Shepherd does not preselect but welcomes and honors all.
So, Oak Lodge becomes a part of who we shepherd, and in so doing we learn from them.   We learn about the complex of problems that mire people into difficult, even intractable, situations.  Carefully and prayerfully, we take what we know from the challenges at Oak Lodge and we move into places where there is leverage and power for change, for example our partnership with Alta Vista Elementary.
Thanks to what we have learned from our friends at Oak Lodge, we arrive at Alta Vista taking seriously the threat that there are pipelines to prison, and holding onto our belief that the school is situated as a gateway for health, self-esteem, well-being and a promising future.  Having learned from the neighbor whom we have sought to shepherd and by whom we have been shepherded, we arrive to Alta Vista with the shepherding instinct intact.  We are ready to welcome, guide, instruct, encourage and receive inspiration from the children.   We bind up their hope and ours.  We bind up their confidence and ours.  We bind up their will and ours.   At the same time, we loosen the bondage of their fear and ours.  We loosen the bonds of uncertainty and despair and in so doing we feel confidence and hope in the smallest achievements.
Around our little lot of land at First Presbyterian Church we have been privileged by neighbors who are postured to teach us if we are willing to learn.  If we are willing to say "come to the party and tell us what you know, good bad and ugly," if we stand alert and ready, then the church continues to be built in the only way it has ever been built, by building up others because we love God and believe in Christ.
---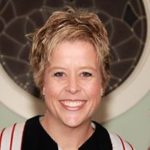 This week's Act Locally Waco blog post is by Rev. Dr. Leslie Ann King of First Presbyterian Church, Waco.  Would you like to write for the blog?  If so, please email [email protected]. We would love to hear your thoughts on making Waco a great place to live for every person of every level of income.