Group W Bench: A Movement to Get Rid of Litter in Waco
By Bruce Huff
"Fined $50 For Littering!" This is the catalyst for the song "Alice's Restaurant Massacre," written, recorded and experienced by Arlo Guthrie in 1967 during the VietNam War, and played as a cult song on Thanksgiving Day, every year since without fail.
I'm not sure the song's message means more to me as someone who enlisted in the military because of the threat of prosecution, or because the hero of the story got a littering fine of $50. I got over the enlistment pretty fast, but the littering… not so much!  Mind you, I am not the tidiest person around, but I HATE LITTER! I'll go out of my way if I see an accumulation of trash.  We, have made this trash. We purchased every piece of McRib wrapper, every napkin, every sack to bag your lunch, the cardboard box that blew off the top of our trash truck, the cigarette butts thrown in the curb and stay.  Somehow, all this trash we see is created. Somehow, all this trash never gets picked up. Somehow, a Christmas tree sits dead all year on the island at Valley Mills and Waco Dr. in front of the U-Haul store, since, yes, Christmas.
Multiple Sclerosis forced me to retire early as my balance and fatigue were playing havoc on my day-to-day activities. That gave me time to help my city: Waco, Texas.  I was born here 64 years ago. Waco was trashy then….sadly, Waco is trashy now. Just look out of your window, Trash at the next traffic light. Trash right across mansions on Ridgewood Drive. Trash in our river. Trash in our river. Trash in our river….Every day I look around downtown, the highways, alleyways and neighborhoods where I saw trash, litter, open dumpsters…it's so bad that when it rains, the Brazos River dumps literally tons of waste. Who cleans all this mess?  For the past two years, I have been ambling along, with my cane or mobility scooter, in a vacant lot, along the river, or in neighborhoods picking up your trash, our trash.
Finally, I realized it was just senseless to do this on my own, so I went to City Council with my "Wild About Waco" tee shirt and proclaimed, "I am Wild About Waco but not wild about our trash!" Like magic, they tripled the budget for downtown cleanup! So this is how the wheels of government work! A friend asked if she could join me, so we brainstormed one day about how we could organize a group of Senior Citizens to show our community- to make a social statement.  Then, Alice's Restaurant came to mind and we decided to call ourselves the "Group W Bench."
In the song, Arlo is sent for evaluation as he is a malcontent, arrested for littering. The induction center put him on the "Group W Bench" with all the other malcontents for creating a nuisance, and he was asked, "Son, are you moral enough to join the Army after committing your special crime" of littering… Littering?
Later on in the song Arlo belts out, "Let's start a movement! Sing a bar of Alice's Restaurant, then another…before too long the whole country will feel like I did way back then."  We are starting an anti-litter movement in Waco, Texas! Thanksgiving Day is the 49th Anniversary of Alice's Restaurant Massacre. On the Saturday after Thanksgiving (November 26) The Group W Bench will assemble at Indian Springs Park Suspension Bridge to clean up part of our city, and events are planned to continue the vision. The City of Waco Director for Solid Waste feels public help is needed as the city doesn't have the resources. Do we wait for funding, or do we set an example now? The movement has started in Waco! It's time to change our attitudes about trash across the USA. What happened to "Give A Hoot, Don't Pollute"? What happened to picking up trash, pennies, soda bottles and straightening a neighbor's fence? LET'S START A MOVEMENT!
Please join us on the Group W Bench!  We are a group of senior citizens, church groups, Baylor fraternities, disabled and misfits who will gather on Saturday, November 26 from 12-3 Waco Suspension Bridge to clean our streets, one at a time! And remember, "You can get anything you want at Alice's Restaurant."
---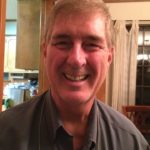 Bruce Huff has Multiple Sclerosis, is semi-retired and now an activist in Waco, Texas
The Act Locally Waco blog publishes posts with a connection to these aspirations for Waco. If you are interested in writing for the Act Locally Waco Blog, please email [email protected] for more information.