The church I grew up in is considering becoming "welcoming and affirming"
By Kelsey Leigh Ervi
On November 15, I received a message from my father. He had forwarded me an email he received from the church I grew up in. The church that helped shaped my faith. The church I was baptized in. The church I committed to Christ in. The church I left in the spring of 2007.
The email that my father forwarded me was regarding the upcoming congregational discussion and vote on revising the church bylaws. Attached to the email was a document entitled "Welcoming and Affirming Statement Packet." I knew immediately what that meant.
The church I grew up in has always been an open and inclusive place of worship. My parents neither of whom were of devout spirituality when I was a child, wanted to introduce my sister and I to God in a healthy and non-aggressive way. I think both of my parents saw the importance in allowing their children to discover their own beliefs and to navigate through faith in their own way and on their own schedule. This particular church provided that kind of environment and we all attended the church for many years. My journey through faith, however, was a rocky one. I stumbled on many questions and doubts, and in one area over and over again, an area that would go on to be the biggest journey of my life.
I have known I was gay since I was a young child, my earliest memories point to age 6. But it wasn't until I was 12 that I fully understood that being gay was considered different. That there was a status quo I no longer met. It was also at 12 that I truly recognized what fear was. For a young gay person in a conservative Texas town in 2002, fear was undeniable. And my 12-year-old self struggled through bouts of depression and identity crises, which meant I would remain closeted well into my teens.
Growing up gay in church was difficult as there were many contradicting statements being thrown my way from person to person. Growing up gay in America was difficult too, but over the last few years, things have been getting a lot better. Most notably the historic Supreme Court ruling that declared once and for all that everyone deserves the right to marry the person they love. I was in my office at work when the ruling went public. The final paragraph of the opinion that Justice Kennedy issued is written on my bedroom wall and has been since June 26, 2015. It's the first thing I see when I wake up in the morning and the last thing I see when I go to bed each night. It feels like a blessing.
In regards to the upcoming discussion and vote, I read through the "Welcoming and Affirming Statement Packet" in its entirety and was very moved by it. As I said, I've always known the church I grew up in to be  accepting, but to see the words written and to read the commitment this church wants to make to me and my LGBTQ brothers and sisters is something to be celebrated.
I know there are some who are concerned with the implications of disconnecting from the Baptist General Convention of Texas or the Waco Regional Baptist Association and, perhaps more seriously, to those worried about the response from Baylor, I understand their concerns, but I also ask them to reflect on Colossians 3: 12-16.
"Therefore, as God's chosen people, holy and dearly loved, clothe yourselves with compassion, kindness, humility, gentleness and patience. Bear with each other and forgive one another if any of you has a grievance against someone. Forgive as the Lord forgave you. And over all these virtues put on love, which binds them all together in perfect unity. Let the peace of Christ rule in your hearts, since as members of one body you were called to peace. And be thankful. Let the message of Christ dwell among you richly as you teach and admonish one another with all wisdom through psalms, hymns, and songs from the Spirit, singing to God with gratitude in your hearts."
Striving for what is right is the good of the Earth and sometimes we have to remind others of that. I hope this church and other churches will adopt "welcoming and affirming statements" because it is what is right and good.
Even when those inside a church are accepting and affirming it is still important to have an explicit statement. Many members of the LGBTQ community assume that they would not be welcomed in church and many of them have been rejected from their friends and families. I have felt this at other churches, and people I once considered friends disavowed me because of this one trait that speaks to the very core of who I am. A trait that speaks to the very core of what I love about myself.
In light of recent events, I find myself mourning the potential loss of the blessing I have written on my wall and other liberties that still feel new. I, like many of my LGBTQ friends, are afraid of what's to come and we will be seeking safe spaces and places with open doors and open arms. Our churches can be one of those places. The people of the church can make it so.
I will admit to you that I do not identify as a Christian. My decision to leave the church comes with many clauses, but my journey through faith did lead me to the ultimate belief that there is something bigger than myself and I will not attempt to know all the answers but I will do everything I can to ensure I live from a place of acceptance and respect. Two qualities of many that I find unwavering in my God. Your God and my God are alike in this, I think. My God is one of love, one of compassion. My God is open and inviting. My God is a really good listener. And my God believes we are imperfect beings whose curiosity and benevolence are two of our greatest strengths. I think your God is all of these things too.
---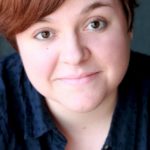 Kelsey Leigh Ervi is a Dallas-based multidisciplinary theatre artist. As a director, actor and playwright, Kelsey's work has been highly regarded by various publications including The Dallas Morning News, Dallas Observer, TheaterJones, and D Magazine. Kelsey's directing work is geared towards ensemble-driven texts, bare-bones storytelling, object-puppetry, and work of the queer voice. When she's not working in theatre, Kelsey can be heard talking about it. In November of 2015, she joined forces with two other Dallas artists and launched the Little Big Scene Podcast, a monthly podcast which serves to promote the past, present and future of the Dallas-Fort Worth theatre community. She currently serves as Associate Artistic Director for WaterTower Theatre in Addison, TX.
The Act Locally Waco blog publishes posts with a connection to these aspirations for Waco. If you are interested in writing for the Act Locally Waco Blog, please email [email protected] for more information.