WISD innovations that all Wacoans should celebrate: #1 – Terrific Dual Credit Opportunities
(WISD is working hard for the children in our community.  Today's blog post is the first in a series of five WISD innovations that every Wacoan should learn about and celebrate! — ABT)
Psst! Hey! Waco ISD eighth graders! Did you know that you can earn an associates degree, at no charge to you, BEFORE you graduate from high school?
Take a minute to absorb that statement.  A college degree.  No cost to you. Before you graduate from high school.
It may seem a little intimidating to start thinking about college classes when you are in eighth grade (or 9th, or 10th or 11th grade), but there are plenty of people at Waco ISD who want to answer your questions and help you succeed!  Why not check it out?  Dual credit could set you on a path that can save you a pile of college tuition money and open up all kinds of new opportunities for you.
If you were worried about how you were going to pay for a 2-year degree, you can do it while you are in high school at the district's expense!  WISD pays for your tuition and will even pay for the books and fees. Yes, you have to plan ahead and work hard.  But, Yes, it's very possible.   If you were planning on earning a four-year degree (or beyond), then you can basically get the first two years for free.  Who wouldn't want to do that?
"What? What?" you say, "Why didn't I know about this?" Well, it's pretty new.
Up until June of 2015, dual credit options were much more limited – you had to be in eleventh or twelfth grade, and you could only take a maximum of two classes per semester. But, Texas House Bill 505, which was signed into law in 2015, removed the restrictions on dual credit courses and opened the door to allow school districts and colleges to use state funds to help pay for dual credit classes. Then, in November of 2015, Waco voters ratified an additional tax to support WISD; part of that money is earmarked to help pay for dual credit. Lucky for you, Waco ISD has taken full advantage of these two changes to offer you a treasure trove of dual credit opportunities.  Your options include everything from taking a few classes here and there to completing an entire associates degree while still in high school.
Here are some of the possibilities:
Accelerate Early Degree program – This is a big deal! If you enter this program in ninth grade you can graduate with both a high school diploma and any one of several associates degrees from MCC including the following: Allied Health, General Business, Information Systems and Applications, Criminal Justice, General Science (designed to transfer to a four-year degree), Liberal Arts (designed to transfer to a four-year degree).
MCC + 1 Program – Through this program you can complete 18-23 dual credit hours during high school. This allows you to complete an associate's degree within one calendar year at MCC.  You don't have to start this one until you are a junior.
Just take a few classes – Not sure you want to plunge into a whole degree or certificate program while you are in high school? You don't have to.  But, you might want to take just one or two dual credit classes.  That is certainly a possibility as well.
Want to learn more about it?  The Advanced Academic Services Department at Waco ISD is working with the Waco Foundation to offer some student/parent workshops to give you all the details.  The next session is on November 29 and it's all about dual credit: What it is, why it is beneficial, how to enroll, and key deadlines to make sure you have the opportunity to take advantage of all the possibilities open to you. The ACCELERATE Early Degree program will also be explained in preparation for the December 1 opening of the application window.  Target audience: 8th graders, Freshmen, Sophomores, Juniors and their parents. Date:  November 29. Time:   6:15-7:15pm. Location:  Waco High School, 2020 N 42nd St., Performing Arts Center.  Even if you can't make the meeting, you can still get the information you need.  Get in touch with Scott McClanahan at Waco ISD.  Call 254-755-9473 or email [email protected].
Psst!  Hey! Waco community! I'm sure I don't have to tell you that people who earn a workforce certificate or college degree almost always end up making more money than people with a high school diploma or less.  The question is not whether our young people need that higher level of education, but how we can make sure they get it. It's a complicated question. Dual credit can certainly be part of the answer, and Waco ISD is one of the leaders in central Texas when it comes to making dual credit available to our students.  It is an innovation we should all celebrate.
Some our Waco ISD students face many barriers to obtaining a degree or certificate, but for some it's a matter of knowing the options available and having someone encourage them to take advantage of those options.   WISD is doing its part to make dual credit options available – let's do our part to make sure every student in Waco knows about the possibilities and has someone cheering them on and encouraging them to take advantage of all WISD has to offer!
---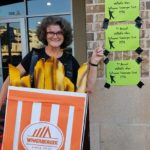 This Act Locally Waco blog post is by Ashley Bean Thornton, she works at Baylor, helps out with Act locally Waco, and facilitates the Waco Foundational Employment Network which is a part of Prosper Waco.  She likes to walk and doesn't mind at all if you honk and wave when you see her.
 The Act Locally Waco blog publishes posts with a connection to these aspirations for Waco. If you are interested in writing for the Act Locally Waco Blog, please email [email protected] for more information.