Join the Health Cities Challenge! Learn to cook a traditional Hispanic meal the healthy way!
By Courtney Restivo Wollard
As a follow up to a previous healthy blog post, I wanted to highlight one of the partners in the Healthiest Cities and Counties Challenge (HCCC) – The CenTex Hispanic Chamber of Commerce.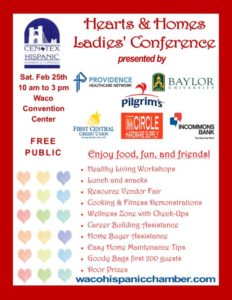 Throughout the years, the Chamber has hosted free family funfests and women's conferences during the month of February. This year, the event will focus on empowering women's health, heart, soul, family, and home.  It's called the Hearts & Homes Ladies' Conference. The event will include several vendor booths to provide information on resources to the community including career building and home buying assistance, home maintenance tips, and a wellness zone plus door prizes! Lunch and snacks will also be provided. Something new this year that the Chamber will offer as a partner in the HCCC will be providing a healthy traditional Hispanic meal cooking demonstration and food sampling during the event.
If you didn't catch the previous blog about the Healthiest Cities and Counties Challenge, I will briefly describe its importance for our community. This is a national challenge consisting of 50 other communities (Waco-McLennan County included) all working to improve the health of their residents in many different ways. Communities could choose to improve on one of five metrics including community safety, built environment, social/economic factors, environmental factors, and healthy behaviors. Some communities are focusing on improving asthma rates for children, others are working to prohibit smoking in vehicles with children, some working to improve physical activity opportunities, and some are working on improving wastewater management. Waco-McLennan County will be working on the healthy behaviors metric more specifically increasing healthier eating and consumption of fruits and vegetables. The top communities at the end of the two year challenge (which began October 2016) that show an improvement in their metrics compared to baseline data submitted could win prize money for the community between $25,000 and $250,000 for our community tier.
All of that to say, it is important that residents know how to cook meals in a healthier way and learn how to incorporate more fruits and vegetables into their daily diet. That is where our partner, the CenTex Hispanic Chamber of Commerce comes in. They will be hosting three healthy traditional Hispanic meal cooking demos and samplings throughout the two year challenge in order to educate community members on cooking their favorite comfort foods in a healthy way and in a way that tastes great. The Hearts & Homes Ladies' Conference is where the first of the three cooking demos will occur. We are very grateful to have the Chamber join in this fun and healthy challenge and we challenge you to eat more fruits and veggies! Be sure to attend the event on February 25th 2017 at the Waco Convention Center in McLennan Hall from 10am-3pm so you can be a part of the Healthiest Cities and Counties Challenge!

---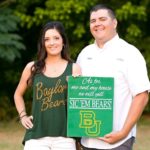 Courtney Restivo Wollard is a lifelong Waco resident who works as Public Health Planner at the Waco-McLennan County Public Health District and serves as Chair for Live Well Waco, the group working to decrease obesity rates under the Prosper Waco Health Committee Initiative. She is also an alumnus of the Waco Foundation LeadershipPLENTY Institute. Courtney graduated with her Masters of Public Health from Baylor University and right away began her career as a health advocate. She is married to Kyle, with whom she has two fur babies – a Chihuahua and a Labrador. Courtney hopes to continue to create healthier environments for McLennan County residents.
The Act Locally Waco blog publishes posts with a connection to these aspirations for Waco. If you are interested in writing for the Act Locally Waco Blog, please email [email protected] for more information.
(Visited 16 times, 1 visits today)