"Mighty Med" after school program has a mighty impact on Middle School Students!
By Victoria Ette
Jordan Haynes is a 14-year-old 8th grade student at Indian Spring Middle School in Waco ISD. He was born and raised in Waco, and loves the downtown area. He says that if he could, he would spend all of his time there adventuring and partaking of the many things that there are to do downtown. He is a member of the Mighty Med Club, which is an afterschool program offered by Indian Spring Middle School. It is led by Baylor's Multicultural Association of Pre-Health Students. Although Jordan wants to attend school at Texas A&M University and pursue a career in photography, he says that the Mighty Med Club has taught him a great deal about the realities of college life and what it takes to pursue his dreams. Jordan enjoys the mentoring relationship he has with the Pre-Health Students, and he loves to proclaim, "Baylor is bringing Waco back to life!"
"Pre-Med Club" is an after-school club that springs from Baylor University's Multicultural Association of Pre-Health Students (MAPS) Pipeline Program. The objective of the Pipeline Program/"Pre-Med Club" is to introduce students to medicine early on in their academic careers so that they may acquire all the necessary knowledge and resources upon matriculating into high school. This will enable them to excel in a curriculum (and engage in extra-curricular activities) to best prepare them for a post-secondary education and their future careers.
The club aims to expose students to diversity in the healthcare field, introduce students to medical professionals of various backgrounds, to teach and mentor students about the medical field, and give them support in how to excel in their academic careers. We are especially excited to reach minority students, a population also reflected in the MAPS members, because we recognize the power of representation. Seeing someone like oneself reflected as a positive role model, particularly in the face of prejudice, discrimination, and underlying systemic prejudice is powerful in its effect to validate one as a human being.  Exposure to successful college students and future professionals makes one's goals seem much more obtainable. Finally, we want to instruct students about medicine in a way that is fun, interactive, relevant, and impactful.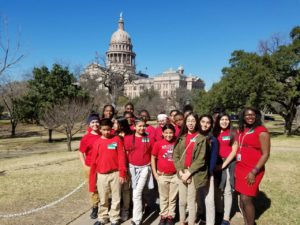 The after-school program was launched in the Fall of 2016 at Indian Spring. Kattina Bryant, Indian Spring After School Program Manager, said that the Pre-Med club has been an opportunity for WISD students to realize there is no limit to what they can achieve. The Indian Spring students are excited about learning with a different focus. When we went to the State Capitol for the Go Red Event through the American Heart Association, students had the chance to connect the lessons learned in the club with information about preventing heart disease and stroke. The learning is relevant and the students are highly engaged.
Jordan and his friends enjoy learning about the human body and how their own bodies function. He says that he has always been curious about medicine, how it is made, and how it is distributed. Jordan's favorite experience so far in Mighty Med Club was when Dr. Barry, a local pediatrician in Waco, came to speak to the Mighty Med Club students. He thought that it was inspiring to see a male African-American physician working in a professional field such as medicine. Jordan's take away from Dr. Barry's presentation is that "even though we as African-Americans are sometimes looked down upon, we are still able to rise to the top and follow our dreams." Jordan states that Mighty Med Club has allowed him to see that even though college will be hard, he is more than capable of succeeding at the university level.
---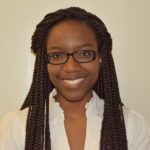 Victoria Ette is a senior at Baylor University pursuing a bachelor's degree in Biology. Victoria has been a champion supporter of Waco ISD, and a tutor for Communities in Schools and Waco High School. She has led Service Learning projects at Cesar Chavez Middle School and initiated the Pre-Med Club at Indian Spring and Carver. She plans to attend medical school after graduation.
(Visited 44 times, 1 visits today)