RiverSounds Concert Series Returns to Bosque River Stage
by Candice Kelm
For over five decades, McLennan Community College has established and pursued its mission to engage, educate, and enrich its community. MCC's Visual & Performing Arts division takes the mission to heart in providing numerous performances throughout the year by students and professional artists in the College's state-of-the-art performance facilities. RiverSounds, the annual free outdoor concert series, is a prime example.
RiverSounds is held on Thursday evenings each June at the Bosque River Stage, a 350-seat amphitheater nestled along the banks of the Bosque River. The venue features stadium-style seats along with lawn seating where patrons can relax and enjoy the performances of their favorite local and regional artists.
The 2017 RiverSounds lineup will include four nights of outstanding performers from various musical genres and is sure to provide something enjoyable for everyone.
We kicked of the season last Thursday with Grammy Award nominee and legendary barrelhouse boogie and blues lady Marcia Ball. According to the B.B. King Blues Club & Grill where this legend has performed several times in the past, "The Texas-born, Louisiana-raised musical storyteller's groove-laden New Orleans boogie, deeply soulful ballads and rollicking blues have won her an enormous, loyal and still-growing fan base." What a great way to start the summer!
The Purple Hulls will open the June 8 concert. Identical twins Katy Lou and Penny Lea Clark, from the deep piney woods of East Texas, will entertain guests with their repertoire of Bluegrass Gospel tunes. The night will continue with Contemporary Christian music along with Praise and Worship by Antioch 'Live'.
Eclectic fun music will take center stage on June 15 with the MCC Faculty Jazz ensemble opening for Brave Combo. MCC's Faculty Jazz ensemble performs original compositions and standards from a wide variety of musical styles. Brave Combo brings a mix of everything from Japanese pop and Latin American dance tunes to orchestral classics and rock and roll.
Country and Americana will be featured on June 22 with local ladies Kayla Ray & Jonna Mae opening for Bruce Robison & Kelly Willis, the "King and Queen of Americana Country." Austin City Limits said of these local icons, "If Austin's happily egalitarian music scene suddenly switched to a monarchy, Bruce Robison and Kelly Willis might have to learn to perform while balancing hefty crowns." (http://acl-live.com)
Admission is free to all RiverSounds concerts. Gates will open at 7 p.m. each Thursday evening with the first band taking the stage at 8 p.m. Blankets, lawn chairs, food, and drinks are welcome, but no glass containers or pets are allowed.
---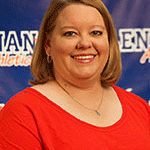 Waco native Candice Kelm has served as the Sports Information Specialist for MCC Athletics since 2006 and lends a hand as a writer to the Marketing and Communications department. She received her bachelor's degree in education with an emphasis in journalism and business from Baylor University in 2002.