Collective Enthusiasm Makes our Community Thrive
By Kimberly Trippodo
I moved to the Waco area from Austin two years ago July 1. Prior to that, I lived in Washington DC and other similarly large cities. I saw urban centers as a sort of adult playscape, featuring subcultures to try on for size and see if any stick as community. I care deeply about non-judgement and respect for people's self-determination, and large cities provided me with a huge range of culture, identities, and backgrounds to embrace.
When I moved to Waco, I was at the peak of a life that was quintessentially Austin. My first home in Austin was an art commune, which I shared with a writer, a couple painters, a photographer, and a carpenter. My favorite pastime at that home was playing my violin in living room jam sessions. My calendar was always packed to the gills with Austin art and nature events. On any given weekend I might participate in a hill country camping trip, a spontaneous concert in abandoned buildings and drainage piping to enjoy the acoustics, a warehouse dance party, a spoken word coffeeshop, an aerial art production, a hula hoop drum circle, an art or music festival, an effigy burn with glorious pyrotechnics, a costume birthday party, a city bike ride, a hippie swim in a natural watering hole, a hike or spelunking adventure, and more. I loved having such an arrayed tapestry of easily accessible events.
Austin was a place I felt more accepted & more free to explore, while connecting with closer community and chosen family than anywhere I lived prior. At the same time, city subcultures have the luxury of choosing exclusivity because there is a vast number and personalization of the alcoves for each talent, interest, and identity label. There is a collective acceptance that one may try a subculture on for size and be met with, "You're not exactly what we are looking for here. You're not ____ enough." I experienced that exclusivity from time to time. I believe in safe spaces for specific identities to experience cohesion, and I believe there is always someone out there more talented and/or fitting, so I was very understanding of this exclusivity.
Probably one of the moments this exclusivity was the most vivid was when I was trying to learn to play bluegrass fiddle in Austin. I played violin most of my life, from first grade through my senior year in college, and I was trying to learn a new style as an adult in Austin. I carefully prepared a piece to demonstrate my abilities and went to Fiddler's Green to take a lesson. My instructor was someone who played multiple instruments in many bands locally, who wore a leather jacket, who had a kind of hungover, tragically hip presence. He listened to me play and without a moment's pause mumbled in a raspy voice through his thick beard I was "too classically trained," to be able to play bluegrass. I remember having a moment of, "Who are you to tell me that?" An internal rebellion, which would prepare me for my life in Waco, was emerging.
My move to Waco was not the most graceful of transitions. I found people I connected with right away, but I struggled to find experiences I craved. I tried to stay positive and find purpose, but it took a lot of effort and focus to land in Waco. My then fiancé, now husband was more than patient as I constantly edited our schedule in, "Let's try this," fashion. Fortunately, my stepson has an adventurer's heart like me and enjoyed all our community explorations.
At the start of this year something clicked for me. I made a New Year's Resolution to "be a good neighbor" and figure out exactly what that meant in my current home. Mostly lately, that means contributing my abilities to create a vibrant artistic and culturally diverse home. Waco is an up and coming city. People from all walks of life are moving here. My husband and I hope to create a venue and possible living space in which artists can gather. I just began bluegrass lessons with Tabitha Hymer, in hopes of creating music again and collaborating with other musicians. This year will mark my second year of participating in Ekphrasis, a downtown display of the paired works of visual arts and musicians. Jenuine Poetess, host of In the Words of Womyn and Shay MacMorran, Graphic Designer at the Waco Tribune are the lovely friends who connected me to this event. I recently took an interior design class with Leslie Myrick and a bed & breakfast class with Rick Allen, through MCC's Adult Continuing Education program, which expanded our horizons in considering spaces for artists to gather. My mother-in-law, Lee Trippodo, is helping me learn to sew. She recently gave a sewing machine to our church, in support of an effort to teach women how to sew in third world countries as a form of economic independence for them. These are just a few of the examples of beautiful people and inspiring efforts everywhere.
Yet another example, a few weeks ago, I had the opportunity to attend the Public Deliberation Initiative Conference at The Mayborn on Baylor Campus. Ashley Bean Thornton was the opening presenter at the event, and she said something which represents my experience now perfectly. She invited us to not be mere consumers of Waco, but to "live in a state of optimistic discontent, with the constant inquiry of 'how can I make my community even better?'" In one sentence, she encapsulated the journey I am embarking on, in my new home.
Living in Waco caused me to grow up and "do" in my artistic participation. While in the past I would often wait to be "voluntold" or would step meekly aside if I was not seen as perfect for the job, in Waco I am learning I must be brave enough get in there, try my best, and actively support the growth that is happening. We need to figure out how to use our gifts to make it go, whether or not we can create the most perfect version. I am learning to participate more widely, instead of limiting myself to the alcoves of subculture which most reflect my identity, and in shedding those limitations, I feel challenged to expand outside my comfort zone, more myself, and happier. I am learning a new form of inclusive volunteerism here. I am not pretending I have the time to attend everything Waco has to offer, but I am a vocal supporter of events, an optimist about what is next for our city, and one who will devote as much creative energy as possible to get efforts off the ground. There is an amazing bouquet of everything from nonprofit to small business, from secular to faith-based, from antique to modern grassroots initiatives. We have so much potential, so many newly emerging and smaller scale opportunities which need our support to get going. It takes our collective enthusiasm to make community thrive.
---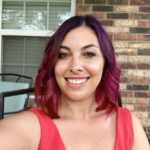 Kimberly Trippodo is a social worker in the Waco area. She always had a passion for writing. She writes fiction, poetry, creative prose, policy analyses, and blog posts. Her other modes of creative expression are playing her violin and participating in art collaboration events and festivals. She assisted in founding Journal to Save Your Life, a nonprofit providing an online therapeutic art outlet to youth. She loves the connection and closeness of the art community in Central Texas.
(Visited 37 times, 1 visits today)