College Insights: Challenges – They Are Inevitable
By Dasjaevian Dixon
We all face certain challenges in college. I struggled consistently with time management and finding study strategies that worked for me. But, I am now more strategic and resourceful in overcoming those struggles.
I was not working during my first year of school at the University of North Texas. That allowed me to have extra downtime to enjoy my experience as an incoming freshman. As a freshman, I had plenty of time to take care of my academic studies, socialize, and participate in extracurricular activities. However, that time swiftly diminished the following year.
I started my first year-round job as a college student the fall of my sophomore year. I was enrolled in 15 credit hours, working 25 hours a week, and involved in 3 organizations. This is when time management started to become vital to my success in the classroom as well as my physical health. I was moving around during the week so much that I forgot to stop and eat sometimes. I was worried about accomplishing everything that I committed to do.
Balancing my priorities and allocating an appropriate amount of time to each responsibility was a huge challenge. I started using my planner more often than I did the previous year. That helped me keep up with work and due dates. It also helped me organize priorities. That, along with the help of my mentors, allowed me to get through the semester without being overly stressed. My mentors assisted in keeping me level headed by providing positive feedback. I am very appreciative of what they have done for me thus far.
When I have felt discouraged, my family and mentors have been there to encourage me. Having a strong support system has been a valuable way for me to overcome challenges dealing with time management. Transitioning from one semester to another is easier now. However, there is always room for improvement.
Studying and taking exams sometimes bring anxiety. I have not always been the best test taker. First exams are usually more difficult for me due to not knowing what to expect, the format, etc. The lower level courses generally didn't require me to study as much as I have to for higher level courses now. It has been difficult for me to adopt a specific study routine, because all of my courses vary in regard to concepts and material that we are tested over.
Some classes require more focus than others. As I start my last year as an undergraduate, I have learned that studying for at least 30 minutes to an hour after class can help me retain information more thoroughly. Unfortunately, most days require me to put a lot of focus on my job and organization activities. Remember that balance?
Now, studying is more efficient when I plan a week in advance before an exam instead of waiting until a few days before. The challenge of finding an effective study method has made me embrace planning. When I study efficiently for a short amount of time, I do better than when I study for an extended amount of time during a two or three-day span. This has allowed me to pace myself and figure out what I need to change to see better exam results.
Challenges allow us to learn and grow. They are inevitable. You can either look at it from a positive or negative perspective. I have chosen to use them as learning tools to become a better student and person. I have shared my insight in an effort to motivate other students to embrace and overcome the challenges they are faced with throughout college. Learning is everlasting.
---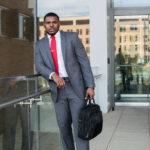 Dasjaevian Dixon is an undergraduate student at the University of North Texas studying Marketing with a double minor in Decision Sciences and Psychology. He is currently interning at Walt Disney World in Orlando, Florida. Dasjaevian is a Brazos Education Foundation scholar. He currently serves as the Vice President for The Presidential Men, an organization he helped implement at UNT. He also assists with helping grant the wishes of children with life-threatening medical conditions for the Make-A-Wish Foundation. Owning his own business in the future is one of his top goals. As a millennial, he is building on his personal and professional skills to become a valuable asset in the business field.
The Act Locally Waco blog publishes posts with a connection to these aspirations for Waco. If you are interested in writing for the Act Locally Waco Blog, please email [email protected] for more information.