Health terms everyone needs to know: Advance Directives and Palliative Care
By Glenn Robinson
Given the complexity of today's health care system, weighing options and making treatment decisions are difficult enough as it is.
While we are all grateful for the wonderful doctors and nurses who work long hours and go above and beyond for their patients, often it is family caregivers who are the unsung heroes of health care.
They are the ones who provide the relentless daily support for their loved ones who cannot care for themselves because of frailty, illness, injury, or disability. Their care is critical to sustaining or greatly improving life.
Being a family caregiver is the very definition of 'labor of love.' Spouses who act as the primary family caregiver bear an enormous burden. They routinely perform complex tasks virtually identical to what doctors or nurses perform in a clinic, such as medication management, wound care, using meters and monitors, and much more.
Making the job even more difficult is that more than half of spouses report no additional help from family or friends or home care aides, and three out of five caregivers also are members of the traditional American labor force.
And the cost of informally caring for particularly the elderly by friends and relatives in the United States? More than a half trillion dollars per year, according to one study, with Americans spending an estimated 30 billion hours annually providing care to elderly relatives and friends.
When a loved one is seriously ill – perhaps even dying – the decision-making process for the patient and his or her family becomes that much more difficult.
Too often, though, those decisions are not able to be made by the patient when the time comes. Rather, it becomes a burden that falls on a loved one – but it doesn't have to be that way.
Advance care plans, which include advance directives, attempt to take the guesswork out of figuring out a patient's wishes and values about end-of-life care while they are still of sound mind.
Advance directives are legal documents that establish guidelines for what treatments patients should or should not receive. They can lift the emotional burden off of loved ones responsible for making care decisions, because it is clear what the patient wants.
Both a living will and a health care power of attorney are types of advance directives. Unfortunately, a recent study found that just 29 percent of Americans had completed a living will that contained specific end-of-life care wishes, and only 33 percent had designated a health care power of attorney.
A rapidly growing field of medicine called Palliative Care is helping patients and their family members navigate the complex decision-making process surrounding serious illness and end-of-life care.
Whether it's physical, emotional, or financial relief, Palliative Care is rapidly becoming a critical resource helping patients and families in difficult circumstances cope.
The goal of Palliative Care is to relieve a patient's disease symptoms and minimize the side effects of treatment regardless of long-term prognosis. Palliative Care specialists often help families and patients make difficult decisions about whether to use highly aggressive therapies, and sort through treatment options – aligning them with the expectations of the patient and their family.
Additionally, palliative caregivers provide comfort care – which is spiritual, emotional, and psychological support and guidance.
The efforts of palliative caregivers are producing tangible results. Research shows that Palliative Care patients report improvement in pain or nausea, better communication with doctors and loved ones, and care that is more in line with their wishes.
Not only does not having an advanced care plan in place add burden to family members during an already stressful and emotional time, but it's a burden on the health care system as well. The cost of care in the last week of life is 55 percent higher for those who have not had advance care planning discussions.
A Baylor Scott & White Health study showed that palliative patients and their families spend an average of $3,000 less in hospital costs than patients with similar conditions who did not receive such care, and these palliative patients often received not less, but better, care. This means having this very personal conversation is a decision that impacts all of us.
---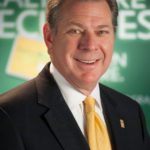 Glenn Robinson is the President of Baylor Scott & White Medical Center – Hillcrest. He has over 30 years experience in hospital and health care management, and currently serves on several Boards associated with the Texas Hospital Association and the American Hospital Association. In addition, Glenn is Past-Chair and an active member of the Greater Waco Chamber of Commerce, and serves on the Prosper Waco Board.
This report, and other episodes of "The Business of Healthcare," are available at KWBU.org. 
The Act Locally Waco blog publishes posts with a connection to these aspirations for Waco. If you are interested in writing for the Act Locally Waco Blog, please email [email protected] for more information.