Gardening Waco Part 1: What does it take to "be a gardener?"
(For the other parts of this series, click here: Gardening Waco. — ALW)
By Aime Sommerfeld-Lillard
Let's talk about gardens. I've had a lot of conversations about gardens lately. Backyard gardens, producing gardens, school gardens or community gardens… all kinds of gardens.
Hold on to your seats for this part. Imagine: to some people a garden isn't food or rows of vegetables!
That realization was a bit hard for me to swallow. I'll never forget walking along the Texas A&M campus one day with my niece Grace when she said, "Oh, look at that garden!" I saw a 4×4 planting of stoic pansies marching in obedient lines in the middle of a sea of concrete, but she saw a garden. Life changing realization from a 6-year-old! I grew up harvesting vegetables from the garden with my Nonna and taking them to the house for lunch.  Grace grew up watching her mom work with roses when her mom had time to spare. To me gardens were (still mostly are) food, and roses are a lot of work for something you can't even eat. But this experience did make me realize that I was missing a large piece of what it meant to "be a gardener."
As a researcher studying gardeners, this led me to stretch my thinking. I was curious what it meant to different individuals to be a gardener, or even what images came to mind when someone heard the word "garden." Were they the same for similar age groups? Did rural vs urban make a difference? This led me down the rabbit hole of attempting a qualitative study looking at reasons people may garden at different stages of their lives. Somewhere along the way that project morphed into hearing stories of some lifelong gardeners and the role gardening played in their lives.
As fascinating as this was (and I sincerely hope I still have those transcripts), it was difficult research to craft a thesis around. So, I moved on to a different study that found adults over the age of 50 who reported themselves to be gardeners, also reported statistically higher quality of life measures. As a researcher this is great!
As I looked closely at the data, there were some interesting trends. Shockingly (to me), once again, these self-selected gardeners were not saying they grew food to eat. Several did grow herbs, but occasionally I would see that a "gardener" simply engaged in what I would call "yard work." What this highlighted to me is that what a person considers to be "gardening" is highly dependent upon a person's state of mind or personal perception.
Without looking back at original data from these studies, what I mostly remember is a question asking about earliest memories of a garden. Responses were very family centered, "I was with my mom…"; "I used to help my grandpa…"; "We would always…" The first garden memory was typically a social interaction in the garden, typically a positive memory, there was often learning involved, pride, and there were always details.
I've been working with the Carver Neighborhood Family Garden recently.  I just love the name they've chosen because I feel like it appropriately describes their goal as a garden. A family or group of families is gardening for the neighborhood with the intent to share what they grow with those around them. This group is creating an opportunity for others based on their knowledge, skills, and belief that something like gardening is important. Important enough to spend their own time, funds, and energy to provide a demonstration for others.
Gardening can be a state of mind. It doesn't really matter what you are producing or the process you are using to achieve your goals. It is most important to have goals, believe in them, share your stories, and – every once in a while – get your hands a little dirty. Assuming the quote is properly attributed I think there is a profound wisdom and a lesson for all in Audrey Hepburn's statement, "To plant a garden is to believe in tomorrow."
Take a moment. Think back and recall some of your earliest memories. Think of some of your fondest memories. Take note of how nature plays a part in the details or the setting of some of your fondest memories.
If you recall natural settings or gardens as some of your fondest memories, compare the nature surrounding you at that time with what is available today. Available to ourselves, but also to our children, our parents, our grandparents. How do we as a society provide these important interactions, lessons, and opportunities for growth with those around us and those who depend on us to teach them?
---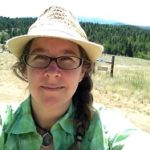 Dr. Aime Sommerfeld Lillard has cultivated a love for nature and gardening through multiple outlets. Dr. Lillard is a Texas A&M graduate with a B.S. in Agricultural Leadership and Development and an M.S. and Ph.D. in Horticulture with a focus on human issues in horticulture. Currently, Dr. Lillard contracts with the Urban Gardening Coalition (UGC) for the Waco Health District's Farmers Market Promotion Program Grant. She works in the Waco area through the vision of UGC to "strengthen local food production, improve access to healthy food, and empower folks to "grow their own" by creating a coalition that can impact a variety of horticultural education and grow through strategic partnerships.
(Visited 94 times, 1 visits today)