Read Locally Waco: The Bad Friends
Read Locally Waco is a project to promote literacy in Waco.  Throughout the semester we will post stories that use sight words our children are learning in Waco ISD.  You can print these stories and lists of words to use with your children or with other children in your life.  This week's story uses words from the First Grade Sight Word List.  For a printable version of this story and word list, click here:  The Bad Friends.
All of my friends came over to play.
We made a big mess. Then they all ran away.
My mom saw the mess, and it made her laugh.
"If one person would help, then your work would be half!"
This mess was no joke. I worked hard to clean it.
I have to have help the next time, and I mean it!
"I need some new friends!" I thought to myself.
"I want some good friends who will stay here and help!"
"I want friends who will help with the messes we make!"
"I want friends who will pick up a broom for my sake!"
Now, where can I find some good friends today?
Are you that good friend? Do you want to come play?
---
Sight Words used in this story (From the First Grade Sight Word List)
all
big
away
back
her
over
this
want
who
with
came
have
help
next
now
are
some
then
---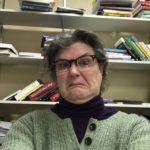 This Act Locally Waco blog post is by Ashley Bean Thornton, she has lived in Waco almost 20 years now. Far longer than she ever lived anywhere else. She likes to walk. If you see her out walking, honk and wave and say "hi!"
The Act Locally Waco blog publishes posts with a connection to these aspirations for Waco. If you are interested in writing for the Act Locally Waco Blog, please email [email protected] for more information.
(Visited 14 times, 1 visits today)