Read locally Waco: How Living at the Zoo Leads to Trouble
Read Locally Waco is a project to promote literacy in Waco.  Throughout the semester we will post stories that use sight words our children are learning in Waco ISD.  You can print these stories and lists of words to use with your children or with other children in your life.  This week's story uses words from the First Grade Sight Word List.  For a printable version of this story and word list, click here: How Living at the Zoo Leads to Trouble  .
How Living at the Zoo Leads to Trouble
The teacher frowned and asked me why I do the things I do.
I told her all the trouble starts with living at the zoo.
A monkey and a panda bear, a piglet and a snake …
All moved into the room next door.  They're keeping me awake!
The monkey plays the guitar.  The panda bangs on cans.
The piglet kicks the wall all night.  The snake beats pots and pans.
They call it making music.  They practice every day.
They think they sound fantastic.  (To me they're just OK.)
So, I didn't get to sleep last night till way, way after dark.
All the animals were snoring. I could hear them through the park.
I got up very early to pick out my clothes to wear,
But, the tiger swiped my shoes and socks and took them to her lair.
She would not give them back to me. She made me beg and beg.
And while I was distracted, the rhino ate my eggs!
The Lion woke up hungry, licked his lips and grinned at us.
So, I had to feed the lion, even if I missed the bus.
The zebra stole my mom's new car.  The cheetah took my bike.
The hippo flattened granny's truck, it was a sad, sad sight…
Because of this I had to walk at least a million miles.
And when I finally got to school, I wasn't full of smiles.
I'm tired and mad and hungry.  I hardly slept a wink!
It's true I pulled Chameka's hair.  She deserved it, don't you think?
First Grade Sight Words in this Story
All
Back
This
With
Night
Why
Was
Don't
Give
Of
Were
Because
Every
New
Walk
Her
Had
Day
---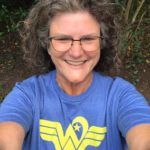 This Act Locally Waco blog post is by Ashley Bean Thornton, she has lived in Waco almost 20 years now. Far longer than she ever lived anywhere else. She likes to walk. If you see her out walking, honk and wave and say "hi!"
The Act Locally Waco blog publishes posts with a connection to these aspirations for Waco. If you are interested in writing for the Act Locally Waco Blog, please email [email protected] for more information.
(Visited 20 times, 1 visits today)