Towny Waco: Getting to know El Rio Western Wear
(Welcome to the first post of the new Act Locally Waco/Towny blog series. Towny is an app that exists to connect consumers with local businesses. It's fairly new to Waco and is loaded with answers to the question, "Why local?" Beginning with this post, the folks at Towny will be sharing the stories behind some of our high-quality, local products and helping you get to know some of our energetic local entrepreneurs. We hope you enjoy it! Supporting local business is a terrific way to support the Waco economy! Plus, it's just fun to get to know your neighbors. – ALW)
By Beth Whittington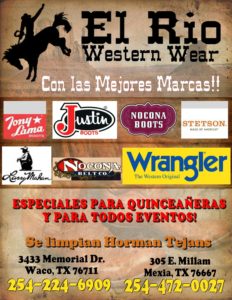 I confess I haven't shopped for cowboy clothing since Go Texan Day in 4th grade, so I had a thing or two to learn when I walked into El Rio Western Wear at 3433 Memorial Drive.   Cowboy tunes and the ringing of a landline were the soundtrack of my time with owner, Eduardo Martinez. Old fashioned reliability feels like it is baked into the walls of this place. One gets a thorough sense that the Martinez family knows what they are doing.
Eduardo's voice is gentle and confident, a mixture of Texas twang with a memory of his family's history. As we talked I thought, he's someone who is going to shoot you straight — quick, and honest.  Here's a bit of what I learned…
Beth: So, what made you want to start El Rio Western Wear? What was the vision?
Eduardo: It was my parents who started it. They actually started selling statues. Then, they moved to women's clothing and then after that kinda died down, they started selling men's clothing and then boots, and – that's kinda where it all started, from them tryin' to provide a little bit of income. I've been working with them since I was small, since I can remember."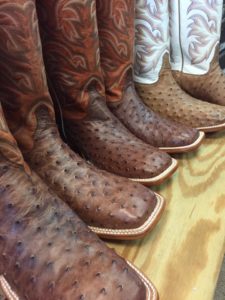 They started selling those statues maybe in 2003? And they moved to the boots and the hats in 2004-2005. And, we've been doing it ever since. We started selling at the flea market and things, you know, got good, and we actually opened a brick and mortar store in 2006.
We just moved over here last August. The new location is probably double the size of the old one.
 Beth: So, you grew up watching your parents run the store. What made you want to be a part of this?
Eduardo: (Tilting his head, searching for an answer…) I don't know! I'm just kind of used to it. I'm the only one of my siblings that actually, I guess, actually got into it — into the business. I saw the success…and, I just wanted to continue what they started.
They actually started in Houston, but that store failed. We had family members here and they decided to give it a shot here and that's how it grew.
Beth: Can a customer get exactly what they want?
Eduardo: We try to keep most things in inventory, try to be different from Cavender's. We do carry major brands – Cinch and all that, Ariat and all that.  And we try to stay competitive. We try to keep in competition with Ritchie's…
 Beth: Who's your clientele?
Eduardo: It's a little bit of everything. Right now it's a middle-aged, older crowd. We're trying to get a little bit of that younger crowd to take an interest in the cowboy outfit, stuff like that.
Beth: I love hearing the history of the store, Eduardo. In terms of being a part of a local business in Waco, do you like being in Waco? And, if so, why do you like being a part of this economy?
Eduardo: Well, coming from Houston, which was a bigger city, Waco gave me more opportunity – for me to grow as a person, get involved with a lot more people, get personal, you know?
I grew up here – well, my teenage years, I grew up here – and because of the business, I've come to know a lot of people. You know, I go out to eat – I'm gonna know somebody, at least. Which, in Houston, that'd probably be way different."
I like that about Waco: it's not too big, not too small. Right between Dallas and Austin. I mean, you can easily go up there and come back. But as a community, I think I like it more than I would've Houston."
Beth: On a personal level, as business owners in Waco, what's been your greatest obstacle?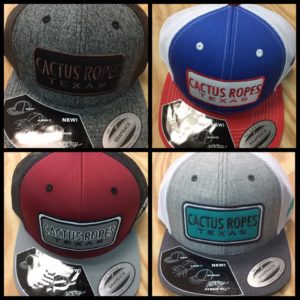 Eduardo: Trying to get new customers. Trying to get the new traffic flowing through here. Because, like I said, it's a small town. So, if everybody has the same thing…"
New inventory. Fresh! And sizes. I think that would be one of the challenges that we have. Trying to get new faces, trying to get new things in the store."
Beth: How do you know if you have new customers coming in?
Eduardo: I'm here five to eight hours almost every day. I know what faces run through here all the time and which faces are new. This is basically my second home; I spend more time here than I do at my house!
I would know who comes here as a regular and who doesn't.
Beth: What's something you think would be surprising for people to find out about you or your business?
Eduardo: I guess…that I'm still learning. We're still learning. I'm always tryin' to learn – everything – new styles, new trends…"
Beth: So, El Rio, you are the fashion experts?
Eduardo: Well, we have to be attentive of what's going – what's in style, what's hasn't been in style, what's going out of style, what's still trending… We have to have something that's there for people to buy, because if it's not what they're looking for, we'll go out of business."
Corporate clothing stores employ buyers whose only job is to stock up on relevant goods. For a shop like El Rio, the owner wears that hat. When clients come in, and they're looking for something specific, Eduardo is the one who did the research. His clients benefit from all of his knowledge. El Rio Western Wear is waiting for you to reap its local benefits. Swing on by!
---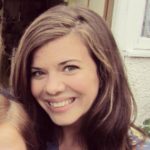 Beth Whittington remembers sitting on the Waco suspension bridge as a girl, visiting family friends. Legs dangling off, watching the Fourth of July fireworks spark the sky. Been a Waco local for the better part of 19 years.  Gaps explainable by the awkwardly untrue term of "ex-missionary" 🙂 Beth thrives on: generating ideas + copywriting. Can't wait to: visit South Africa. Favorite part of Waco: Bangkok Royale + the HOTHTC. Wants: everyone in Waco to get Towny because it'll make life better for us all if we let it. 
Take your local support up a notch – pop in Towny + have a look around.
The Act Locally Waco blog publishes posts with a connection to these aspirations for Waco. If you are interested in writing for the Act Locally Waco Blog, please email [email protected] for more information.
(Visited 122 times, 1 visits today)