Read Locally Waco: The Boy With Two Hearts
Read Locally Waco is a project to promote literacy in Waco.  Throughout the semester we will post stories that use sight words our children are learning in Waco ISD.  You can print these stories and lists of words to use with your children or with other children in your life.  This week's story uses words from the First Grade Sight Word List.  For a printable version of this story and word list, click here: The Boy With Two Hearts.
The Boy with Two Hearts
One day in May a baby boy was born quite late at night.
His sister came to meet him just as soon as it was light.
She checked him over carefully…she counted all his toes,
She peeked into his little ears and pinched his little nose.
"This baby seems just fine," she said. "I give him my OK."
So, they put him in the car, and brought him home that very day.
But when they got her brother home, she soon began to wonder…
"Was bringing this kid home with us a big, enormous blunder?"
Sometimes he gurgled, laughed and smiled and acted like he loved her.
Then other times he cried and screamed.  He was a little monster!
She thought, "There must be something that I missed in my inspection."
"I will study him more carefully … this problem needs correction."
She poked his fat. She stretched his legs.  She could not see her error.
Why did this boy switch back and forth from "cutie pie" to "terror?"
She tried to ask her mom and dad, but they were tired and busy.
"I really need some help," she thought.  "I'll go ask Doctor Lizzie!"
Doctor Lizzie listened carefully.  She checked the baby's charts.
Then she said, "I hate to tell you this…your brother has two hearts."
"One heart is good and full of love, sweet as a jelly bean.
The other is a selfish heart.  It can be downright mean."
"A baby brother with two hearts will be hard work for you,
But, if you think you're up to it, I'll tell you what to do."
The Sister stood up straight and tall, a brave look in her eye.
"I'll do whatever I must do to help this little guy!"
"Ok," said Doctor Lizzie.  "Here's the thing you need to know.
You must give him extra goodness, so that his Good Heart can grow."
"He might be mean and nasty; he might act just like a pig,
Still, you must treat him kindly, so his Good Heart will get big."
"He will sometimes make you angry; you won't understand his ways,
But hug him when he's grumpy, and be nice on those bad days."
"And if you do these things, my dear, you'll see when he is taller,
That his Good Heart will get bigger, and his Mean Heart will grow smaller."
The Sister thought this sounded…well… a little hard to take.
But, she decided she would try it for her baby brother's sake.
When he cried she sang him lullabies and stroked his fuzzy head.
When he yelled, she felt like yelling back, but stayed polite instead.
And so, the years went flying by, as years will sometimes do,
And Sister saw that Doctor Lizzy's crazy words came true.
Her brother wasn't perfect, but he was a whole lot better.
He pitched a fit from time to time…but not so much that it upset her.
His Bad Heart had grown so tiny, he was hardly ever bad.
His Good Heart was now gigantic, and his goodness made her glad!
She was thinking of her brother, his two hearts, and their effects,
When she noticed Doctor Lizzy on a walk with her dog, Rex.
She called out, "Doctor Lizzy!  Hey! How did you get so wise?
How did you know my brother had that extra part inside?
The Doctor grinned and winked and said, "I'm not so very smart."
"I pulled a trick on you, my dear… All people have two hearts."
First Grade Sight Words in this Story
All
Big
Back
Her
Over
This
With
Was
Give
Good
Of
Night
Very
Walk
His
Put
Him
Saw
Help
Day
When
Your
Had
Know
Then
Ask
Why
---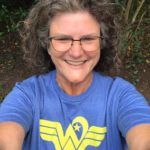 This Act Locally Waco blog post is by Ashley Bean Thornton, she has lived in Waco almost 20 years now. Far longer than she ever lived anywhere else. She likes to walk. If you see her out walking, honk and wave and say "hi!"
The Act Locally Waco blog publishes posts with a connection to these aspirations for Waco. If you are interested in writing for the Act Locally Waco Blog, please email [email protected] for more information.
(Visited 45 times, 1 visits today)