Towny Waco: Need something with a small engine fixed? Get to know Central Texas Mowers!
(Welcome to the Act Locally Waco/Towny blog series. Towny is an app that exists to connect consumers with local businesses. It's fairly new to Waco and is loaded with answers to the question, "Why local?" Through this blog series, the folks at Towny will be sharing the stories behind some of our high-quality, local products and helping you get to know some of our energetic local entrepreneurs. We hope you enjoy it! Supporting local business is a terrific way to support the Waco economy! Plus, it's just fun to get to know your neighbors. For more posts in this blog series, click here: Towny Waco.– ALW)
By Beth Whittington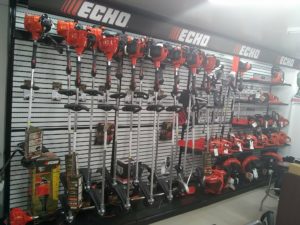 Surrounded by neat rows of weed eaters for sale, sticky notes, the hard rock music turned down lower than usual so we could hear each other talk, we sat down with John Fleming and Carla Winder to get knee-deep in the business of fixing mowers.
Central Texas Mowers is not a lawn mowing service. They specialize in small engine repair and hand-held equipment like blowers and weed eaters, generators, water pumps, commercial equipment like shaker plates and rollers… a variety of things. If a human put it together, they can probably fix it.
Folks drive in from up to three hours away to have this team look at their lawnmowers. It's common for a customer to think it's going to cost a whole lot more than it does and to be pleasantly surprised when they see the repair ticket. Every repair comes with a complimentary wash, to which many respond, "I didn't know my machine could look like that again!"
The Central Texas Mowers team can do a world of good for your mowers and lawn equipment: engine swaps, tune-ups, repairs, you name it. Let's get to know them better…
Beth: How did Central Texas Mowers start? 
John: I was working at Landscape Supply as their head technician. I grew up doing this stuff anyway, with my dad.
I was getting my own shop ready to open and I got hurt. Got on workers' compensation. They cut my benefits off, but I wasn't released from the doctor to go to work so, I went for about a year without income. I was fixing to start losing stuff, selling things, and I thought, "Well, I gotta do something!" I borrowed some money from my wife, got the first few jobs, and went from there.
Beth: What was it like working with your dad?
John: I'm not going to say it was all roses! Growing up, he worked for Montgomery Ward. He was the head technician over there and he had a shop sitting over here (he points) on this little slab, forever, for 40 something years. So, he did appliances and we did lawn equipment. We were his kids, so we did what he said to do! And I hate working on appliances to this day! (Gives a hearty laugh.) I grew up on this property, graduated from La Vega.
Beth: It's a family business. Why do you work here, Carla?
Carla: I love it. I like that I just deal with people, one-on-one.
John: We've known each other (he pauses to count the years and concludes) …forever, pretty much. I dated her sister, Shannon, back in high school. And when we split up, my brother, Nathan, became friends with Shannon's brothers, Arty and Lonnie. So, we were always around each other…it was always meant to be. I feel that.
Beth: Where'd you work out of in the beginning?  
John: We used this office we're sitting in, but it was a paint booth. I worked on cars before, on the side, because – I love cars. I'm a car guy. I'd paint, do bodywork. Anything I could do to a car. I love cars.
(He laughs.)
It was hot and sweaty, trying to do paperwork. I'm not even gonna lie; it was miserable. We just built this out into an office and got A/C this year. I still don't take a paycheck here. Everything goes right back into this place.
Beth: What do you love about cars?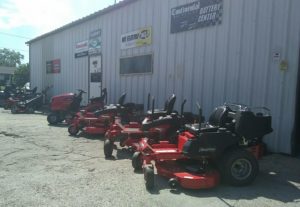 John: I love being able to put my hands on 'em, tweak 'em, listen to them. I love the way they sound, especially if it's running right. It's like lawnmowers – it's got a certain sound you just have to listen for it. I don't know; I'm weird. Engines are like people; they've all got their own attitude. They really do. They start by being cold to being hot. You've just gotta know your equipment. To me, they've just all got their own personality in the way they run – you can hear it.
(He's an engine whisperer.)
Beth: Any memorable jobs that you've done?
Carla: (She jokes) …You mean, like when a mower's so old it doesn't have a serial number so we've got to hunt down the parts to fix it? But, we do. We go the distance for them. We have some very thankful customers.
John: That one man carried his mower to four different shops! They kept messing it up. Finally, he brought it to us and we haven't seen him since!
Beth: What'd you do to it?
John: I can't even remember. I remember him, but I don't remember his mower. People come in and ask, "Is my mower ready?" They both laugh, "Which one's yours?"
Beth: What's something special about this place that most folks don't know?
(Long pause.)
Carla: That's a hard question because people already know he's good at what he does. Many of them say that. People just come here to ask John's opinion… (she laughs) Because they know he's going to tell them the truth.
John: I'm forthcoming. Some like that and some. do. not.
(I asked for an example; he obliged…)
If I think your equipment is a piece of junk or you're asking me about a mower across town, I'll let you know. I try to be subtle about it but – you know, that's why a lot of customers like coming here, because I tell it like it is.
Beth: Imagine what Waco would be like if everyone bought locally?
John: (His eyes lit up.) Oh, it would THRIVE! It would be amazing. For everyone, for Waco.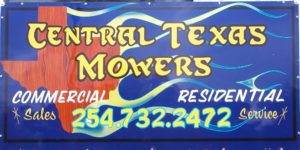 If your lawn equipment has been having ish-ues, let Central Texas Mowers bring that thing back to life for you. In the meantime, download the Towny app to continue to support businesses like John's.  Don't miss everrrrything Waco has to offer you, locally!
---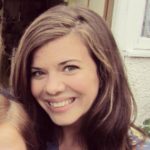 Beth Whittington remembers sitting on the Waco suspension bridge as a girl, visiting family friends. Legs dangling off, watching the Fourth of July fireworks spark the sky. Been a Waco local for the better part of 19 years.  Gaps explainable by the awkwardly untrue term of "ex-missionary"  Beth thrives on: generating ideas + copywriting. Can't wait to: visit South Africa. Favorite part of Waco: Bangkok Royale + the HOTHTC. Wants: everyone in Waco to get Towny because it'll make life better for us all if we let it. 
Take your local support up a notch – pop in Towny + have a look around.
The Act Locally Waco blog publishes posts with a connection to these aspirations for Waco. If you are interested in writing for the Act Locally Waco Blog, please email [email protected] for more information.