Trails & Trials: Racing with Gratitude
(This post is a part of a regular series "Trails & Trials," a monthly adventure series inspiring others to experience the physical, mental, and social benefits of cycling, running or swimming in Central Texas. For more posts in this series, click here: Trails and Trials.  – ALW)
By Brandi Grissom Swicegood
No matter how fit you are, how hard you trained or how mentally prepared you think you are, some race days just don't come together the way you imagined. How do you keep it together mentally and stay positive enough to push to the finish, when your goals fade from reality?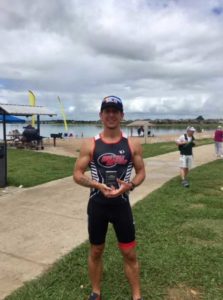 Justin Siegel, an athlete coached by Natasha van der Merwe, Director of Team Programs for Bicycle World, Texas, had an outstanding race in Pflugerville, but just a week earlier at Ironman Boulder, the day unfolded much differently than he expected. It was his third full Ironman race, and he was hoping for a personal best time. It didn't happen.
Despite the challenges of a brutally hot day, Justin said the race was his best Ironman yet. How could that be?
Justin learned the most valuable racing lesson: It's not about the numbers on the clock; it's about the gratitude in your heart.
Q: Why'd you choose to race Ironman Boulder?
A: Boulder's amazing scenery, coupled with the altitude and hills, put it on my short list from the beginning. The decision to race it this year was pretty last minute. I signed up a week before the race. Originally, I had planned to support my friend who was racing. But after a disappointing race at Ironman Texas a few weeks earlier, I was eager to take a second crack at it.
Q: What was your training like for Boulder and how was it different from your previous races?
A: Since I was coming right off a big build for Ironman Texas, I tried to focus on a few of the things that I felt were missing in my preparation for Ironman Texas. First, I forgot that racing and training are two different things, so I raced a few sprints. Second, since it was so cool this spring I did a lot more of my training outdoors to acclimate to the heat. Third, I worked on my nutrition plan.
Q: What were your goals going into Boulder?
A: My No. 1 goal was to race with gratitude and enjoy the experience. My second goal was to finish. My third was to set a personal record. My fourth was to nail my nutrition, in particular on the run. I got three out of the four.
Q: At what point did you realize the day wasn't going to go according to your plan?
A: The day was absurdly hot. It hit 90 before 11 a.m., so I knew from the start it was going to be brutal. During the second loop of the bike, I saw people walking their bikes, which is something I'd never seen before. Others were passed out on the side of the road. At that point, I told myself I was going to make whatever adjustments I had to make to finish. My bike time was a bit slower than I'd hoped, but I was OK with it considering the heat, headwinds, altitude and hills.  Five or six miles into the run, I managed to start hitting a pace that would set me up for a PR. But around mile eight or nine, I realized it wasn't going to cool off anytime soon. I walked for a bit with a pro who was too wiped out to run. At that point, I realized I was not going to PR. In fact, I realized I probably wouldn't finish if I forced myself to run much more. It was time to focus on finishing and enjoying the opportunity to be out there racing in such epic conditions.
Q: How did you deal with that realization mentally?
A: For a relatively brief moment, I was really disappointed that I wasn't going to hit all my goals. While it was easy to point to the conditions, the reality is that some people had fantastic races that day. That wasn't going to be me if I defined a great race by time. I bounced back because in my heart I knew that I'd given my all, executed my race plan, and I remembered that my top two goals were to be grateful and to finish. Those things are what I focused on until the end. I thanked every volunteer at every aid station. I soaked up the amazing scenery. I helped a struggling athlete finish. My friend's daughter joined me for a few of the final miles. And I crushed the final 1/2 mile into the finisher chute!
Q: What did you tell yourself to keep going when the going got rough?
A: Positive self-talk is probably the skill I need the most work on deep into a race. I reminded myself that I can handle the pain, and that the pain will ebb and flow, so I just needed to persevere.
Q: What was the best part of the race for you?
A: As we lined up for the swim, with an amazing sunrise to the east and snow-capped mountains to the west, I realized how cool it was that I was about to do my second Ironman in six weeks, and by far my most challenging. I knew without a doubt that I had the depth of fitness and training to do it. I felt unstoppable.
Q: What did you learn about yourself during the race?
A: That I have to enjoy the experience. Racing can't always be about the time or the result.
---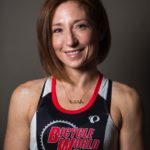 Brandi Grissom Swicegood spent nearly 20 years in the news business and quit to chase her dream of being a professional triathlete. Her work has been published in Dallas Morning News, The New York Times, the Los Angeles Times and Texas Monthly, among others. She is chronicling her journey as triathlete in a column at dallasnews.com and on her blog at https://www.brandiswicegood.com/. Email her at [email protected] and find her on Instagram at @brandiswicegood.
The Act Locally Waco blog publishes posts with a connection to these aspirations for Waco. If you are interested in writing for the Act Locally Waco Blog, please email [email protected] for more information.