Five Things Everyone in Waco should know about the Cen-Tex Hispanic Chamber of Commerce
By Alfred Solano
Hello Waco! While I am certainly not new to Waco, I do feel like I am re-introducing myself. As the new President/CEO of the Cen-Tex Hispanic Chamber of Commerce (CTHCC), I do feel like I am looking at my hometown through a new lens.  And, while I am a long-time member of the CTHCC, even serving as board chair for a few years, I am looking at the Chamber through a new lens as well.  I am trying to get a focus on how Waco sees us…how YOU see us.
I am also learning as much as I can, as fast as I can, about this fine organization so that I can share that information with you.  I want to convince you to get involved with the work we are doing, either as a member, a partner or a supporter.  With that in mind, here are five things I have learned, that I think everyone in Waco should know about the Cen-Tex Hispanic Chamber of Commerce.
We are open to everyone. – The CTHCC was founded in 1975 and is a nonpartisan business membership organization open to the entire community. Our belief is that the Central Texas community will continue to benefit from the economic advancement of the Hispanic population the fastest growing market segment of Central Texas. Our membership roster includes individual supporters, some representing large National Businesses, with the majority of the members representing Small Businesses.
We are a key source of information for the community. – The CTHCC hosts a Monthly Luncheon, Annual Banquet and many other events that are open to the Chamber members and non-members alike. At the luncheons local leaders from the public sector as well as local business women and men share their initiatives in a comfortable group setting. City, County, State, and Nationally elected officials are regularly represented at and actively participate in luncheon programs. The Annual Banquet regularly hosted at the Waco Convention Center brings together hundreds of people representing all areas of Central Texas and features local or nationally known public and private sector keynote speakers. ABC news correspondent John Quinones and Former San Antonio Mayor & HUD Secretary Henry Cisneros are examples of the caliber of speakers we have featured at our banquets.
We are terrific partners. – The CTHCC partners with the Cities of Waco and Bellmead, LULAC (League of United Latin America Citizens), various local initiatives including City Center Waco, Start-Up Waco, and Prosper Waco.  We are an active participant within the McLennan County Chamber Alliance (a ten Member Chamber alliance), numerous local foundations (Cooper, Waco, Rapoport and United Way), and TAMACC (Texas Association of Mexican American Chambers of Commerce) to name a few partners. The purpose of these partnerships is to enhance the economic prosperity of the Greater Waco area by collaborating with as many resources as is necessary.
We help Wacoans find good jobs. – The CTHCC regularly hosts job fairs at our activity hall on LaSalle or at the Bellmead Civic Center.  We work to host these fairs in conjunction with Workforce Solutions of the Heart of Texas, and Workforce Management Partners Group.  As a Chamber of Commerce our overarching goal is to improve economic development in Central Texas and the focus on quality employment opportunities is the cornerstone of our efforts. We will continue working with educators in Waco ISD, McLennan Community College, TSTC and Baylor, Tarleton and Texas Tech to play a role in the advancement of our local students, so that they may realize their potential.
We have space to rent. – As a community organization, we know that finding the space for meetings and events is sometimes an issue in Waco.  The CTHCC offices at 915 LaSalle and the 2,400 – square foot activity hall is available for rent 7 days a week. The hall is used for monthly luncheons, business meetings, job fairs, Birthday parties, our Back-to-School bash, and our neighborhood Christmas party for families and many other events.
As a new member of the Staff it is my hope that by sharing a snapshot of the past and present efforts of our Chamber we may encourage others to join our efforts. Our team, both staff and our tremendous volunteer network, are ready to assist where our talents may enhance the community. The future of the CTHCC is bright because we have a solid foundation of membership, community partners and friends due in large part to the efforts of past leadership.  Twenty-two days on the job and I couldn't be more excited for the work, and humbled by the support. See you around town!
---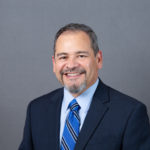 Alfred Solano is the new President/CEO of the Cen-Tex Hispanic Chamber of Commerce as of as of June 1, 2018.  Alfred was raised in Waco and enjoys spending time downtown with his wife Rachel. After 35 years in the copier industry, he is looking forward to working with local community partners from the CTHCC perspective.
The Act Locally Waco blog publishes posts with a connection to these aspirations for Waco. If you are interested in writing for the Act Locally Waco Blog, please email [email protected] for more information.