Top 10 Things You Didn't Know About Your Library's Website
By Jessica Emmett
You can do more with your Waco Library card than ever before! We have been hard at work, listening to you and making changes that fit your 2018 lifestyle. Whether you are trying to use more local resources, improve your life or just entertain yourself, we are here for you. You can visit the library to check out books, movies and more, use computers and free WiFi, and attend awesome programs. You might know all of that—but did you know how much you can do using our website? Here are 10 things you might not know!
1. Access your library account online!
Your phone buzzes. Is it the cute guy you met at the coffee shop? Nope. It's us telling you your book is almost due! Using our website, you can access your account to check that due date, renew your book and breathe easier. You can also view your reading history, make "to read" lists and more! Never be surprised by fines again!
2. Reserve items (in so many ways!)
When you hear about something that sounds good to read, you can go to our website right away and see if we have it. You can use the website to request it and have it sent to the location of your choice. We'll hang onto it for up to a week, so you can pick it up.
You can even have books sent to another library in McLennan County (Hewitt, Mart, McGregor, Moody, West). Just talk to the librarian at that library and you can pick up that hot release in your hometown.
If we don't have the book, you can do an interlibrary loan, where we borrow the book from another library in the US. Just search our catalog using the Interlibrary Loan database and you can place a request for just about anything!
3. Ask us anything!
When you're working on a project and need one more source, we can tell you where to find it! When your ebook was there and now it's not, we can help you! When you want to know where to find old issues of the Trib, we'll point you in that direction! Visit our website and you'll see a link to Ask a Librarian. Click it and ask your question—any question—and we will do our best to answer it. You'll get your answer via email, so you can continue your important work.
4. Get your hands on a Museum Pass!
Have you used our Museum Passes? We have passes for the Mayborn Museum, Dr. Pepper Museum, Texas Ranger Hall of Fame, Texas Sports Hall of Fame, Mammoth National Monument and the Cameron Park Zoo! They check out just like a library book, so all you need is your library card. They are so popular, though, that it pays to check if they're available before you head to the library. Just click this link, or visit our website and search Museum Pass and you can check the availability from your phone, tablet or computer.
5. Read and listen to books and magazines on your phone!
Amazon addicts, listen up! Even though you only read eBooks, we've got your back! Search our catalog for the books you want and you can see if they're available as eBooks, eAudiobooks (no changing CDs!) or both. Isn't it great to get stuff for free?
We also have eMagazines. They're just as beautiful and shiny as the print version, but you won't have a stack of them to sort through every time you move! You can pick the issues you want and even "subscribe" by signing up for alerts when a new issue comes out. Catch up on your hobbies, news or even celebrity gossip (we won't judge).
6. Learn the difference between a faux pas and foie gras!
There are so many reasons to learn a new language. Planning a trip, starting a new job, impressing your foreign-born in-laws—you never know when the skill might come in handy! We've got an online tool called Pronunciator that can help you learn 87 different languages. There are also ESL programs for 51 non-English languages. Access Pronunciator from our website on any Internet-able device. There's even an app! You will sound so cultured, and we are glad to help.
7.Master the job market!
Sending out résumés and not getting a lot of bites? We have an amazing tool called Learning Express Library that can help you build a killer new résumé, plus hone your job-worthy skills, like business writing, math and time management. You can practice for tons of entrance and occupational exams—real estate, law enforcement, CDL—and even learn about workplace etiquette. This self-paced, free resource is here to help you be your best you and get your best job!
8. Discover a new passion!
Do you cook, bungee jump, play drums or collect coins? There are so many hobbies out there and keeping up with new information and trends can get expensive! We've got databases to help you stay on top of your current hobbies or find new ones. Databases, or eResources, aren't just for school projects. They're basically a big filing cabinet of information about any topic you want! If you love fixing cars, history, model airplanes or anything in between, you can learn more about it wherever you are.
9.Uncover your roots!
Are you looking for the hidden secrets of your family history? We've got a great Genealogy Center at the West Waco location, so definitely visit them for maximum research support. If you're doing your research at home, we've got some tools to help you out, too! Resources like HeritageQuest, Fold3 and Newspapers.com can provide you with great family history info. Set aside some time and be prepared to journey down a research rabbit hole, but you'll have a blast learning about your past.
10. Reserve a library space for your next meeting!
Are you planning a meeting for a non-profit organization? We've got space for that! Each of our four locations has a meeting room for large gatherings and a conference room for smaller meetings. Our Central and West Waco locations have large study rooms, too, that you can reserve for a really tiny meeting. You can use a projector, a whiteboard and make yourself comfortable! Visit our website and click the Book a Room link to get to the self-serve room booking module. You can see what dates are available at each location and request the room. You'll get a response via email in a couple of days. We love to be the hosts of your awesome get-togethers!
BONUS! Put your card on your phone!
Keeping up with cards can be a challenge, but keeping up with the times is easy for us! We've got scanners that can scan a barcode on your phone and it works just like having your physical library card. So if you leave your card at home or you have everything saved on your pocket personal assistant, we can handle it!
So, what are you waiting for? If you don't have a Waco Library card, now is the time to get one! They are very valuable and totally free. For more information about the Library, visit wacolibrary.org.
---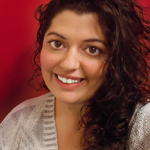 Jessica Emmett is the Community Services Supervisor for the Waco-McLennan County Library. She loves "preaching the gospel of the library" and has been doing marketing, promotion and outreach for the Waco Library for almost three years. Before joining the Library team, Jessica worked for a decade in public education, as an aide, teacher and librarian. She loves how her job lets her teach people of all ages about something she loves—the library!
Jessica enjoys lots of hobbies, including cooking, disc golf and running. She loves to read (of course) and usually has three or four books open at a time. When she's not doing outreach, Jessica spends a lot of time in a very lonely office, so be sure to say "hi" if you see the Library table at your next Waco event!
The Act Locally Waco blog publishes posts with a connection to these aspirations for Waco. If you are interested in writing for the Act Locally Waco Blog, please email [email protected] for more information.