Placemaking in Waco Part 2: The Elm Ave Streetscape Project
By Tami Nutall Jefferson
Thirteen. Nineteen. Thirty. Those are the number of public posts that the Facebook post search function yielded for "Waco's Juneteenth parade" for the years of 2016, 2017, and 2018, respectively. As Luann Jennings touched on the basics of placemaking in the first segment of this series, we are seeing firsthand the impact that organized and grassroots placemaking is having on the Elm Avenue district. Image is a big part of that. We are witnessing placemaking in action – live and in living color.
As with everything in life, there will always be two sides to the practice of placemaking. Whether you are on the "gung ho – let's go" side or the "SOoMYB" (stay out of my backyard) side, I commend the City of Waco for proactively making a public forum available to the friends and neighbors of East Waco to voice their concerns and opinions about these projects as they move forward. The first of one of these forums took place on May 8th at the Multi-Purpose Center in East Waco at the Elm Ave Streetscape Project Public Meeting. The well-attended meeting included many familiar faces of Waco leadership, and importantly, many friends and neighbors who care about preserving while developing the East Waco neighborhood. Led by Community Liaison Chris McGowan of CMC Strategic, plans and action items were set forth for the impending upgrade of the Elm Avenue Corridor.
The City of Waco detailed their sidewalk and street improvement plans for the portion of Elm Avenue that runs from Martin Luther King Blvd. to Garrison Street. This stretch of improvements will launch the City's physical efforts to extend downtown life into East Waco and connect both sides of the City with each other – bringing to life the 40-year ImagineWaco Plan. The initial plan is to improve the street crossings, create and enlarge sidewalks, enhance pedestrian, biker, and community safety, add accessible ramps where required, and ultimately add more vehicle lanes and on-street parking.
Feedback was also solicited to help design the cosmetic improvements of the project. These types of improvements are often make or break factors in the end acceptance and use of public spaces by us – the general public. Think of those times when developers laid beautifully, smooth stone surfacing – that slicks over when it rains. Or when developers build new street-fronting businesses with no or small windows in eye-burning colors. Or when city transportation officials removed bus sheds and street lamps on busy streets where the majority of neighbors utilize bus services – such as at the corner of Elm Avenue and East Church Street. To prevent these types of unwelcome or underutilized designs, the design and engineering teams presented participants with inspiration boards featuring several options of colors, street surfacing, and landscaping styles that they could vote on using their red ('NO") and green ("YES") stickers. The project architect, RBDR Architects, would then take this feedback into account when laying out their landscape and architectural design and making material selections.
This initial $3.1 million dollar project, jointly funded by local TIF investment ($700,000) and grants from the State of Texas ($2.4 Million), is slated to begin in the winter of 2019 and finished by the spring of 2021.  Even with the completion of this, though, we are only at the very beginning stages of the work and the conversations. Expect several more public information meetings to occur along the way and many more chances to contribute your voice to the shaping of East Waco.
This project is a great start.  It's exciting to imagine that the 2021 Juneteenth Parade and festivities might possibly be the most vibrant and well-attended parade of its kind across Texas, showcasing to the world just how well good design and community-centric placemaking efforts can bring life to main street cities and bridge gaps across cultures and communities.
---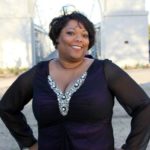 Tami Nutall Jefferson is an older, non-traditional student with a professional real estate background. Tami begins her first academic year at Texas A&M University pursuing a Bachelor's Degree in Urban Planning and Land Development while commuting between Waco and College Station. Her hope that every Wacoan – from all corners – can engage in and contribute to the growth and success of the city. You can connect with Tami at [email protected] or on Facebook at https://www.facebook.com/tami.nutall1.
The Act Locally Waco blog publishes posts with a connection to these aspirations for Waco. If you are interested in writing for the Act Locally Waco Blog, please email [email protected] for more information.