Group W Bench Litter Patrol: I'm Wild About Waco!
By Bruce Huff
There was so much trash on our streets, something had to be done! On November 25, 2016, GROUP W BENCH LITTER PATROL was formed, and to date, volunteers have picked up almost 90,000 pounds from Waco streets, alleys, highways, lake and rivers.  Our accomplishments include:  25 organized cleanups throughout Waco, 1056 Facebook members in 29 countries following what we do, being granted an Adopt-A-Highway section, helping initiate and get Texas House Bill 1884 on litter passed, and receiving awards from Global Revive and Keep Waco Beautiful.  We have also been fortunate to partner with Waco River Safari and Waco Paddleboard Company, who provide transportation for our river clean-ups.
After speaking before Waco City Council numerous times and pleading for help with the litter problem, we wanted to extend our message. We decided to elect a board, cement our goals, and become a non-profit.  In the meantime, we fast-tracked a partnership with the McLennan County Probation Department by taking their seminar and signing a contract of expectations. Two months into this program, we have signed off on 6 probation volunteers and are working with 14 more who have helped us pick up 9000 pounds of litter, tires, TV's and garbage all over Waco and Mart.
On June 12, after board member Randy Truett presented our progress report to city council, Waco City Manager Wiley Stem asked if we would be interested in talking further.  On June 22, Randy and I met with Mr. Stem, Anna Dunbar of Solid Waste, and Chuck Dowdell from Public Works. They gave us insights to what is happening now and what is planned for the very near future for river trash and debris cleanup with updated equipment, as well as how the new Big Belly solar-powered litter compactors were being used in the downtown area.   Also discussed was a partnership with Keep Waco Beautiful and how our two organizations could benefit from each other. Randy and I left the meeting feeling like we won the lottery!
Next, on July 2, Randy met with Ashley Millard, Executive Director of Keep Waco Beautiful, to combine calendars and plan for our alliance.  Randy will apply for a board position with KWB and attend their yearly business meeting.
Come and join our next effort!  Waco River Safari V Brazos River Cleanup will be August 12th, 8:00 A.M.—11:00 A.M. at Waco Suspension Bridge.  Fourteen very lucky people will ride up river on the boat!  They will be the first 14 new members who join our Facebook page GROUP W BENCH LITTER PATROL after this article appears and write, "I want on!" Also a limited number of kayaks and canoes will be available for the first who reserve them.
Waco is on track to becoming America's Cleanest City!  We just have to create more awareness and get the community involved in not throwing out litter, using less plastic, and caring about the environment.  Thanks especially Anna Dunbar for her professionalism, Mr. Stem for his commitment, and Chuck Dowdell for not giving up on GROUP W BENCH LITTER PATROL.`
---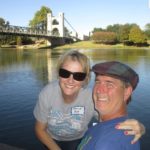 Bruce Huff has Multiple Sclerosis, is semi-retired and now an activist in Waco, Texas
The Act Locally Waco blog publishes posts with a connection to these aspirations for Waco. If you are interested in writing for the Act Locally Waco Blog, please email [email protected] for more information.
(Visited 140 times, 1 visits today)