Is Your Child College, Career, or Military Ready?
By Robin Wilson, Ph.D.
I wasn't sure what I was getting into when I decided to retire from being a campus principal to return to school to complete my doctorate. I have always loved to learn, and I knew I was ready to embark on a new journey…even though I was a little late in life to be pursuing a Ph.D. While pursuing this degree, I ended up focusing on how to better educate our local high school seniors, teachers, and administrators on what it takes to be college and career ready. There are personal skills, such as time management, study skills, self-awareness, and persistence, required. There are also academic classes, such as dual credit courses or AP (Advanced Placement) courses, that will help prepare a student for college or a career. But, in 2018, the Texas Education Agency (TEA) added a new term and a new standard of expectation for graduating seniors: CCMR.
What is CCMR?
To better meet the expectations of the 60x30TX, TEA expects all seniors, beginning with the class of 2018, to be College, Career, or Military Ready (CCMR).  Each graduating student must meet at least one of the following to be considered CCMR:
College Ready
Earn at least a score of 3 on any Advanced Placement exam or at least a score of 4 on any International Baccalaureate examination
Meet Texas Success Initiative (TSI) minimum score requirements in reading and mathematics*
Complete a dual credit course/courses (earning at least 3 hours in English or Mathematics OR at least 9 hours in any subject)
Career Ready
Earn an industry-based certification
Complete a Career/Technical Education (CTE) course aligned with an approved industry-based certification
Graduate with a completed Individualized Education Program (IEP) and workforce readiness (for certain students served through special education programs)
Military Ready
Enlist in the United States Armed Forces (Army, Navy, Air Force, Coast Guard, or Marines).
While TEA gives students a variety of ways in which to meet the CCMR, many of these methods will not be known to students (like the TSI or available industry-based certifications/CTE courses aligned to certifications) nor will it be known to students that they should report to their schools if whether they enlist in the US Armed Forces. Therefore, everyone needs to be more familiar with this new requirement.
What is TSI?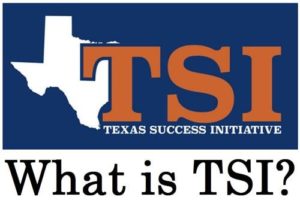 The TSI (Texas Success Initiative) is the placement test used by colleges and universities to help determine if your child is ready for college-level courses. Although your child can be "admitted" to a higher education institution based on his or her ACT or SAT scores, "placement" in college-level coursework will depend on his or her TSI scores.  If your child does not meet the standards or exemptions below, he or she will be enrolled in a developmental education program designed to help him/her become college ready. These developmental courses do not count for college credit, but your child will still have to pay the cost of enrolling in these college-level courses.
Minimum scores on TSI to be considered-college ready:
Mathematics: 350
Reading: 351
Writing: a placement score of at least 340, and an essay score of at least 4: OR a placement score of less than 340 and an ABE Diagnostic level of at least 4 and an essay score of at least 5.
Exemptions from the TSI Reading/Writing assessment can be earned based on ACT/SAT scores or course completion:
Score a 23 or higher composite on the ACT and a minimum of 19 on the English section
Score 480 or higher on the SAT Evidence-Based Reading and writing section (no composite score needed)
Receive credit for completing the College Preparatory English course
Exemptions from the TSI Mathematics assessment can be earned based on ACT/SAT scores or course completion:
Score a 23 or higher composite on the ACT and a minimum of 19 on the Mathematics section
Score 530 or higher on the SAT Mathematics section (no combined score needed)
Receive credit for completing the College Preparatory Mathematics course
What do these new standards mean for our school districts?
These new standards change the expectations for graduating seniors and how our high schools will receive their "A-F grade" from TEA (https://tea.texas.gov/A-F). The elementary and middle school campuses' grades from TEA will still be based on STAAR test scores (100%), but high schools will now be graded on STAAR scores (40%), CCMR rate (40%), and graduation rate (20%). This new accountability for high schools will take the work of a village to ensure that all of our seniors graduate ready to pursue a degree at a higher education institution or move into the work force career-ready.
How can parents help make sure their child is college and career ready?
Parents can help in numerous ways:
Encouraging your child to not only take dual credit or Advanced Placement courses but also perform well in those courses and on their exams;
Reminding your child to take his or her opportunities to take the TSI seriously and to study any practice materials available for the TSI;
Aiding your child in finding opportunities to earn an industry-based certificate (if their goal is to be career-ready) through participation in CTE courses, the Greater Waco Advanced Manufacturing Academy or the Greater Waco Advanced Health Care Academy;
Urging your child to utilize the college planning guide.
Your local high schools also need you to help educate your neighbors about CCMR. The new standards can be conquered, and our high schools can continue to provide our students with skills and knowledge necessary to be successful, but it will take the work of a village. Help spread the word in our community on what it takes to be college, career, or military ready!
---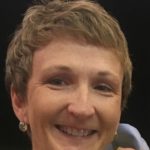 Dr. Robin Wilson is the College Readiness Coordinator and AVID District Director for Waco Independent School District.  She earned her Masters degree from University of Texas at Tyler and her Doctorate at Baylor University. She has worked as a classroom teacher, campus principal, a district administrator, an AVID professional development staff member, and a university adjunct professor.
The Act Locally Waco blog publishes posts with a connection to these aspirations for Waco. If you are interested in writing for the Act Locally Waco Blog, please email [email protected] for more information.