Hope and Help for Cancer Survivors: The Cattleya Foundation
By Minister Sandra Henry
History and Birth of the Cattleya Foundation of Hope
May 22, 2015, I went to Baylor Scott and White Hillcrest Medical Center for my annual mammogram.  This time it was different, I was diagnosed with breast cancer!  My first reaction, as I tried to listen to the doctor explain medical procedures, was the fear of death but God spoke to me with the words, "Fear not, all is well."  Throughout my traumatic experience, with the love of my husband Joseph, love and encouragement of family, friends, cancer survivors and my church, Abundant Love Fellowship Church, I was strengthened by faith to persevere.
In August 2015, I planned a Celebration of Life luncheon at the Spa at Canyon Oaks in Crawford, Texas, where my family, friends, local community partners and cancer survivors came to celebrate my life journey. I watched in awe as God's vision and plan began to unfold in such a miraculous way.  So many people attended this event that I knew God was about to do an amazing work.  At that moment, I said yes to God's Will for my life journey.
On February 15, 2016, I met with Sister Shelia Ross (who attended the event in August), Sister Toria Smith-Loughridge, Sister Lisa Ware, and Sister Sandra Montgomery at Panera's in the Central Texas Marketplace Shopping Center.  We prayerfully discussed plans of establishing a local cancer foundation in Waco for all cancers.  We formed a board and started this foundation with our own money.  We have worked diligently to plant seeds of hope in cancer survivors and continue to passionately serve the McLennan County community. The Cattleya Foundation of Hope has now grown to twenty-two members.
We adopted the orchid as our symbol because of its strong roots and its ability to persevere through adversities, its beauty, and grace.  We adopted the color purple because of its royal heritage; the color gold because it represents courage and passion; and the color ivory/cream because it represents elegance, warmth, and tranquility (peace).
Our core values are Christ first, compassion, commitment, communication, courage to be steadfast and unmovable, excellence in all we do, integrity, accountability and transparency, service, and teamwork (unity).
Our mission statement:  We are a team of Christian women and men who understand the plight of those recently diagnosed, cancer survivors continuing on their journey, and those who are in the fight to regain their health and wholeness.  We stand together to provide spiritual and emotional support for those who have been diagnosed with cancer and are continuing on their journey.  We stand together to give hope, faith and life to men, women, and children cancer survivors and their families.
We are unique because spirituality, prayer, and love are the essence of our foundation and our service to cancer survivors in this community.   In Cattleya, our cancer clients are not alone!
Cattleya Whispers of Hope Programs
After completing a confidential assessment application, we may provide transportation and/or bus passes for doctor appointments and treatments.  We may sit with cancer clients to give relief to their primary caregiver, which is important to everyone affected by cancer.
How do cancer survivors learn about our services?  We receive our clients through Scott and White Hillcrest Medical Center – McClinton Cancer Center; Community Cancer Association, and through word of mouth.
Cattleya has partnered with McClane Children's Hospital in Temple, Texas, because it is the nearest facility available to McLennan county children who have been recently diagnosed with cancer and our children cancer survivors continuing on their life journey.
Last year, Cattleya was able to visit the children at McClane Children's Hospital during October for the October Harvest and December for Christmas expressions of love.  On both occasions we were inspired by the smiles and their willingness to grasp life with all she has to offer.  These courageous children and their families are why we are in this fight to end cancer in our world.
We brought socks, gloves, blankets, newly donated books and gift cards.  During Christmas we also brought donated snowmen outfits for the children to wear and have fun!
This summer, through fundraising, we were able to give a monetary donation to their Dreamcatcher Camp.  This is a week-long camp that allows the children to spend time in an environment where they can be a kid, have hope and enjoy having fun.  If any of you readers would like to contribute to Dreamcatchers, please contact McClane Children's Hospital or go on their website.
Celebration of Life
Each year, Cattleya hosts "A Celebration of Life" through fundraising and donations.  This event is to honor those recently diagnosed with cancer, cancer survivors continuing on their life journey, family members of those who stand with cancer survivors, and family members of those courageous warriors who have transitioned home.
This is a night we celebrate life, plant seeds of hope, and inspire one another to continue the fight.  We welcome our community to come and support our courageous women and men as we continue our life journey.  We offer a catered dinner, inspiration from a local speaker, and gifts for our cancer survivors.  It is a special time set aside for us to pamper cancer survivors in a special way.
It is also a time for us to reach out to our community in support for the programs and services that we provide throughout the year for our cancer clients.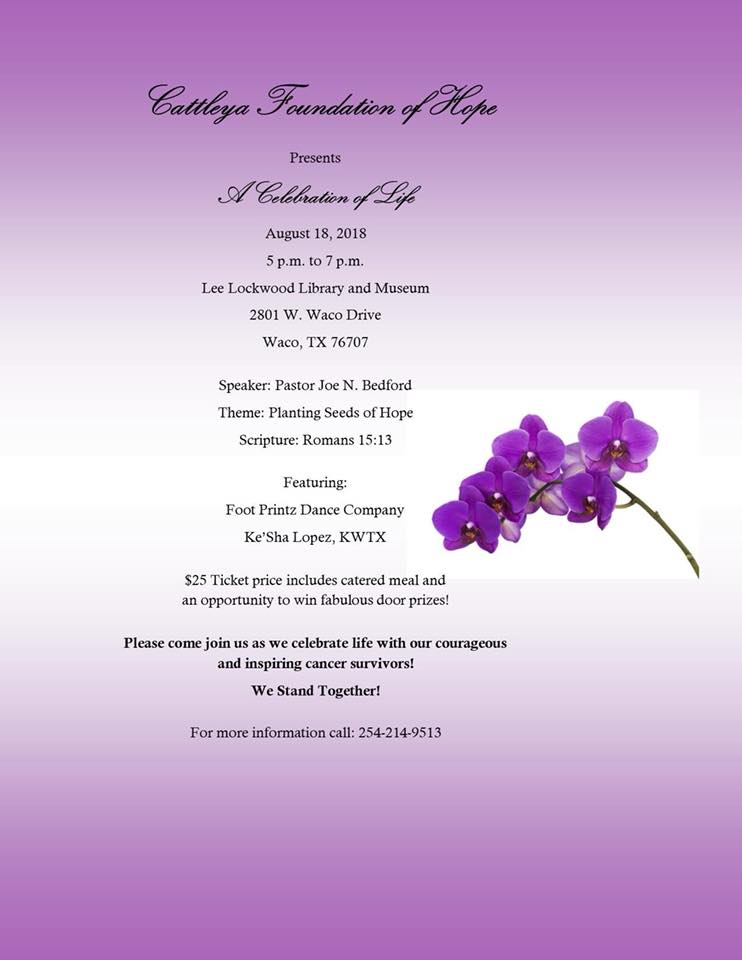 Cattleya's wish list is simple.  We need a facility where women, men and children cancer survivors can come and read a book, write a journal, enjoy a time of serenity. A place we can transform into a tranquil setting and build programs for cancer survivors in Waco, Texas.   If you have a place to offer to us, please contact Min Sandra Henry at [email protected].
And finally a quote from Maya Angelou
"My mission in life is not merely to survive, but to thrive; and to do so with some passion, some compassion, some humor, and some style."
---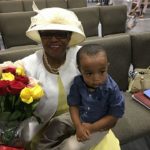 This Act Locally Waco blog post was written by Minister Sandra Henry.  Min. Henry serves as associate minister of Abundant Love Fellowship Church, Dr. E.L. Ross, Pastor.  She has been a member for 3 years. Min Henry preached her first sermon at the New American International Baptist Institute and Seminary in Harker Heights, Texas in December 2012 and received her license in March 2013 at Pleasant Olive. She received her Master of Theology and Doctor of Theology at NAIBI Seminary. She is an honorably discharged veteran from the United States Army with four years of active service. Min Henry and her husband, Joseph Henry, relocated to Waco, Texas in 1985 after he retired from the United States Army with 20 years of service. Min Henry is retired from Department of Veterans Affairs Regional Office with twenty-four years of service. They have four children, five grandchildren and two great grandchildren. Bro and Min Joseph Henry love the Lord and they serve Him together. Min Henry's focus is a faithful and humble servant rooted in the word of God.
The Act Locally Waco blog publishes posts with a connection to these aspirations for Waco. If you are interested in writing for the Act Locally Waco Blog, please email [email protected] for more information.