Trails & Trials: Don't Tri Alone
(This post is a part of a regular series "Trails & Trials," a monthly adventure series inspiring others to experience the physical, mental, and social benefits of cycling, running or swimming in Central Texas. For more posts in this series, click here: Trails and Trials.  – ALW)
By Natasha van der Merwe
"Have you ever decided to train for a triathlon but just didn't know where to start?  We've got the training group you've been looking for. You're not going to get left in the dust with this training plan!"
It's the ideal welcome to someone new to the sport. Training for one sport is hard enough, let alone 3 sports that require a bunch of different equipment and skills.
When I was introduced to the sport 10 years ago, my first stop was the local bike/ triathlon store. I hoped that they would have the solutions to what I would require and how I would go about making triathlon my new sport. They had that and more. I left that day with a new bike, bike shoes, helmet, and swimming goggles and a list of all the local triathlon clubs in my hand.
I proceeded to contact each club and was kindly invited to try a group run, swim or bike session of my choosing. I picked a swim session, and pulled up to the pool to find 30 other people ranging mostly from 30-50 years in age and in all shapes and sizes, chatting with each other about their previous races as they were about to hop in the pool. The energy was felt through the entire session, not only from the triathletes, but the enthusiastic coach who knew a brand new triathlete had been born and hooked for life. Triathlon really is life changing once you experience it.
If you are getting serious about triathlon or simply want to get more acquainted with the sport, here are my reasons why you should start by joining a triathlon club.
Community.
Perhaps the most obvious reason to join a triathlon club, is the community that goes along with it.  Many people find that triathlon not only offers a fun pastime, but also a great group of people who can eventually turn into good friends. Triathlon clubs and groups are known for being very accepting, and having a 'more the merrier' attitude. They will welcome you with open arms and guide you every step of the way.
Training Motivation.
You will find a wide range of ability levels in every triathlon club. Some people will be competitive veterans preparing for an IRONMAN triathlon. Others will be fresh learners just hoping to finish their first race ever. Encouragement will be abundant. If you are looking for a way to stay motivated, a triathlon club will provide the accountability and inspiration you need when facing those dawn breaking wake up calls and early morning sessions before work.
Workout and Race Tips
Very few of us have time to figure out the best way to train for an upcoming race. You can get some ideas from reading blogs and articles from professional triathletes or coaches or reading triathlon training books. The best resource is the network of personal experience passed from one athlete to another. Triathlon clubs provide that network and are a great place to take advantage of knowledge from others that have been there and done that. Many triathlon clubs also have a newsletter, blog, and forum for easy online notes sharing and learning opportunities.
Opportunity to Teach
For experienced triathletes, one of the most rewarding benefits of being part of a triathlon club is the opportunity to pass experience on to newer participants.  Even someone who has done just a handful of races will have hard-learned lessons that a newbie would be very interested in learning.  While reading articles from websites is a great way to learn, there is no substitute for being taught by someone who has previously done it.  It is a way to pay the sport back. Everyone who has participated in a number of triathlons, once had a mentor who helped them get past the first one or two.  Now it can be your turn to be the mentor.
Check out your local triathlon club – Waco Tri club – www.wacotriclub.org . I am sure they would love to have you come try a workout and get to know the members before taking the leap into the endurance world. Warning – there is typically no turning back, but it's the most rewarding leap you will ever take.
---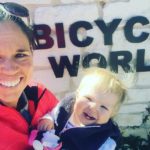 Natasha van der Merwe is originally from South Africa. She is mom to a 19-month old girl, former professional tennis player and tennis instructor, and a professional triathlete representing Bicycle World and Waco Running Company.  She has multiple top 10 finishes in Ironman and 70.3 events around the world. She is Director of Team Programs for Bicycle World, Texas
The Act Locally Waco blog publishes posts with a connection to these aspirations for Waco. If you are interested in writing for the Act Locally Waco Blog, please email [email protected] for more information.