The Business of Health: Understanding your Health Insurance Policy
By Glenn Robinson
One of the hallmarks of the information age economy is consumerism – in this instance, defined as businesses making their goods and services more convenient, affordable, or otherwise desirable to customers.
For years, virtually every segment of our economy has embraced this trend… except healthcare. At least until recently. Increasingly, healthcare consumers are expecting that their experience with healthcare providers mirror the experience they have with some of the world's top brands.
This rise in healthcare consumerism will continue according to a recent brief by Rice University's Baker Institute for Public Policy. Not only have consumer expectations and experiences with other industries helped drive this trend, but so has the increasing popularity of high deductible health plans and incentives offered to those covered to make cost-effective choices.
In other words, as the financial burden of healthcare decision-making shifts to patients, patients are more apt to become more conscientious and expect more out of those rendering healthcare services.
This trend towards healthcare consumerism has already led to many noticeable changes in industry practices. The growing number of convenient walk-in clinics and the introduction of telemedicine are manifestations, as is the increasing focus healthcare providers put on patient experience surveys and online reviews. An entire cottage industry has grown up around healthcare design and construction to make the care environment more warm, welcoming, and comfortable.
However, one big obstacle still remains to true healthcare consumerism – pricing transparency.
It's a complex issue, but one many organizations are working to solve. 
You know having a health insurance policy is important, but equally as important is understanding what is in the policy so you can plan accordingly. Unfortunately, much of the language used in health insurance plans isn't part of the everyday vernacular.  With that in mind, here are some common terms and what they mean.
A premium is the amount of money you or your employer pays monthly or annually for your health insurance.
The deductible is how much you must pay out of pocket before your insurance starts to pay. Keep in mind, though, many preventive health services don't require you to pay a deductible.
Co-insurance is how much you must pay out of pocket even after meeting your deductible. For instance, 80/20 co-insurance means you're still responsible for paying 20 percent of charges.
This is different from a co-pay, which is a flat fee – for example 20 dollars – you might have to pay for a doctor's visit. 
Maximum out-of-pocket expenses are the most amount of money you will be required to pay per year for deductibles and co-insurance.
The term covered expenses refers to what medical services or prescriptions are or aren't paid for by a plan.
Beyond these terms, if you don't understand something about your plan, how it works, and what it covers, you can call the toll-free number on the back of your health insurance card. Most reputable insurance companies have staff trained to explain the ins and outs of every policy.
Most Americans appear to believe: your health is your wealth. While wealth sometimes can create its own problems, health inevitably is a source of happiness… and the value of health increases with age, usually surpassing the importance of wealth.
If you had a choice, would you spend your time striving for health or wealth? A majority of Americans pick health, according to a survey by TD Bank. The company surveyed over 1,000 U.S. consumers who made a 2018 New Year's resolution.
The top goal of respondents was to eat better, with 54 percent citing it as their priority. The top financial goal was to save more and spend less, with 39 percent selecting it as a priority. Millennials – young adults between ages 22 and 37 – said eating healthy and getting in shape or staying fit is more important than saving more and spending less money.
Health and wealth are not mutually exclusive. About 41 percent of those who indicated they were satisfied with their financial health are more likely to be satisfied with their physical health, emotional health, and family well-being.
People with good health are more likely to have the energy and stamina to excel in the workplace, and they are less likely to spend time and effort dealing with the debilitating effect of chronic health conditions and disabilities.
Although most respondents said they are less confident they will achieve their goals to get in shape, they are more likely to seek advice for financial issues. Health typically is something that you earn if you are persistent and disciplined – it cannot be bought.
 This report, and other episodes, are available at KWBU.org. 
---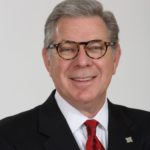 Glenn Robinson is the President of Baylor Scott & White Medical Center – Hillcrest. He has over 30 years of experience in hospital and health care management, and currently serves on several Boards associated with the Texas Hospital Association and the American Hospital Association. In addition, Glenn is Past-Chair and an active member of the Greater Waco Chamber of Commerce, and serves on the Prosper Waco Board.
The Act Locally Waco blog publishes posts with a connection to these aspirations for Waco. If you are interested in writing for the Act Locally Waco Blog, please email [email protected] for more information.
(Visited 21 times, 1 visits today)