Men of Color: Find strength through an initiative at MCC
By Madiha Kark
Young men of color face challenges every day; they strive to be seen beyond their stereotypical portrayal as depicted by news media and pop culture. Especially in higher education, their representation is small, and completion rates have been historically low. At McLennan Community College, the Men of Color Success Initiative focuses on engaging in individual and group mentoring to address challenges for first-generation students, traditionally underrepresented groups, and students in need of academic and personal direction.
The goal of the program is to increase higher-education completion rates among men of color while raising awareness of issues with diversity and equity, and creating awareness of support services available. The initiative is modeled after similar programs at other colleges in Texas, and representatives are working closely with the Texas Education Consortium for Male Students of Color to grow its efforts.
According to a study by the Center for Community College Student Engagement (CCCSE), titled Aspirations to Achievement: Men of Color and Community Colleges, "Consistently and unmistakably, data show a persistent gap separating Latinos and Black males from other student groups on measures of academic progress and college completion. These gaps exist across higher education."
Barron Lowe, who graduated recently with an associate degree in communications, said before he found the initiative, he was going through personal issues and wasn't sure where he was headed in life. A trip to Austin to attend a seminar for the Men of Color made him realize he wasn't the only one with problems.
The program pairs faculty members and mentors with students to help them achieve personal and academic goals. The idea is to be accountable and push each other to better ourselves. Lowe says the networking opportunities he has had because of the initiative helped him to reach the next level in his life. He is currently working as a leasing agent for a community center but wants to get a bachelor's degree from Texas A&M. "I've met some of the most amazing men through this, and they've helped me be the best version of myself."
Building networks and relationships is a big part of the initiative, and one that allows the group members to make stronger ties, because everyone is invested in the common goal.
"It gave me the opportunity to have a professor who was good one-on-one and really caring, and saw I had the potential to be a better student," Lowe said. "He basically took me under his wing, and it's been like this ever since: close."
At a time when one might feel like they're taking on the world alone, college can be daunting, he said. Lowe had to learn how to ask for help when necessary, something he couldn't bring himself to do before MCC, he said.
Click here and learn how you can be a part of the Men of Color Success Initiative at MCC.
---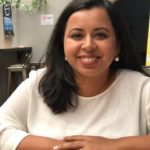 Madiha Kark is a Marketing, Communications and Photography Specialist at McLennan Community College. She holds an M.A. in Journalism from the University of North Texas. She loves to travel, cook, and read nonfiction books.
The Act Locally Waco blog publishes posts with a connection to these aspirations for Waco. If you are interested in writing for the Act Locally Waco Blog, please email [email protected] for more information.
(Visited 39 times, 1 visits today)