Trails and Trials: The Power of Positivity
(This post is a part of a regular series "Trails & Trials," a monthly adventure series inspiring others to experience the physical, mental, and social benefits of cycling, running or swimming in Central Texas. For more posts in this series, click here: Trails and Trials.  – ALW)
By Natasha van der Merwe
"Race with courage and gratitude!"
"Never ever give up!"
"Keep moving forward!"
"Finish with a smile!"
"H.O.P.E. Hold on Pain Ends"
"Believe and be fearless!"
The inaugural Bicycle World IRONMAN(R) 70.3(R) Waco Triathlon was a smashing success based on the 3,000 triathletes in attendance. World class pros and locals remarked about the incredible Waco hospitality and breathtaking courses winding through Cameron Park and beyond. Throughout the three-day event, I had the opportunity to strike up conversations inside IRONMAN Village.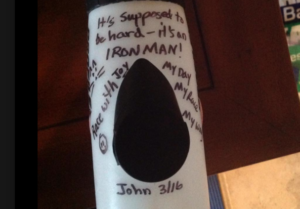 I asked fellow triathletes about their 'go-to mantra' for race day. These were their responses. All well-known phrases people have learned to hold onto during tough times. Words that inspire, give hope, and motivate. Many of these words have also come from overcoming hard times, not only in the sport, but in their lives. Athletes overcoming loss of family, beating cancer, depression, or a substance addiction.  All have found a way to be positive and chase a lifestyle and goal to be proud of.
One of the simplest concepts of sports psychology is developing positive self-talk during a race. It's also one of the hardest sports psychology skills to master. Personally, learning how to master positive self-talk during a race has more appeal to me than learning how to better my swim, bike or run. I know through experience that working on the mental side of my race day preparation can go much further than the physical preparation when it comes to having my best race. Research supports the theory that an athlete who continually practices positive self-talk will improve his or her sports performance.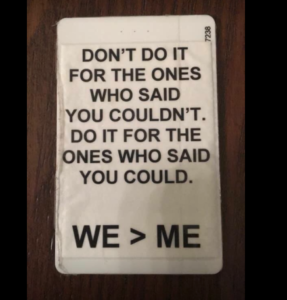 Knowing that a positive mind can overcome any pain or fatigue one may be experiencing, I have put this theory to the test not only during a race but also during one of my very long five hour training rides on a cycle trainer indoors. On the indoor training days, I typically watch Netflix or past coverage of Ironman races.  This particular day, I decided to fill all five hours of cycling with motivational videos found on YouTube. All five hours of positivity left no room for negative self-talk, fatigue or doubt. A collection of different videos shared one same message, "Whatever you put your mind to, and work hard enough at, you can achieve." To this day, that was the best training ride of my life. Instead of being completely exhausted at the end, I was more invigorated than I was before I started the ride.
I took this learned lesson into my next race – IRONMAN Wisconsin(R). I spent the day before the race watching my favorite 20-min motivational video three times, memorizing my favorite lines. I watched it once more on race morning as I ate my breakfast and stretched out in the hotel room. I walked to the start line that morning more energized than I had ever felt in my ten-year racing career. I felt like nothing could bring me down.
As the race began, I adopted two mantras from that video for my race focus. I started with determination "I can. I will. I must." and ended with resolve "It's not how you start, it's how you finish."
I was drawn to using "I can, I will, I must" because it was short, memorable and had a great rhythm to it. As my arms turned over in the swim, and with every pedal stroke, I was able to repeat it over and over. One would think I would get bored of it, but surprisingly enough it was such a powerful phrase that for me in those moments, every time I repeated it I felt stronger.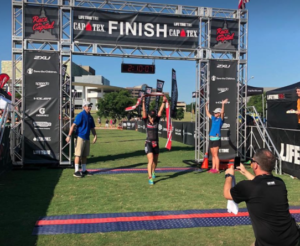 During the marathon portion of the race, I used " It's not how you start, it's how you finish," as a pep talk to myself after what had happened earlier in the race. For the first time in my racing career, at the very start of the bike course, my right side glute started cramping. I could not lift my leg to pedal and found myself standing on the side of the road stretching. I watched the advantage I had gained swimming disappear, as the athletes I had passed in that part of the event came flying by me. Ten minutes of stretching later, my body released and I was able to get back on the bike and restart my day. If it were not for the mental preparation I had done before the race, I am 100% sure my day would have ended right there or I would have gone on to have a terrible race. Instead, I was able to close the race with one of my best IRONMAN(R) performances and without one single negative thought for the rest of the day. Definitely an accomplishment I am proud of.
So, how do you create your own mantra?
There is definitely not just one way to make a great mantra. I've created mantras from all kinds of sources: coaches, workouts, things I randomly think about, or even something a friend or training partner has said to me. Whatever creates a repetitive, believable, positive image for you can work. Here are a couple of general qualities you can use to create your own mantra:
Keep it short and simple. You'll be saying these words repeatedly through the day. You don't want to have to think about the words. It should just come naturally.
Relate your words to other successes. Mantras are most effective if they help you recall other successes you've had. It could be a great workout or a strong race you've accomplished.
Think of the form you will use. On the run, a mantra I have routinely used in the past is 'Tall and Light' or 'Quick Feet' just repeated over and over again to match my run cadence. I find it especially helpful later in the race when the fatigue really hits.
As I wrap up memories from this past weekend, I hope all IRONMAN(R) 70.3(R) Waco triathletes can join me in celebrating a job well done. From mishaps to mantras, every triathlon provides a unique learning experience that can be carried on to the next race. Then again, races are like life, there are always challenges so no matter what you face, remember this one simple phrase, "There will be a day I cannot do this, today is not that day."
---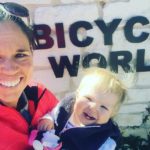 Natasha van der Merwe is originally from South Africa. She is mom to a 19-month old girl, former professional tennis player and tennis instructor, and a professional triathlete representing Bicycle World and Waco Running Company.  She has multiple top 10 finishes in Ironman and 70.3 events around the world. She is Director of Team Programs for Bicycle World, Texas.
The Act Locally Waco blog publishes posts with a connection to these aspirations for Waco. If you are interested in writing for the Act Locally Waco Blog, please email [email protected] for more information.
(Visited 16 times, 1 visits today)