The Business of Health Care: Cancer Care
By Glenn Robinson
Cancer is now the leading cause of death in the United States and globally. Few among us have not already been touched by cancer in some way, whether it be ourselves, someone in our family or dear friends and colleagues. With that in mind, the following are a few notes on cancer care that will hopefully be helpful if cancer becomes a part of your life.
Cost
According to a study in The American Journal of Medicine, cancer forces 42 percent of patients to exhaust life savings in two years. It is expensive to treat, with patients facing potential surgeries, chemotherapy, and radiation treatments – in addition to expensive imaging tests. There are hospital stays, multiple doctor appointments each month, and many tests… not to mention the high cost of cancer-fighting medications, or income lost from missing work.
A recent study found that cancer patients, on average, are more than twice as likely to declare bankruptcy as those without cancer. Should you or a loved one face a cancer diagnosis, here are steps that may reduce some of the financial burden:
Talk to your health insurance company and make sure you understand deductible and copay requirements.
Take someone with you to doctors' appointments who is not afraid to bring up the cost question on your behalf, if necessary.
Tell care providers that cost is a potential issue.
Discuss therapy options – and their cost – with your provider. Beyond choosing a lower cost therapy, avoiding low-value tests and procedures can save a lot of money.
Consider hiring a financial counselor to help guide the family through this aspect of care.
Following these steps can help patients focus less on finances, and more on getting better.
Alternative Therapies
Nearly four in ten Americans believe that cancer can be cured solely through "alternative" therapies, such as oxygen therapy, diet, and herbs – according to a survey by the American Society of Clinical Oncology.
Many in the medical community were shocked by this finding and the danger it represents. A 2018 study underscores the danger, finding that patients with cancer using alternative medicine were more likely to decline potentially curative conventional cancer treatment, thereby increasing risk of death.
The National Institutes of Health has declared that no alternative health product or practice – such as acupuncture, chiropractic medicine and herbal medicine – has been proven to cure cancer. While these services may help patients manage cancer symptoms and side-effects from treatment, relieve stress, and improve quality of life, they are not a cure.
Patients facing cancer must keep in mind that delaying conventional cancer treatment can decrease the chances of remission or cure, and that using unproven products or practices to postpone or replace conventional medical treatment may be a costly mistake.
Even if they don't delay conventional care, some alternative therapies may interfere with cancer treatments or be unsafe for cancer patients. Anyone diagnosed with cancer should consult their cancer care providers before using any alternative therapy for any purpose — regardless of whether it's cancer-related.
Alternative therapies often do have a role in cancer care. As part of an ongoing discussion, patients and their physician can determine which therapies are safe and supported by evidence.
Advanced Treatment Options
For decades, when it comes to treating cancer, there have been three main options: surgery, radiation, or chemotherapy. Often these treatments are used in concert with one another to rid patients of tumors and eradicate any traces of the disease.
While these will likely remain staples of cancer care for the foreseeable future, a host of new advanced treatment modalities are coming online and are expected to expand the cancer care toolbox.
One is immunotherapy, which looks for ways to bolster the body's immune system to prevent the spread of cancer. Some cancers take hold and spread throughout the body because they aren't susceptible to the body's immune response and even develop immunity to chemotherapy drugs and radiation. Immunotherapy attacks the cancer's defenses, potentially allowing for effective treatment.
A related field of cancer study is therapeutic viruses and dendritic cell vaccines. These are biological agents, engineered in a lab, capable of seeking out and destroying cancer cells while leaving healthy tissue alone.
Another exciting development in cancer research involves nanoparticles. This advanced, microscopic technology can be used to more precisely target cancer cells in multiple ways without harming normal cells. For instance, nanoparticles can deliver heat to tumors to shrink them, or be loaded with medication and sent to hunt down cancer cells.
There may never be one silver bullet to cure cancer, but rapid progress on many fronts hopefully will someday lead to its demise.
---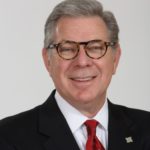 Glenn Robinson is the President of Baylor Scott & White Medical Center – Hillcrest. He has over 30 years experience in hospital and health care management, and currently serves on several Boards associated with the Texas Hospital Association and the American Hospital Association. In addition, Glenn is Past-Chair and an active member of the Greater Waco Chamber of Commerce, and serves on the Prosper Waco Board.
The Act Locally Waco blog publishes posts with a connection to these aspirations for Waco. If you are interested in writing for the Act Locally Waco Blog, please email [email protected] for more information.
(Visited 52 times, 1 visits today)