Free Conference for the Community: Building your Economic Legacy
Money, Money, Money! On Saturday March 9, 2019, Alpha Kappa Alpha Sorority, Inc., Delta Alpha Omega Chapter will host its First Annual Building Your Economic Legacy Conference. Ten workshops will be offered centered on building your wealth. Participants will be able to select from workshops including topics such as:
Financial Planning
Credit Building and Repair
Home Ownership
Health Care and Senior Planning
Building your own business and brand
Dynamic presenters are prepared to provide information and answer any questions attendees may have.
The conference is Delta Alpha Omega chapter's implementation of Alpha Kappa Alpha Sorority, Inc., International Program Target 3 which emphasizes financial planning, asset accumulation, and wealth building in communities that have traditionally struggled in these areas. The Conference was the brainchild of Rosemarie Tatum, the chairman of Target 3, along with her committee members, and Delta Alpha Omega's Vice President and Program Coordinator, Rolonda Burns.
During Delta Alpha Omega's annual program planning meeting in August, The Target 3 committee posed this question, "What are the biggest obstacles to building wealth in economically disadvantaged communities?" Resoundingly, the chapter responded, "Access to information and opportunities." The Building Your Economic Legacy Conference is designed to address these obstacles. It will provide the community with one-stop-shop access to information and resources geared to building your financial security.
"It is not often that we talk about wealth building in African American communities. Money is indeed a sensitive subject, but a necessary subject if we want our communities to flourish," says Connie Nichols, President of Alpha Kappa Alpha Sorority, Delta Alpha Omega Chapter. "We want to break that silence and begin conversations that empower our community, to support its businesses, and establish a lasting legacy," she continued." "It is Delta Alpha Omega's hope that by providing access to information on wealth building, the community members will seek out opportunities to start the process of planning for a healthy and successful financial future," says Rolonda Burns.
Delta Alpha Omega Chapter believes that this conference will truly benefit the Waco Community by allowing community members to select topics that are important to their financial success and learn how to be strategic in planning. "There is no better time than now to start planning for tomorrow," says Rosemarie Tatum.
The Building Your Economic Legacy Conference is free and open to all who would like to start the process of planning for their financial future. It will take place at Carver Middle School, 1601 J. J. Flewellen, Registrants can select up to two of the ten concurrent workshop session to attend beginning at 8:30am and concluding at noon. Lunch will be provided to attendees at no cost. You may contact Rosemarie Tatum at [email protected] for additional information and to register. There is no better time to start planning than now!
---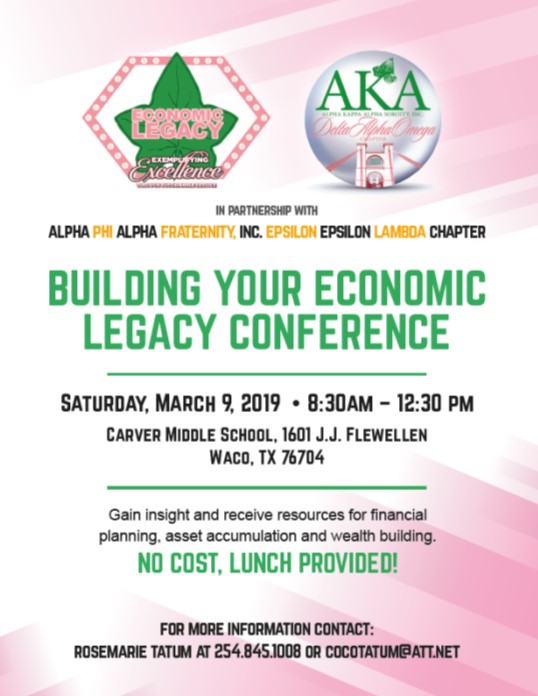 ---
Alpha Kappa Alpha Sorority, Inc., is the oldest Greek letter organization established by women of African American descent. Beginning with the vision of nine college students on the campus of Howard University in 1908, the sorority has flourished into a globally-impactful organization of nearly 300,000 college-trained members, bound by the bonds of sisterhood and empowered by a commitment to servant-leadership that is both domestic and international in its scope. Chartered in 1946, Delta Alpha Omega Chapter has continually served the Waco community, implementing programs that are designed specifically to address the local needs of the Waco community.
(Visited 67 times, 1 visits today)