ROOTS Natural Hair Club at Baylor University: More than Just a Hair Club
By Gabrielle Chaney
The idea of creating a natural hair club at Baylor University started in my 2001 Honda in Spring 2017. My friend, and now former president of ROOTS NHC, Victoria Ellison and I were casually discussing how it would be a great idea to create an organization on campus dedicated to promoting, celebrating, and educating people about black natural hair on campus. Three weeks later I start receiving text messages and emails about becoming an officer on campus. I was shook! We started something that I would never have thought would be possible at a predominantly white institution.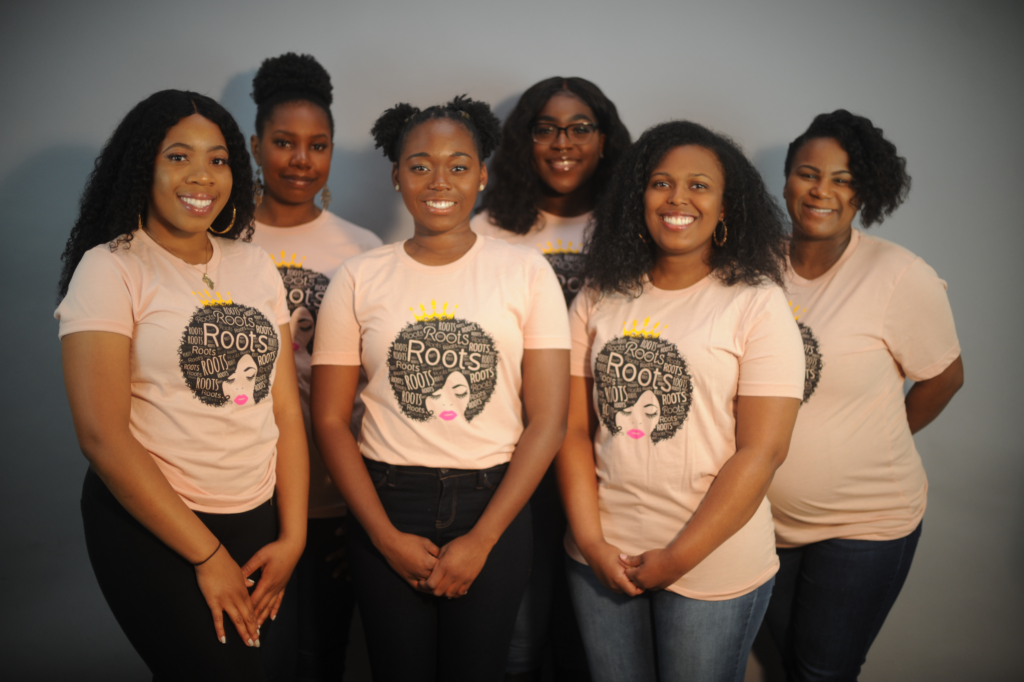 The start-up of ROOTS NHC was not easy. In the beginning, many students did not understand our purpose and were skeptical about having a new organization on campus, administration did not understand our vision.
To gain traction we knew we needed to find something different to attract people to attend our meetings. One huge initiative, which we still continue to do, was providing natural hair products and samples to students who join our organization or students in need. "Why not provide something useful and cost efficient for students to try in their hair?" we thought. In the black community, natural hair products are not cheap. Quality brands of natural hair shampoo and conditioners for black hair can cost over $20, so our goal is to try and provide opportunities for students to win prizes, hair products & samples that natural hair companies provide us, at every meeting. We have been blessed to receive donations and support from huge companies, such as Aunt Jackie's Natural Hair Products, As I Am, Curls, Cantu, Palmers, Do Gro and many more.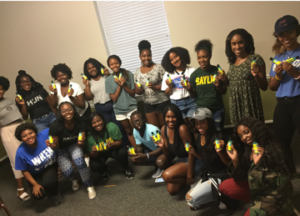 The concept of our meetings is that hair is the starting point for larger discussions. We have discussed issues such as colorism in society, natural hair in the newsroom and journalism, natural hair in the business world, hair education, and even hot topics such as culture appropriation and the historical roots of African hair. The conversations dive deeper into loving the skin God has blessed us with, appreciating the hair on our heads, and educating non-blacks on the importance of black culture.
As a result of these conversations we had the idea of creating a hair event. We hosted the ESSENCE Hair Show & Expo at Baylor in the spring of 2018. We worked to bring vendors and to have hairstylists showcasing their work. At the event we provided giveaway products, free haircuts, and performances.
This year we will be hosting the 2nd Annual SPRING FEST Hair Show & Expo at Baylor University. Our goals in planning this event are to invite the entire Baylor and Waco community to witness something new and unique in Central Texas. The event has gained traction from start-up businesses, entrepreneurs, and local businesses. We will have vendors from Waco, Dallas, Houston, and Austin that specialize in natural hair products, hair accessories, skin care, and so much more. We will be hosting even more performances, vendors, bigger prizes, free food and haircuts than last year. All of the ticket sales will be donated to the Family Abuse Center of Waco, Texas.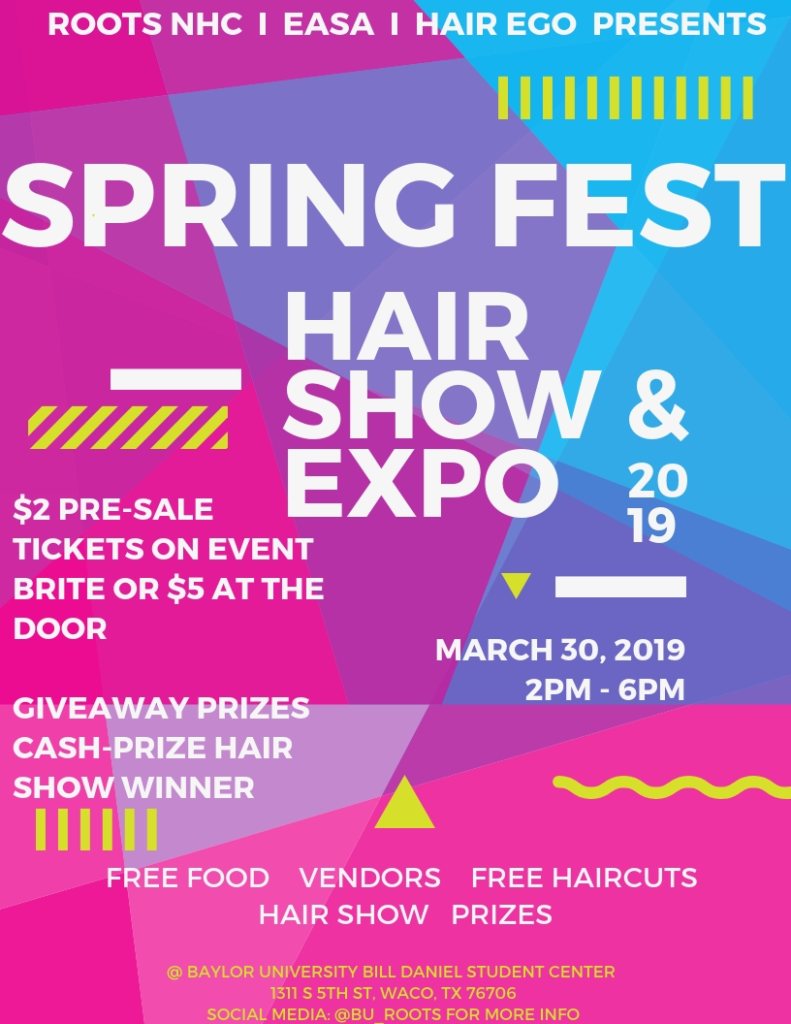 I am blessed to have this opportunity and grateful for how far our organization has come in the past two years at Baylor. As I close my senior year, I only pray our work as servants of God will continue through this organization.
ROOTS Natural Hair Club is more than just a hair club. We want every attendee at our meetings and events to leave feeling loved and appreciated. I pray, as a president and advocate for black culture, that I have helped cultivate leadership in my officers and freedom of expression in all our members and attendees. We have great ideas and I know that, if we have the drive, ROOTS NHC can reach even further in accomplishing our dreams.
If you are interested in attending the SPRING FEST Hair Show & Expo it is on March 30th, 2019, from 2-6pm at Baylor University's Bill Daniel Student Center. Tickets are $2 presale and $5 at the door. You can purchase tickets through www.Eventbrite.com, type in "SPRING FEST Hair Show & Expo." All ticket sales will be donated to the Family Abuse Center.
---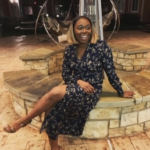 Gabrielle Chaney is a senior Athletic Training major at Baylor University. She is from Missouri City, Texas, and originally from Lafayette, Louisiana. Her career goals are to work as an Athletic Trainer and Physical Therapist for a University. Eventually, she would like to have her own business. She loves getting to know people, watching sports, music, cooking, and also discussions on social justice and activism. One of her big passions is ROOTS Hair Club at Baylor University. "This organization allows me to have a voice on campus and express the love of hair and community!" she says. One of her other passions is leadership and working on becoming a better leader. "I believe Baylor University has cultivated an atmosphere where my leadership abilities have had room to grow and shine," she says. "I am grateful for my time at Baylor and ready to see what the world has in store for me in the future."
(Visited 87 times, 1 visits today)