ARTPrenticeship 2019 Broadens Horizons for WISD Interns
By Kennedy Sam
In summer of 2018, through a partnership with Creative Waco, Waco ISD, Prosper Waco's summer intern program, and generous local sponsors, ARTPrenticeship was brought to life. Ten rising seniors from Waco ISD gained real-world, concept-to-completion, mentored work experience and created the mural "1000 Hopes for Waco" in the process.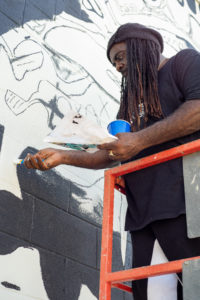 This summer, we are back for year two — but this time with two walls. Similar to last year, we've hired 12 apprentices from Waco ISD and six local professional artists serving as the creative team guiding the apprentices. One new addition to this year's program is well-known New Orleans artist and muralist, Richard C. Thomas, serving as a teaching artist and lead designer on one of the murals.
Thomas' work graces the New Orleans International Airport, an Iowan mural dedicated to immigration, 20th anniversary posters for the New Orleans Jazz & Heritage Festival, and on the walls at Waco's own Kieran-Sistrunk Fine Art Gallery during the month of July.
You can find the murals in-progress at Brotherwell Brewing and the Family Health Center's Martin Luther King Jr. Community Clinic.
We want to get the Waco community involved as much as possible, so we invite you to Community Paint Days! Join our apprentices and creative team for the morning to paint and learn more about their experiences working with ARTPrenticeship, plus get a sneak peak of the designs. No experience needed, just come out and support our young creatives as they make their mark!
---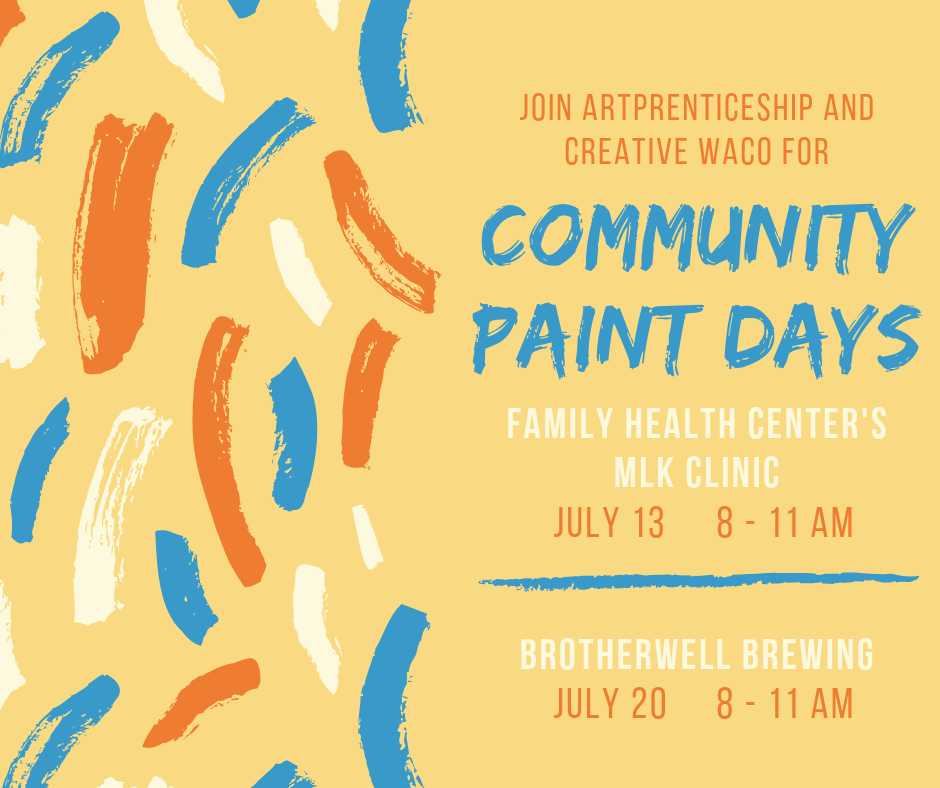 Family Health Center – MLK Jr. Clinic
July 13, 8 – 11 a.m.
July 20, 8 – 11 a.m.
---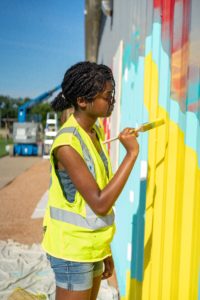 I sat down with two apprentices to hear about their experience thus far as a part of ARTPrenticeship 2019 program. Kaeleana Ramirez is a rising junior at University High School working with the mural team at the Family Health Center's Martin Luther King Jr. clinic. Upon completing high school, she plans to attend college on the west coast or in Hawaii to study marine biology. Lillian Olvera is a recent graduate from University High School working with the mural team at Brotherwell Brewing. She plans to continue her education at McLennan Community College to study art.
What made you interested in applying for the ARTPrenticeship program this year?
Kaeleana: I love art! I've been taking advanced art classes since middle school. This upcoming year I'm moving up to Pre-AP Art, so when I heard of this program I had to apply.
Lillian: I actually wanted to participate in the program last year, but it didn't work out. This year I came to the information session about the program at University and decided to apply. This is my first job, so I thought this would be a great opportunity do so something I'm passionate about and gain work experience.
How have you enjoyed working alongside the teaching artists?
K: I've definitely enjoyed working alongside the teaching artists. I knew there were artists in town but I thought they typically focus on creating work that would go in a gallery, not dedicating their time to help teach high school apprentices how to paint murals.
L: This has been a fun experience and it's cool seeing professional artists in our community. I'm mostly familiar with our art teachers who are professional artists too, but it's interesting seeing and getting to work with people who are full time artists.
What were some of the goals that you set during the studio sessions for this summer? Do you feel like you're on track to hit those goals?
K: The main goal was to broaden my horizon. Usually I create small projects like painting on canvases or spray painting, but I wanted to learn more ways to improve on my techniques. I also wanted to work on being less critical of my work. ARTPrenticeship has definitely taught me a lot about the creative process.
L: A few of my goals that I identified were to be able to work with the group full of other creatives, learn how to manage a project of this magnitude from concept to completion, down to how plan out a budget. I've definitely learned all of that and more.
Has working on a creative project like ARTPrenticeship impacted the type of working environment or career path you aspire to work in?
K: In general, it's taught me a lot about working with a group and how to manage working alongside other people's personalities. Although I don't plan to go into the creative field, however, there are some creative qualities that will help me be successful.
L: My dream is to open up a studio like Marvel or Disney that focuses on design, animation, and fashion. This program has taught me some invaluable things that would help me create my studio and I've met a few people who want to help me attain that goal.
What has been one of the greatest lessons that you will take with you in the future?
K: There's a lot! Learning how to work as a group, a part of a whole instead of as an individual has been an interesting lesson. We've learned how to work in different parts or sections but still communicate different ideas in a professional environment.
L: I've learned that it's ok to make mistakes. You rarely get something right the first time, so sometimes you need to step away then come back with a clear mind. It's all a part of the creative process.
To learn more about ARTPrenticeship visit us at creativewaco.org/artprenticeship.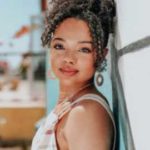 Kennedy Sam is the Director of Marketing and Communications for Creative Waco, McLennan County's arts agency. As a longtime Waco resident, upon receiving her degree from Louisiana State University was excited to return to her hometown to begin her career serving the community she loves. In her spare time, she enjoys rediscovering all that Waco has to offer and exploring the many walking trails with her pup Bleu. 
The Act Locally Waco blog publishes posts with a connection to these aspirations for Waco. If you are interested in writing for the Act Locally Waco Blog, please email [email protected] for more information.
(Visited 179 times, 1 visits today)