Top 10: Runaway Rock Star
Top 10 "Most Opened" Blog Posts of 2019: # 9
Is your child looking for something to do this summer? Why not encourage him/her to write and illustrate a novel? That's What Kamayah Miles did!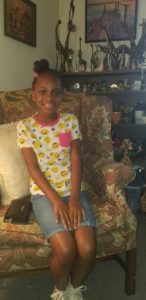 Kamayah Miles is 9 years old and will be a 5th grader at Connally Elementary. She developed a love for writing at the age of 5. Kamayah's other hobbies are drawing, arts/crafts, reading and baking cookies with her mom. She dreams of being an author and a chef.
We have some pretty amazing young people in our community! Here is Kamayah's novel: Runaway Rockstar! Read it now so you can say…"I knew her when…" Thanks for sharing your work with us, Kamayah! We are proud of you!