Top 10: A letter from a First Generation Mexican Immigrant, Naturalized Citizen, US Patriot
Top 10 "Most Opened" Blog Posts of 2019: # 3
By Reyna Reyes
I was always that kid. The one who was in everything, or at least tried to be. I guess it's always been that way with me. I've always been very passionate and 100 percent all in.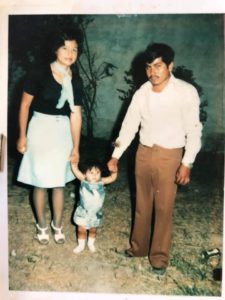 My parents brought me here to the US in 1979, I was a 3- year old toddler. Early on into my pre-teens, we visited Mexico often.
I always knew to prepare because the walls at my grandparents were see-through, dirt blew everywhere, with dirt floors, a random concrete slab, no electricity, no running water, and no bathroom. Still is the same today.
It was always amazing to me how a family of 8 could cramp into one room with a couple of mattresses on the dirt floor and manage to cook and eat outside in the elements.
We stopped going as frequently as crime with the cartels increased and it was no longer safe for us to go to "la frontera."
I would hear my uncles talk about the dangers the family faced and how us visiting there could make it a greater risk for them.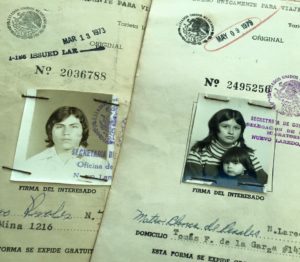 Ten years ago, my husband and I were quickly ushered back by family across the US border when we attempted to go to my cousin's funeral in Mexico. We were warned by family that tensions were high, and we would be at risk for danger.
My grandfather passed away and we were advised to stay away.
My uncle passed away and more of the same.
Over the years, my family, like many others, has suffered loss due to the crime that has gone on unchecked at la frontera. Daily living is sometimes near impossible without becoming a casualty of the war on the streets.
Bloodied bodies across the front page of the local paper serve as notice to families, including mine.
I am so grateful my parents immigrated to the US. And while there is definitely a desperation in Mexico and further South, and a very real humanitarian crisis at the border; most Mexicans can appreciate the efforts of the US administration to keep this country safe.
My cousin, a professor at a school in Mexico expressed to me how they wish their leaders would do the same on their behalf.
Personally, growing up in the US as a Mexican immigrant, I was often stereotyped and racially attacked.
I was called a wetback and was often bullied in school because of it.
It could have been because I was that girl who wore the folclórico dresses and sang the Tejano songs with a conjunto band and the Mariachi Band at school.
It didn't help that most of my friends were teachers and administrators, and I often sold tamales to them to help mom with money.
As a result, I was often pushed around and ridiculed.
But it wasn't by who you may suspect.
It wasn't those "racist white people" who hated Mexicans as I often hear about today…I didn't meet any of those people and didn't really hear about them back then that I can remember.
No. My attackers were the very same Latino kids who are now adults who continue to do the very same thing to folks, including me; except using today's platform that is now social media.
I was very recently publicly stereotyped and attacked. I was called an ignorant whitewashed entitled chicana by an immigrant advocate.
A community member mocks me with memes and uses bullying tactics online to try and intimidate me, as recently as today.
I think it to be completely ironic.
It takes me back to those days in middle school and high school when we often had little to eat, no electricity or running water, and were often on the verge of being evicted; dealing with an alcoholic for a father, protecting my younger brother from seeing his state, dealing with my epilepsy (We didn't always have the money for the meds or specialist visits, not to mention money for a translator and transportation), and still working to keep my grades up in school to ensure my mother's sacrifice did not go in vain.
As a conservative Latina, I am often accused of being a traitor.
If leaving my home country to make a better life here is being a traitor, then maybe I am. Although I didn't choose my path as a child, I guess I could have returned to Mexico to make it work.
If I'm a traitor because I didn't go back to fight so that the Mexican government would do for its citizens as it should, then maybe I am. I guess it depends on how you define it.
But if that is why I am a traitor, then would it make hundreds of thousands of Mexican immigrants traitors because they didn't stay to fight the corruption in their homelands?
No. Of course we are not traitors. No matter where we stand politically. We have all fled and continue to flee countries who have cared little for their own citizens.
We are here because the US government's structure allows for freedom and opportunities.
I was naturalized very recently as a US Citizen and I am scheduled to attend a swearing in ceremony in a couple of months. I couldn't be more excited.
Let us stop attacking the leaders of this great nation. Let us stop playing into the media for ratings and politicians for the vote.
Instead, let us join forces to focus on immigration reform and raise money to help manage the efforts at the border and help organizations that are on the front lines working to help families reunite.
Let's join forces to raise money to cover attorney fees and legal processes for those seeking asylum and a path to citizenship.
Let us raise money to send US ambassadors to Mexico to work on a solution to address the root cause of the crisis.
Let's work together to address this very real crisis affecting very real families. Some who may be our very own.
---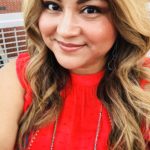 Reyna Reyes is a 40-year Wacoan. She is a first generation Mexican immigrant and a first generation high school graduate. She is a Licensed Vocational Nurse with an Associate's degree from McLennan Community College and a Bachelor Degree from Tarleton State University in Business Management. She co-chaired Care Net Waco's very first Style Show fundraiser last year featuring Care Net moms and their children, an organization very near and dear to her heart.
She is a not-so-anonymous shopaholic who loves to shop the locals and encourage her social media followers to do the same. She is 22 years married to her amazing husband, Joshua and they have a 10-year old son, Jordan. They enjoy watching Baylor Football and Lady Bears Basketball together.
The Act Locally Waco blog publishes posts with a connection to these aspirations for Waco. If you are interested in writing for the Act Locally Waco Blog, please email [email protected] for more information.