Find Your Waco: a twist on the classic job fair
By Meredith Palmer
What makes Waco, Waco? Is it the booming business climate? Maybe it's the wide array of philanthropic organizations? Or the up-and-coming arts sector? The Greater Waco Chamber of Commerce hopes to give people a glimpse of how Wacoans live through its second annual "Find Your Waco event."
Find Your Waco is a "Life Fair" and a great place to learn about all things Waco. The purpose of the "Life Fair" is to connect attendees to different components of the community. The 2019 Find Your Waco Life Fair will be held on Wednesday, Oct. 16 from 2 to 6 p.m. at the Freedom Fountain and Waco Convention Center.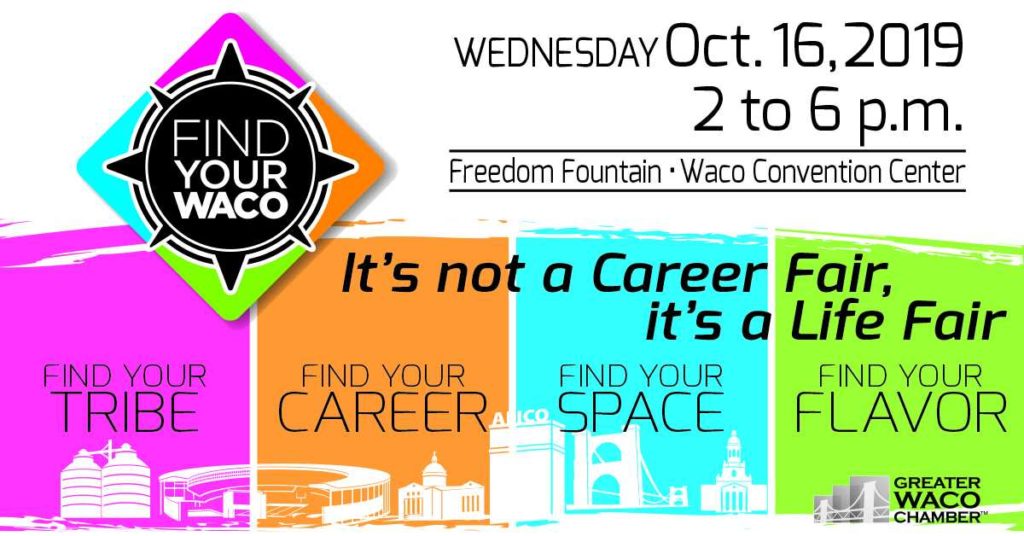 How does Find Your Waco differs from the "old-school" job fair? While this event does feature businesses and organizations offering employment opportunities, it also focuses on other outlets that make the Waco area an exciting place to live.
Find Your Waco consists of four "quads" which attendees are encouraged to explore. These include Find Your Tribe, Find Your Career, Find Your Space, and Find Your Flavor.
Find Your Tribe helps attendees connect with people and organizations in the area. There will be a variety of organizations present including, churches and religious groups, non-profits, fitness facilities, networking groups, and sporting groups.
Find Your Career encourages attendees to get plugged in with local employers. Participating employers may be looking for full time, part-time, or internships candidates from a range of fields such as education, healthcare, tech and manufacturing.
In Find Your Space, attendees can find out what life is like in Waco and look for a place to call "home." Several real estate companies, apartment complexes, hotels, construction and roofing companies, banks and school districts will be present to inform attendees about the living climate in the area and explore financial options.
Find Your Flavor gives attendees a taste of the unique food services, culinary practices of the area. Industries represented will include restaurants, bars, wedding venues, sporting activity companies, grocers, and car dealerships. Find Your Waco is proudly partnering with Waco Food Hub, a local start-up creating a multi-station shared kitchen space for Waco food artisans, to showcase the variety of different eateries, wineries, craft breweries and food trucks in the area. This year, attendees can sample food and drinks from exhibitors in the Find Your Flavor quadrant.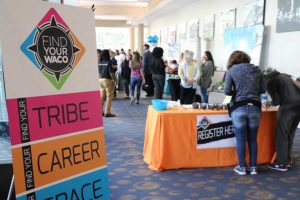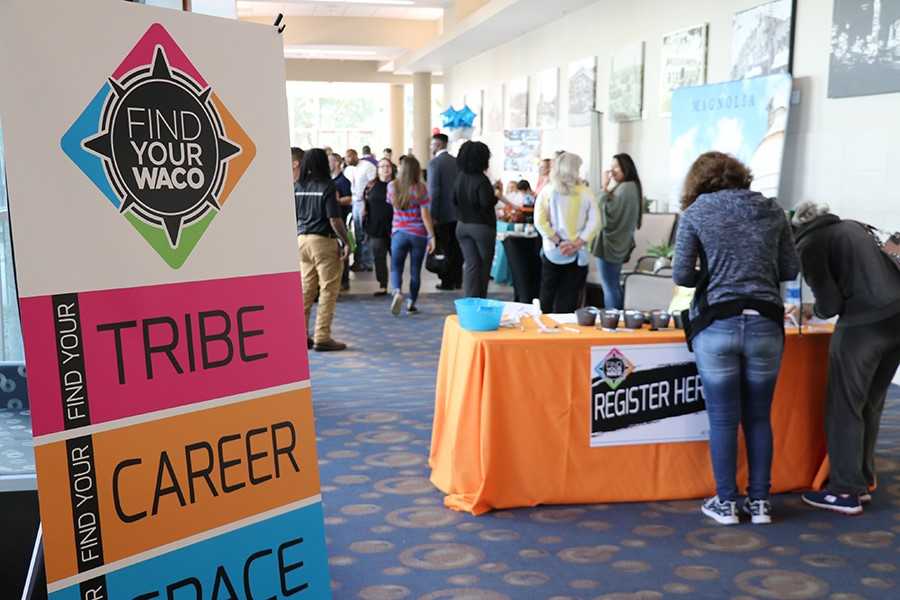 Last year, around 500 attendees participated in the Find Your Waco life fair. Jennifer Branch, Director of Existing Industries & Workforce Development for the Greater Waco Chamber of Commerce, said this number exceeded expectations and demonstrates the need for such an event in Waco's growing community. There is no charge for people to attend Find Your Waco and the Chamber is hopeful the event will draw in a large and diverse group of attendees to the life fair again this year.
Recent graduates, transitioning military veterans and their spouses, area visitors and traditional job seekers are encouraged to attend Find Your Waco. Last year, buses transported military veterans and their families between Fort Hood and Waco, so they could participate in Find Your Waco.
For locals, Find Your Waco is a great time to learn about different ways to get plugged into the community. Branch said she hopes attendees will learn about different things Waco has to offer from the wide range of exhibitors featured in the different sections of Find Your Waco.
Exhibitors who participate in Find Your Waco have the opportunity to find their next great employee, team member or volunteer and to network with other businesses and potential customers. For Manpower Central Texas, a career placement and development agency, Find Your Waco proved to be a great return on investment. Jodi Morgan, Business Manager for Manpower in Central Texas, said Find Your Waco opened up a new market for Manpower to explore. Over 110 people filled out interest forms at Find Your Waco, and Manpower was able to add nearly ten companies to their pipeline. "For any business that is on the fence about Find Your Waco, I'd encourage them to try it. You'll get face time in a potentially untapped market," Morgan said.
So, if you are new to or looking to move to the Waco area, have been here your whole life, or are somewhere in between, Find Your Waco is a great opportunity to show off your business or organization, network with others and learn more about Waco.
Businesses that are members of the Greater Waco Chamber of Commerce and of the McLennan County Chamber Alliance (MCCA) will receive discounted exhibitor booth prices. To register as an exhibitor or learn more about the Find Your Waco Life Fair, visit the Facebook event page (https://bit.ly/2LbOBNC) or contact Jennifer Branch at [email protected] or (254) 757-5625.
---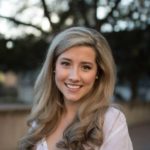 Meredith Palmer had the opportunity to intern at the Greater Waco Chamber of Commerce this summer for the Marketing & Communications Team. She is a local Wacoan and graduated from China Spring High School. Meredith is a rising senior at the University of Texas at Austin where she is studying journalism. Meredith enjoys spending time with her family and friends, traveling and reading.
The Act Locally Waco blog publishes posts with a connection to these aspirations for Waco. If you are interested in writing for the Act Locally Waco Blog, please email [email protected] for more information.
(Visited 929 times, 1 visits today)