Top 10: Eating Gluten Free in Waco
Top 10 "Most Opened" Blog Posts of 2019: # 5
By Ellie Triplett
If you avoid gluten for any reason, eating out can be a challenge. If you've been doing it for any amount of time, you're probably an old pro at the basics of avoidance when it comes to regular menus. But what about when you want something as classic as a cheeseburger? Where do you go for your macaroni and cheese cravings? Where can you find gluten-free pancakes? Or, the golden chalice of gluten-free eating, where can you go for pastries? Never fear, my friends, you are in luck. I am here to tell you that you are living in a town with a growing culinary culture, with restaurants that provide an impressive array of allergen friendly dining options. What follows is a very basic, non-comprehensive list of where to find your fill of sans-gluten treats in good ol' Wacotown.
It seems logical to start with breakfast. If you are looking for pancakes, Café Cappuccino (with three locations at 100 N. 6th St., 1101 Richland Dr., and 903 N. Hewitt Dr.) is known for its amazing, plate sized pancakes, and now they come in gluten-free! I have personally ordered and enjoyed them.
Uptown features wonderful vegan and gluten- free waffles at Luna Juice Bar (1516 Austin Ave.). In carrot, matcha, and strawberry, the waffles are made with oat flour, gluten-free flour, or coconut flour and topped with coconut whipped cream, and are DELICIOUS. Pair them with a smoothie, or a cold pressed juice and you've got a perfect breakfast. Luna Juice also has a full menu of delicious salads, soups, and wraps, if you need a quick lunch later in the day.
Down the street at Harvest on 25th (112 N. 25th St.) you can continue your breakfasting or slide right into brunch with gluten free muffins, pancakes, or avocado toast. They offer ways to make their entire menu gluten-free and also offer gluten- free pizzas.
Since we've moved on to lunch, and specifically pizza, it is worth mentioning that Poppa Rollos (a long time local favorite at 703 N. Valley Mills) offers a good gluten-free version, and both Slow Rise Slice House (7608 Woodway Dr.), and 900 Degrees Pizzeria (315 S. University Parks) have cauliflower crusts which are keto friendly as well as being gluten-free.
If you're craving a hamburger, look no further than Tom's Burgers (6818 Sanger Ave.) It is a mom and pop burger joint that has just recently been brought to my attention for their gluten-free buns.
A newer option with gluten-free buns and bread is Revival East Side Eatery (704 Elm Ave.). They have a full menu, including soups and salads, so you're sure to find something for everyone.
If you're looking for the kings of comfort food (in my opinion), macaroni and cheese and grilled cheese sandwiches, look no further than The Mac House (3428 Franklin Ave.). Their artisan sandwiches and macaroni creations are amazing, and worth every penny and every minute you'll spend waiting (it's a bit, y'all, but worth it!).
Which leads me to my favorite way to splurge on gluten-free food; the pastries. Fabled Bookshop downtown (215 S. 4th St.) has gluten free lemon poppy seed cake as a part of their newly opened café, alongside literary themed drinks and other snacks. However, Baked Bliss (1114 N. 15th St.) is truly the sweet spot for sweets (see what I did there?) with cinnamon rolls, cranberry orange scones, brownies, chocolate chip cookies, blueberry muffins, and bacon cheddar scones (if you're feeling the savory side of things) all offered gluten-free daily. You can pre order their gluten-free bread, which they bake on Wednesdays in a completely gluten-free kitchen, on Tuesday mornings. They also have gluten-free cakes, cupcakes, lemon shortbread, and pecan shortbread cookies, all of which can be made ahead of time for special events.
Phew! It's a lot! A couple of things to note as we wrap up. Firstly, I am not a food blogger, or really any type of blogger. In many of these cases, I have eaten and enjoyed the food, but this is not true across the board. As a result, I did not attempt to describe in too much detail the experience of eating the food, so as to be fair. Secondly, this is by no means a comprehensive list. If your restaurant, or your favorite restaurant was left off the list, it is in no way meant as a slight. I polled my friends, asked for help, and sent out a few cursory messages asking for clarification on menu items. The result is this post. If I made a grievous error, leave us a comment! Share your knowledge! Thirdly, it is important to keep in mind that there are no certified gluten-free kitchens on this list. Most things will experience some level of cross contamination, and you are, as always, advised to check with your servers and express your level of allergy, and make an informed decision for yourself.
Happy (and safe!) eating, friends!
---
A couple of other resources…
---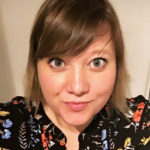 Ellie Triplett is a book lover, weaver, former bee keeper, and enneagram four. She lives and works (and eats) in Waco alongside her spouse and their three children.
The Act Locally Waco blog publishes posts with a connection to these aspirations for Waco. If you are interested in writing for the Act Locally Waco Blog, please email [email protected] for more information.