Holy Spirit Episcopal Church's New Disability-Inclusive Playground
By Hilary Yancey
It's an exciting time at Holy Spirit Episcopal Church! This fall, we opened a new playground on our campus on Wooded Acres Drive, just behind the Target. The playground, geared towards developmental ages 2-6, is not only well-shaded and features fun musical instruments but it is also disability-inclusive and accessible. The turf is anti-static, which means that unlike some other turfing or playground surfaces, it does not interfere with cochlear implants or other hearing aids. It's also fall-safe from a height of 6 feet. Children can play on the small hill (complete with tunnel) in safety and the turf is easily learnable for anyone with vision differences. The space has high-contrast colors for visual cueing, is completely level for wheelchairs, scooters or other mobility devices to access directly from the accessible parking in front. There are ADA-compliant bathrooms on site. The last feature – picnic benches that include cutouts for wheelchair roll-up, went in just a couple of weeks ago.
I'm a mom of a son with disabilities, and in the four short years I've been privileged to parent him, I've often longed for spaces where his needs can be not only heard but also anticipated. The playground is a space, we hope, that anticipates the needs of children with disabilities from the very beginning. My Jack loves the drum and the big xylophone at one end of the playground, and riding the tricycles that are available during the church's business hours to ride around the trike path. With my son's visual differences, I worry in some playgrounds that he won't be able to safely navigate the drop into the play space or the distance between some of the structures. This playground is a space where I am confident he can learn the space through all of his senses – the turf, the hill, the other color contrasts, the sounds – and play freely.
I'm also a philosopher, finishing up my PhD in philosophy at Baylor. Over the past few years, I've spent more and more time trying to better understand and appreciate how we can think better about the nature of the human person. It is all too common to think of disability as merely bad or unfortunate, or to think that individuals with disabilities must have a worse quality of life than others. But these conclusions are too hasty. Like so many features of our lives, disability is—from what I understand from listening to the testimony of individuals with disabilities—complex, many-faceted, often both beautiful and difficult. What makes many disabilities particularly difficult is not a person's bodily situation but the structures of his or her society. Are there accessible bathrooms or doorways? Is there a quiet space nearby where someone can reset after being sensorily overwhelmed? Are the places and activities that we create in our communities aware of and appreciating how all members of our community might need to access them?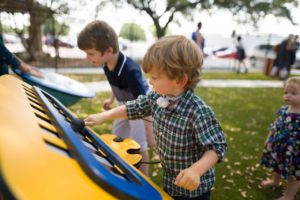 Part of our mission at Holy Spirit over the next several years is to create a space where we live out our core belief that all people are made in the image and likeness of God. For too long, individuals with disabilities of varying kinds have suffered injustice, from lack of access to shared and communal spaces, to lack of understanding and listening to their experiences, to lack of opportunity to lead in our communities according to their gifts and callings. We hope, in small and concrete ways, to begin righting these injustices by creating new spaces for our communities where individuals with disabilities to be welcomed and their needs to be listened for, understood, and met.
As I continue to live in and make Waco my (and my family's) home, I am grateful and excited by the things happening to create more spaces of welcome and inclusion for individuals with disabilities: from the No Limitations sports organization to the sensory friendly Trunk or Treat at Elite Therapy Center, to the community life at Friends for Life. We hope to see the playground at Holy Spirit become such a space of welcome and inclusion.
This fall we also marked the start of our inclusive recreational ballet class – a weekly class, free to parents, open to students with or without disabilities to come and enjoy ballet together. We meet in our Parish hall on Wednesdays from 4:45 – 5:30, and we are always welcoming new students ages 3-12 to come and try it out! If you have any questions, contact Hilary Yancey at [email protected].
---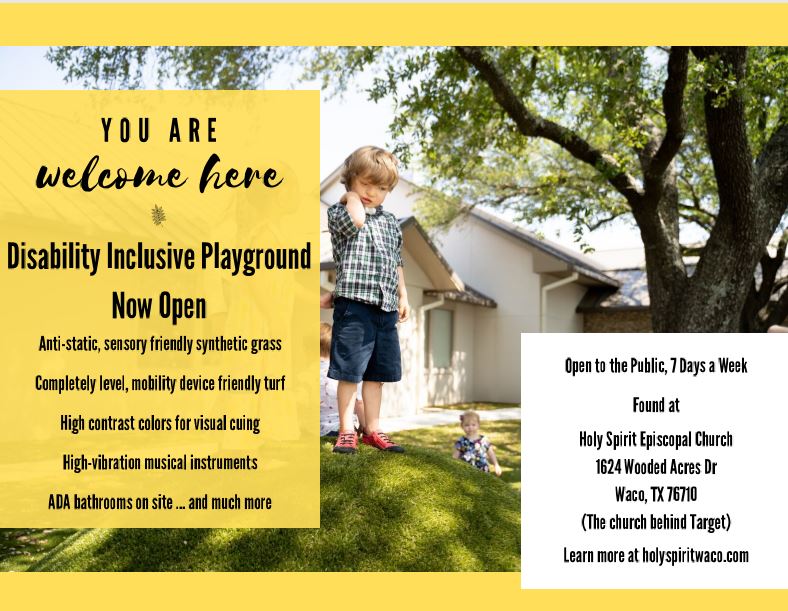 ---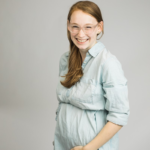 Hilary Yancey loves good words, good questions, and sunny afternoons sitting on her front porch with Pinewood coffee. She and her husband, Preston, and their two children, Jack and Junia, live in Waco, Texas, where Hilary is completing her PhD in philosophy at Baylor University. Her first book, "Forgiving God: A Story of Faith" is on shelves now! 
The Act Locally Waco blog publishes posts with a connection to these aspirations for Waco. If you are interested in writing for the Act Locally Waco Blog, please email [email protected]for more information.
(Visited 394 times, 1 visits today)