MCC Hispanic Student Association brings Ciclovía to Waco
By Ricky Galindo
The Hispanic Student Association at McLennan Community College is comprised of two co-leaders, Aranza Torres and Ruben Salazar. The rest of the members are students, who largely lead the organization. Essentially our purpose or our drive for this organization is to be inclusive of people of all kinds, and that's not something one tends to see these days. As much as people preach about being inclusive, there is still some sort of bias as to what people should be included. We really want to bring that awareness of inclusiveness. Because everyone is different, we all have our own strengths and weaknesses. Ruben and Aranza do a great job at picking up on these things that the students themselves might not realize.
The students are the voices of this organization. They are nurturing their minds and sharing what they have learned either from school or through their own research. It's minds like these that will drive this world. As kids—and I think I speak for everyone on this—we have questions about any and everything and we look to our parents who often don't have an answer other than, "Because I said so." That answer can only work for so long, until the child starts to look for other sources of information and begins to educate themselves. There's a certain point of "adulthood" or life after college where that desire for learning starts to fade away. Our hope is to keep this drive for learning beyond this organization and life after college. During our meetings we usually talk about a variety of subjects ranging from things like the environment, culture, society, etc. But HSA isn't always so serious, we like to have fun at these meetings as well and can discuss topics like movies, tv shows and even food.
I am proud to announce to you that this great organization is working on a project that will include the whole community! We are hosting a Waco Ciclovía!
What is a Ciclovía and where did we get the idea?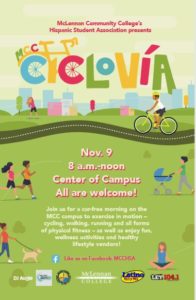 It all began, in Bogota, Colombia. Each Sunday and public holiday from 7 am until 2 pm several main streets are blocked off for cars and runners, skaters, and bicyclists take over the streets. The event takes on the feeling of a fun health festival with different groups setting up spaces for aerobics, yoga and other fitness and health activities. In Bogata, the weekly Ciclovías are used by over 2 million people. (about 30% of the population). (Ciclovía)
Ciclovía began in Bogota in December of 1974. It was started by a man named Jaime Ortiz Mariño. In 1976, the city officially adopted the program, which was promoted by the city government and the transportation department. In 2007 a Colombian congressman proposed a law banning Ciclovías, stating that they caused traffic jams. Many cyclists, Ciclovía users, city council and congress members protested this law and the law was soon defeated. Since then, every Sunday Bogota closes down ten of their busiest roads for the Ciclovía.
Our hope for this event is that through true social networking – human interaction – we can strengthen our community and stress the importance of things like our environmental impact. It is also to show how easy and fun it can be to exercise for just minutes a day. Another hope of ours is to expand this event beyond the campus of McLennan Community College and make this a city-wide event. We believe what we are doing matters and our event is just as important as many of the other festivals and events that have gained popularity around town.
The Hispanic Student Association is currently accepting donations for this event and will continue to accept contributions during the event —anything and everything helps. We are also looking for volunteers, so if you would like to help follow the link below. Our Ciclovía will take place on November 9th at 8am-12pm, in the center of MCC Campus. I hope you and your family and friends will join us!
Volunteer: ​https://volunteersignup.org/Q7Y3Q<https://volunteersignup.org/Q7Y3Q
Donation: https://commerce.cashnet.com/mclennanem1pay?ITEMCODE=EM1-HSA
---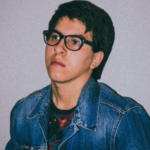 Ricky Galindo graduated from McLennan Community College with an associate's degree in the visual arts. He is a photographer and has won two awards for his photos. He has appeared in three of MCC's literary magazines and in one in Florida. He photographs bands, people and things on the street he finds interesting. He has also helped with photography for Analog Waco. He loves reading books and having good conversations with people and doing normal people things.