Better Living for Texans: Oh-so-lively citrus fruit
By Lindsey Breunig
In 2020, the Better Living for Texans posts will continue, and we are excited to announce that monthly posts will start focusing on a seasonal fruit or vegetable. Material shared will include the nutritional value/benefits, how to select and store, cook and use, and other fun facts regarding the chosen fruit or vegetable! Have a request? Feel free to share and let us know!
Per USDA dietary guidelines it is recommended we consume 1 – 2 Cups of fruit daily. Fruit may be fresh, canned, frozen, or dried, and may be whole, cut-up, or pureed, it all counts! In general 1 cup of fruit or 100% fruit juice, or ½ cup of dried fruit can be considered as 1 cup from the Fruit Group. Like vegetables, we want a variety of color on our plate and in our diet, one way to vary your plate is by choosing fruits that are in season! As we transition into the winter months one may traditionally label winter colors as "darker" and "warmer," but today's highlighted fruit is not the case! Winter season is "when you'll find the bright greens, eye-popping yellows, and oh-so-lively oranges." Let's bring out the bright colors and talk about citrus fruits!
Citrus includes but is not limited to oranges. Other types of citrus fruits are lemons, limes, mandarins (tangerines), grapefruit, and kumquats. (source) When shopping for citrus look for a peel that is smooth in texture versus a thicker bumpy peel. Avoid citrus that has soft or mushy spots. Citrus fruits come from a tree and do not continue to ripen once they are picked. For juicy citrus choose a heavier a fruit, and for good flavor take a whiff and know a sweet fragrance often means good flavor. For continued best quality of the fruit, store in the refrigerator's crisping drawer. Citrus will keep in the fridge for several weeks compared to a few days to a week if stored on the counter. (Source). Citrus fruits are high in vitamin C and folate. Vitamin C is important for growth and repair of all body tissues, helps heal cuts and wounds, and keeps teeth and gums healthy. When it comes to citrus fruits there are a range of options available.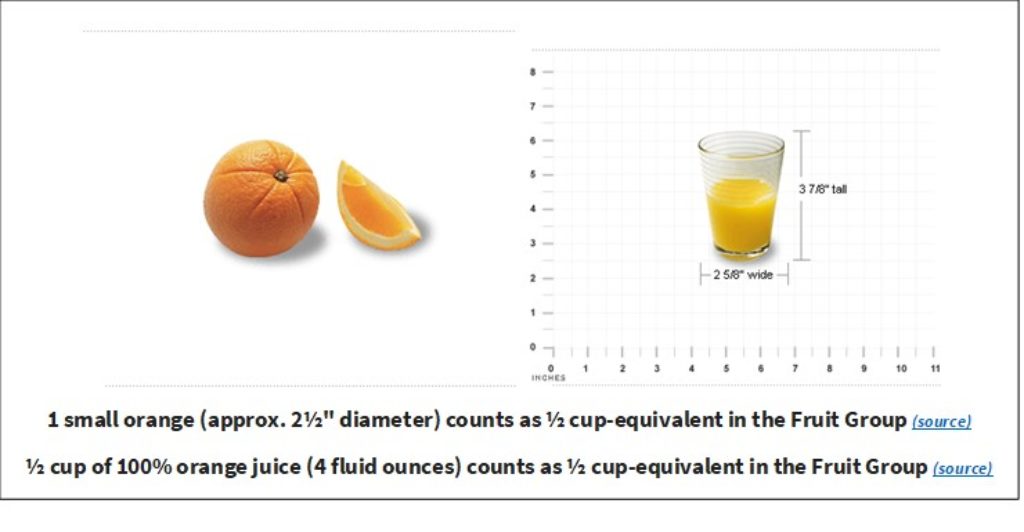 Orange juice is a common staple for many, but one must use caution to ensure it is not the only source of fruit. Juice should make up half or less of total recommended fruit or vegetable intake. Whole or cut-up fruit will provide dietary fiber and reduce sugar intake when compared to juice. Think about how many oranges it takes to make a cup of juice – about 3 oranges! Though naturally occurring, the sugar from one orange compared to a cup of juice adds up quick! If you don't mind the flavor, try cutting your juice with water to reduce sugar. Additionally, when selecting juice, read the nutritional label on the back to verify there are 0g of Added Sugars.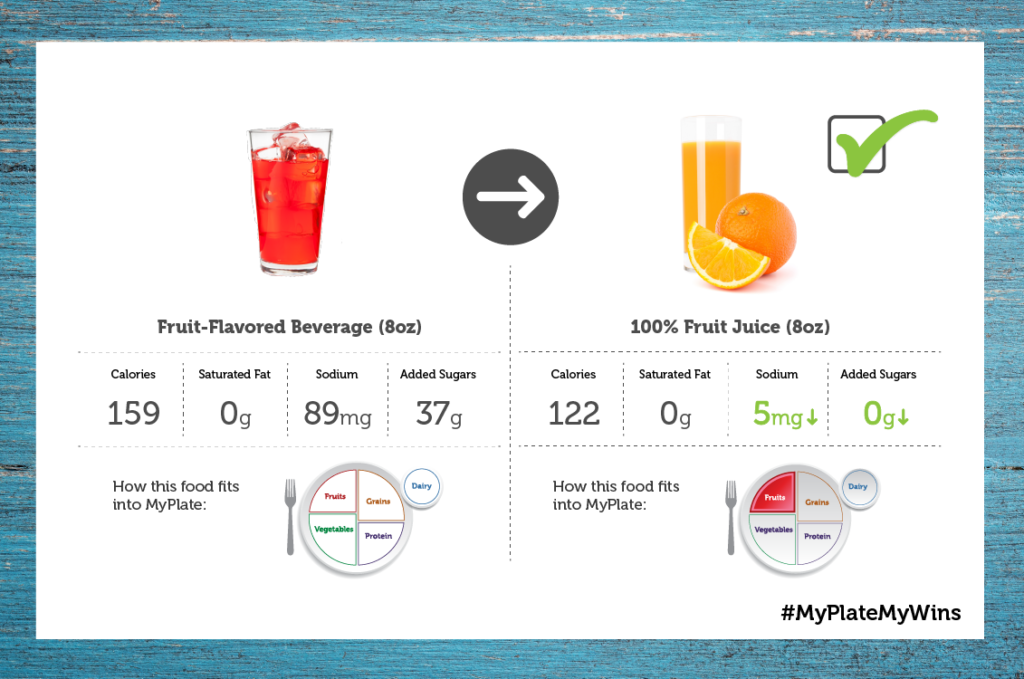 Precut fruit can be convenient and a great snack option, but often has a higher price tag. Luckily during citrus season mandarin (tangerine) oranges are often on sale and make for a great snack. Trying to find the best deal? Always compare the unit price to see the best deal. See the example below, what would you choose?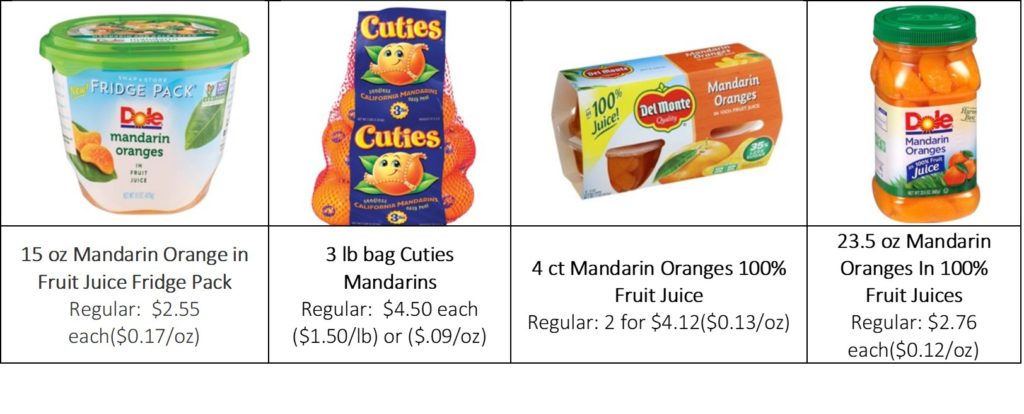 Inspired to add more citrus into your winter cooking? Check out some of these great recipes!
---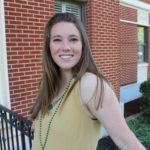 Lindsey Breunig is a graduate of Baylor University and currently works as the Better Living for Texans Educator for the Texas A&M AgriLife Extension Service. She is originally from Grapevine, TX and now calls Waco home. Here in Waco she loves to venture out to Cameron Park, visit the local Farmers Market, and try out the awesome eateries in Waco. If you see her and hear a loud bark, that's her pup Lucy just saying hello.
USDA is an equal opportunity provider and employer. This material was funded by USDA's Supplemental Nutrition Assistance Program — SNAP. To learn more about the Supplemental Nutrition Assistance Program (SNAP) or to apply for benefits, visit www.yourtexasbenefits.com
The Act Locally Waco blog publishes posts with a connection to these aspirations for Waco. If you are interested in writing for the Act Locally Waco Blog, please email [email protected] for more information.