Super Bowl for folks with Special Needs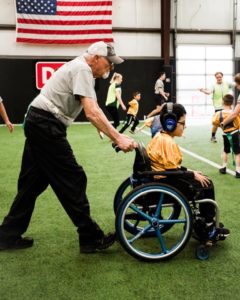 Press Release – No Limitations, a local organization that provides athletic and social opportunities for the special needs community in Central Texas, and D1 Waco, the home of athletic based training for adults and scholastics located in Waco's elite state of the art training facility, team up for the 4th time to host the 2020 No Limitations Super Bowl IV. The No Limitations flag football and cheer league opens up volunteer opportunities to the community, local high schools, Baylor University, and other various organizations. The entire community is invited to attend the event. The season kicked off in early January with a Meet the Stars event, "Where athletes with special needs are seated at the table and the community comes out to get their autographs," said Kevin Engelbrecht, GM of D1 Waco. "We treat them like the stars they really are."
To wrap up a successful season, No Limitations will have their very own 2020 Super Bowl IV, hosted by D1 Waco. No Limitations was founded in 2014 and hosted its first Super Bowl in 2016. In 2017, a perfect partnership was formed with D1 Training – Waco.
On Saturday, February 15, four games will be played on the facility's artificial turf featuring over 100 football players, cheerleaders, and celebrity quarterbacks from the community. The event will begin with a pre-game at 12pm and will offer food, fun, and games for the entire family. Kick-off for the first game will be at 12:30pm.
Special Guests include:
Title Sponsor: Red River Athletic Conference, Commissioner Tony Stigliano
Leon ISD State Championship Cheer Squad
Baylor University Spirit Squad & Mascots
Austin Underwood of Austin's Underdawgs
Joy Pruitt with Waco Rocks
Baylor Helping Hands
Baylor Delta Phi
Challenger League Baseball
Troop No Limitations
Elite Therapy Center
…and more to be announced in coming days!
What: 2020 No Limitations SuperBowl IV
When:  Saturday, February 15, 2020
Where:  D1 Training – Waco (5100 Franklin Ave Suite B, Waco, TX 76710)
Time: Pregame 12pm, Kick-off 12:30
Cost: Free
For more information contact Coleen Heaton, Executive Director, No Limitations, Inc., ​254.723.3828 , [email protected]