What does our community want and need from a police chief?
By Jo Welter, on behalf of the Community Race Relations Coalition
In response to the request for community input regarding the choice of a new police chief for Waco, the board of the Community Race Relations Coalition (CRRC) offers the following.
We are grateful to live in a city with courageous leaders who have decided to begin again with the search for a new police chief after considering input from some in the community. This was a difficult and wise decision and we commend them for this and for now asking for wider input from Waco citizens.
In a July 1 Waco Trib piece by reporter Kristin Hoppa, Waco Police Detective Ken Reeves was quoted as saying, "I think we just want to find the right chief that will be there for our officers."
In a June 6 guest column in the Waco Trib, attorney Mark Osler wrote, "The great challenge going forward is the same as it has been for decades: to create a police force that truly protects and serves all of the people."
Our first suggestion is that we go with Osler's suggestion and look for someone who will serve and protect everyone – officers and citizens as well.
We would love to see a chief who is a person of color or a woman, with no regard for religion or gender preference. It is important for us all to see people from groups that are underrepresented in positions of authority and importance, and this will serve us in many ways. The other qualities we would like to see considered in looking for a new chief include:
Truthfulness and openness, including indications that he/she would give thoughtful consideration to all possibilities in any situation
A genuine interest in improving equity and creating justice for all citizens in our community
An understanding of what Black Lives Matter really means
An interest and commitment to learning and promoting de-escalation techniques in interaction for use between officers and citizens
A striving to do what is morally right, standing up against political interests and police union and civil service issues when called for
An attitude of compassion and understanding toward the citizens they serve and protect, treating citizens as allies, not as "others"
Openness to ideas like a citizens' board to oversee disciplinary decisions
Positive attitude toward cultural sensitivity learning for officers and for youth involved in police programs
We believe that specific policies against forms of restraint and treatment of offenders are certainly necessary.
An issue that might be even more important here in Waco is the need to purposefully work to eliminate the "us against them" attitude that is so pervasive in our society, including between the police department and citizens. This attitude has become so ingrained in us that we are often not even conscious of the ways in which it affects our behavior.
We are drawing from a pool of candidates that, like all of us, is influenced by the "us against them" attitude. The police in many communities have circled the wagons around themselves in self-protection. It makes it difficult to find the perfect new police chief for Waco.
We support and appreciate these efforts in finding the right chief for Waco. We look forward to the future here in our beloved Waco.
---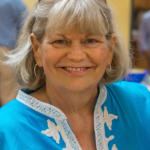 Jo Welter has lived in the Waco area for 29 years and has been an active participant in the Community Race Relations Coalition (CRRC) for 20+ years. She currently serves as chair of the CRRC board.
The Act Locally Waco blog publishes posts with a connection to these aspirations for Waco. If you are interested in writing for the Act Locally Waco Blog, please email [email protected]for more information.
(Visited 101 times, 1 visits today)