What is it like to be a CASA Volunteer?
By Charles Borsellino
I was recently asked by my CASA supervisor if I was available to take on a new CASA child. It made me think about the road I took to be a CASA volunteer. I left Waco in 1975 to pursue a career in Houston and moved back in 2012 after retiring a second time. I would hear occasional radio spots about CASA, something I guess I overlooked in Houston for the 37 years I lived there. My involvement was a very slow process, but I eventually took time to find out what CASA was all about. After doing so, I realized that this might afford me an opportunity to actually make a positive and lasting impact on a child's life. I retired from teaching and found some of the students who showed so much promise in my classroom had been pushed into troubling situations as they got older. As a teacher, you have the opportunity and means to prepare and motivate children, but it is only for a short time. Outside of school, many grow up in troubled homes and surroundings that have more impact than I, as a teacher, could ever hope.
I finally signed up to be a CASA volunteer advocate in 2019. I attended classes for three Thursday evenings with eight really great and caring classmates and knowledgeable instructors who were passionate about the children for which the program is intended. We learned about the laws, procedures, and paperwork (there is always paperwork) through in-class instruction and assigned homework. But we also got to meet seasoned volunteers at our sessions. They answered our questions and gave us insight into the emotional highs and lows they encountered.
We graduated as the largest class of volunteers in McLennan County. Everyone who started the first day finished and was sworn in by Judge NikkiMundkowsky on July 30, 2019. We soon met with our assigned supervisors and reviewed the casework for the child (or children, in the event of siblings) we had been assigned. As I read the Department of Family Protective Services (DFPS) report it was hard to imagine even a little of what my CASA child had been through. I remember wondering how a person who had been through so much could ever grow up and lead a normal and productive life. How could any input from me be of any use?
I didn't have long to think about it. A court date sprang up almost immediately and I had only a short time to meet my child, the DFPS caseworker, Attorney ad litem, Assistant District Attorney, the placement (family keeping the child) and the birth parents. I had to prepare a Court Report while trying to recall everything I had been taught in the classes. I have to admit, it was a pretty daunting experience. I soon learned that my supervisor was always willing to help and I have now come to depend on her whenever I encounter anything I am unsure of. In court I was prepared to give my recommendations but found myself called to testify, something for which I was not prepared for. That was followed by what seemed like continuous activity.
There seemed to be one hearing or conference after another. I observed visitations at the DFPS offices and visited the placement family that had taken my CASA child in. I made appointments with teachers and counselors and probably learned more about my CASA child than I knew about my own. I listened to the facts and advocated for my CASA child's best interests. I also discovered that some things that at first seemed black and white became gray over time. It's a humbling experience when you discover your beliefs about someone or something might be wrong. Still, as chaotic as things got to be at times, a visit with my CASA child always made everything worthwhile. That is one amazing kid.
I have gotten to know the stakeholders in the case pretty well during my time with this case, though the players seem to change. Of course, the teachers change from one school year to the next. Those kind of changes are expected and easy to handle. But even attorneys involved have come and gone. Then there are the DFPS caseworkers. We are on our third. I have gained a lot of respect for those caseworkers. Here I was finding it hard to keep up with just my single CASA child while the caseworkers juggled around twenty. Each of their cases involving weekly court appearances and court reports, and children in situations that would make nearly anyone cry. Yet I have been impressed with each as they've shown compassion and a high level of caring for their charges during the limited time available. I have spoken with ours on weekends and holidays. I don't know when they take a break.
After talking to other volunteers I have learned that most cases are not so active and testifying in court is very rare. Regardless, each volunteer has one goal, to advocate for what is best for the child. It has been a great experience and one that I hope benefits my CASA child and, in turn, our community.
All that brings me to why I am writing this. I feel it is important for me to remain a CASA volunteer after my CASA child's disposition. As the advocate for such a child I might be the only constant in an otherwise confused and sad situation. While I don't believe I have done anything that anyone else couldn't have done, I do believe it is important that it was done, and I did it.
For more information about how to become a CASA please contact CASA of McLennan County at [email protected] or call (254) 304-7982.
---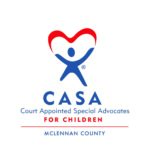 Charles Borsellino was born and raised in Waco, but moved to Houston in 1975 to join the Houston Police Department. Before retirement he went back to college at the University of Houston to get his teaching certificate. He taught elementary school in Houston until he retired from Houston ISD and moved back to Waco.
The Act Locally Waco blog publishes posts with a connection to these aspirations for Waco. If you are interested in writing for the Act Locally Waco Blog, please email [email protected]for more information.