Five Things to Know Right Now About Caritas
By Ann Owen
We are here to help.
I hope you read Alicia Jallah's blog last week regarding the numerous services Caritas offers to the community. During this time of much need, Caritas continues to see increasing numbers of individuals and families who are experiencing hardships as never before. Whether it be food, assistance with utilities, case management services and/or assistance with enrollment in state and federal programs such as SNAP (formerly food stamps), Caritas staff are ready to help. If you have a need for which we are unable to provide assistance, we have a long list of community partners to whom we can refer clients.
Things look a little different.
As much in our community has changed due to the pandemic, so has Caritas. In March, we closed our pantry to visitors and implemented a drive-through method of food distribution. Monday through Friday, you will see long lines of cars surrounding the building as staff and volunteers load vehicles with baskets full of groceries. Our Hidden Treasures thrift stores require masks be worn by staff and customers and at times, need to ask customers to wait outside of our buildings as a precaution. If you drop off a donation of food at our downtown warehouse or clothing and merchandise at our thrift stores, you will be met by a staff member wearing a smile under that mask! Although physically things may look differently, our commitment to serving the community has not changed.
Our staff has a heart for service.
We are very proud to have staff members who are truly dedicated to serving others, with compassion and empathy for those who are in difficult situations. All departments within Caritas have an important role in ensuring our clients are treated with the utmost dignity and respect, from choosing healthy foods for our pantry, to a cheerful "Have a blessed day" to clients as vehicles are loaded, to providing a compassionate ear for those who have nowhere else to turn – our job is to assist in any way possible. Sometimes our clients simply need to know that someone cares – and at Caritas, we do.
We understand that it's hard to ask for assistance.
Often, clients apologize or are embarrassed to ask for help. We see clients from many different seasons in life. Some come from multiple generations of poverty and yearn to become more self-sufficient. Some find themselves experiencing difficulties due to unexpected medical bills or loss of employment. Some are retired and find that their retirement income doesn't cover the increasing costs of living longer. And this year, many are experiencing difficulties related to the pandemic – such as loss of employment, layoffs or furloughs. Whatever your situation, just know that you will be treated with the dignity and respect that every person deserves.
We could not exist without amazing community partners.
Before the pandemic, we were very fortunate to have a dedicated base of donors and volunteers who support the important services Caritas provides to the community. But oh my, have we been blessed with an amazing outpouring of love and support during this very difficult year! As with many nonprofits, when the pandemic began affecting communities in the spring, we were worried about being able to provide for our clients. It quickly became evident that those worries were unfounded. Individuals, businesses, foundations, civic organizations, churches and other faith-based organizations showered our organization with support to ensure we would be able to continue providing services to what would become an ever-increasing number of individuals and families in our community. We send a virtual hug to each and every one of you.
The struggles are far from over and the future remains uncertain, so we need your continued support – by volunteering your time to assist in the distribution line for our pantry, by donating food or hosting a food drive, or by supporting us with a monetary donation.
The word "Caritas" means "love" in Latin, and we continue to witness love and humanity as our community comes together to support those who are affected by these trying times.
Thank you all as we continue our quest to move our clients beyond hunger to hope.
---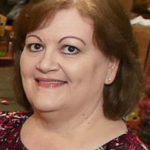 Ann Owen entered the nonprofit world as a professional fundraiser in 1997 after serving numerous organizations as a volunteer. She joined the staff of Caritas in 2014 as their first Director of Development, with hopes of making an impact on those in our community who struggle in the grasps of poverty. She currently has the honor of serving as Co-Executive Director at Caritas of Waco. Ann and her husband are lifelong residents of Waco and have two adult children.
The Act Locally Waco blog publishes posts with a connection to these aspirations for Waco. If you are interested in writing for the Act Locally Waco Blog, please email [email protected] for more information.