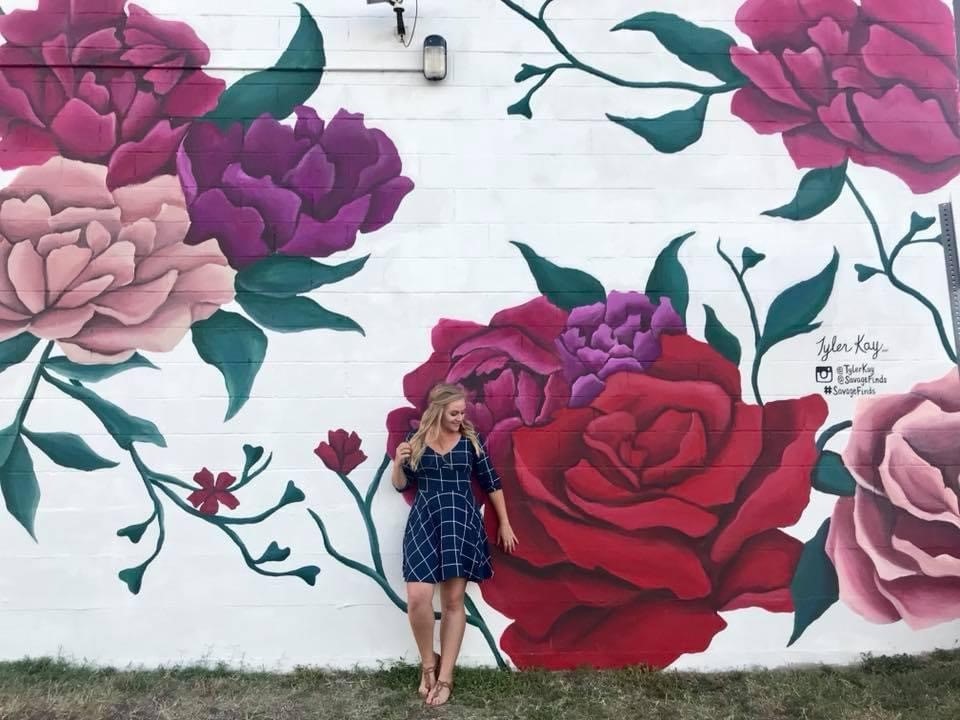 By Debbie Wright
Tyler Kay is Texan, raised right outside of Houston on her family property in Katy. She is the type of person who sees a freshly painted white wall and immediately thinks 'I really want to paint that'. That is exactly what happened back in 2017 when she was visiting Waco with her family. She walked right in the building with her dog by her side and spoke with the owners of Savage Finds, Joey & Tammy. They agreed to let her do it! Joey, actually thought of the phrase, "My greatest find…" so the mural is a mix of her style of florals and his clever wit. Now the beautiful mural has become one of the "greatest finds" in downtown Waco.
Coincidentally, the interview for this article took place on the 3-year anniversary of the mural, which was completed on October 15, 2017. She said this mural really "got the ball rolling" for her and gave her more opportunities for murals. Now, painting murals is both her hobby and day Job, and she wouldn't have it any other way. "Murals are my everything, I only do murals and art now, so it is pretty much my life," she said. As evidence to back up her statement, her were smudged with bright colored paint here and there and even her cell phone had colorful droplets scattered across it.
Her inspiration for becoming an artist came from a big turning point in her life. Her boyfriend died in a car accident and this caused her to reevaluate her life. "I am wanting to leave something behind for me to be remembered by and make a difference," she said. She calls this "Mortality Motivation" and it has helped her turn dark moments in her life into light. She sometimes creates art works titled with important or pivotal dates from her life. The numerical values in her "Glitch & Glam" painting series are based on the dates of occurrences in her life that she acknowledges as instances of redirection towards her bigger purpose. Glitch 12.20 represents December 20th, the date of her boyfriend's accident.
This surprisingly has become one of her most successful and favorite pieces. She has showed her works across the country and her paintings have been featured in renowned art exhibitions, music festivals, and publications. While on exhibition at Art Basel Miami, that piece sold to a private collector in only two days. "Glitch & Glam" is one of her favorite series and she said she hopes to expand and continue it in the future.
Tyler specializes in florals and enjoys incorporating meaningful quotes into her compositions. Many of her works focus on positivity and growth. "I am loving how much my works can be interpreted and people can bring so many different meanings to it (the murals)," she said. She loves seeing people interact with her pieces and finds herself smiling and happy crying over all the pictures people share with her murals of engagement pictures, weddings, and even maternity pictures. "Public art is what I love because people can interpret it in so many ways," she said lovingly.
After her schooling at the University of Houston, where she obtained a Bachelors of Art and a Masters in Arts Leadership. She got a job at Bisong Art Gallery, also in Houston. She worked her way up from mopping floors to being a gallery director. That position opened doors and gave her many new experiences. One of her earliest murals was for a dance studio, from there it was just one after the other until now she does it for a living.
Though she loves what she does, she also loves to travel and see the world. "I would just pack up and go to Europe for a month… That may seem like a long time but since I never really have time off and work every Saturday and Sunday it works as a great break," she said while talking about her love of travel and culture.
If you are interested in finding out more about Tyler Kay or are interested in purchasing some of her art, follow her on Instagram at https://www.instagram.com/tylerkay/ or her other social medias and buy her prints at https://tyler-kay.com/ .
---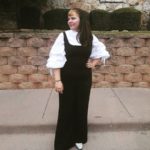 Debbie Wright runs the local Know Waco Podcast, which features upcoming events and activities happening in and around the Waco area. She is a recent Texas Tech graduate, with a major in communications and minor in public relations. She has lived in the Waco area for ten years and loves to work with local creatives and artists.
The Act Locally Waco blog publishes posts with a connection to these aspirations for Waco. If you are interested in writing for the Act Locally Waco Blog, please email [email protected]for more information.