Surviving COVID-19 and the Holidays
By Dr. Peaches Henry
As predicted by infectious disease experts in the summer, coronavirus infections are now surging across the nation during the winter and holiday period. COVID-19 hospitalizations in McLennan County hit a record on Monday, November 24, and local health officials said that warnings about Thanksgiving gatherings must be taken seriously. If not, the McLennan County's medical capacity could be strained in the weeks afterwards. The scientists of the Centers for Disease Control and Prevention are pleading with Americans to avoid traveling for Thanksgiving and to celebrate only with members of our immediate households. Put starkly, spend Thanksgiving with family; spend Christmas in the ICU.
Facing these dire consequences, many of us have decided to forego our traditional holiday celebrations to try to stem the spread of the coronavirus. My own family, stretched across several Texas cities and involved in various conditions of employment including completely working from home, working hybridly, and working face-to-face all dealing with students, has decided to forego a face-to-face Thanksgiving this year.
Though I am disappointed not to be with my family, I wanted to reach out to others to offer some ways that we are trying to get through this time. Let's face it. We might have to spend Christmas separated as well. We might as well prepare for the entire holiday season—Christmas, Hanukkah, Kwanzaa, all of them. These are safe activities that are good for our emotional and mental health that abide by the recommendations of the CDC and local doctors.
Be grateful.
If you are reading this blog, be thankful. Though 2020 has been unprecedented in so many ways, we still have much to be thankful for. Count your blessings. Since it is 2020, count up to twenty blessings. Go ahead and count twenty more, because it's 2020.
Reach out to others.
Though apart, we are in this season together. Some people suffer from depression during this season even when we are not in a worldwide pandemic, so you can imagine how down they are feeling now. We know that giving to others helps build resilience and diminishes some of the isolation many are suffering. Therefore, it is important to be purposeful about reaching out to people and making them feel part of the community.
How about that new neighbor who just moved in? Write a note of welcome with your phone number for emergencies. Or that family whose children have been learning remotely for weeks? Leave a puzzle or a card game on the front porch.
Give poinsettias to several of your neighbors.
Deliver a meal to someone you know will be alone for the holidays. Bake cookies and let your children deliver them to neighbors (remember, contact free!). This is one of the CDC recommended substitute activities.
Find new ways to observe your family's traditions.
One of the activities I miss most is cooking and chatting with family the night before the big day, especially with my mom (now gone to heaven) "suggesting" that I add more of this or that ingredient. This year I'm cooking and chatting with my sister via Zoom.
Among my family's time-honored traditions is playing board games. From Connect Four to Monopoly to Bible Trivial Pursuit to Trouble to Uno to Jenga to Sorry to Scrabble, we play them all. To say that we play games is a milquetoast description of what my family has done over the years. We play ferocious, competitive, winner-take-all games. We game out which games we are going to play weeks ahead. We pick our teams with winning in mind—my late mom, the Sunday School superintendent, for Bible Trivial Pursuit; my son, the strategizing law student, for Monopoly; my brother, the sports fanatic and movie enthusiast, for Trivial Pursuit; and me, the English professor, for Scrabble. Good sportsmanship is a must: winners and losers must shake hands and smile at the end of the game. My sister and I still crack up remembering the grimaces that passed for smiles when we were children. Then we gloat all year till the next holiday (really for years). The family still gives me grief for not remembering Robert Ludlum as the author of the Bourne Identity which would have won the game for the girls in 2006! Argh! So how will my family replace this tradition when we will not be together? We are still going to play games. We are going to harness the power of technology—Zoom, Facetime, Google Hangouts, etc. One game we are going to play is the #Hashtag. This will advantage millennials and GenXers, but I plan to get one on my team. Whatever your family's tradition is, find a new way to celebrate it.
Enjoy watching the Macy's Thanksgiving Day Parade while you prepare dinner? The full 2019 Macy's Thanksgiving Day Parade is on YouTube.
Watch your favorite holiday specials together on Zoom. "A Charlie Brown Christmas" will air free on PBS on December 13. One, two, three, click!
Put "the game" on at everyone's house and watch it "together."
Sing Christmas carols together via Zoom.
Bring back old traditions.
A Christmas card arriving via the USPS in a mailbox would lift the spirits of someone who is spending the holiday alone and away from family. Writing the cards together as a family over cookies and milk or tea could create some great family moments. The benefits of a paper card is that it can be hung up in a barracks, stuck to a refrigerator, or placed on a desk.
Create new traditions.
Plug your charger into your phones and have a conversation with a group of friends or family members. This can easily be done via Zoom, but if folks are tired of Zoom, everyone can kick back on couches and chat. We play a conversation game called "Favorite" at dinner parties that is easily transferable to a phone conversation. It works for all ages and leads to great conversations and reveals surprising tidbits about players. Sample topics: What is your favorite childhood television show? Dark Shadows, anyone? What is your favorite book? Favorite mystery? Favorite car? Favorite animal?
Have a drive-by parade for sick-n-shut-ins at your church.
Put on your favorite soundtrack.
A good soundtrack can make any situation bearable. Put yours on and dance the night away. Take your pick of music streaming platforms: Pandora, Spotify, Apple Music.
Go a step further and dance. Use YouTube videos to learn the steps to line dances. The Electric Slide (old school favorite), the Wobble, the Cupid Shuffle, the Cotton Eyed Joe. Dancing is a much more enjoyable way of getting those endorphins going than running.
Breathe, relax, release.
Embrace the fact that you don't have to cook a twelve-course meal for twenty family members plus that family of six who will show up without notice.
Be happy that Uncle Blank won't be at the table to ask uncomfortable questions. Do give him a call though.
Go to bed early the night before Thanksgiving Day. Better, get up late on Thanksgiving Day.
Put your holiday decorations up early. My neighbors seem to already have decided to do this. Lights lift the spirits. My family usually waits till Christmas Eve to go see the lights. This year, I'm going early.
Bonus: Have hope and faith!
Know that we will get through this time. History is our witness. The world got through the 1918 flu pandemic. We will get through the 2020 COVID-19 pandemic.
---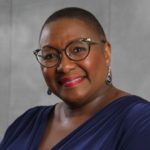 Peaches Henry is the president of the Waco NAACP and an English professor at McLennan Community College. She will be spending Thanksgiving with her best friend and black Lab Samson and Christmas with her son Corey and Samson.
The Act Locally Waco blog publishes posts with a connection to these aspirations for Waco. If you are interested in writing for the Act Locally Waco Blog, please email [email protected]for more information.
(Visited 199 times, 1 visits today)