Mural Monday: Julie Milstead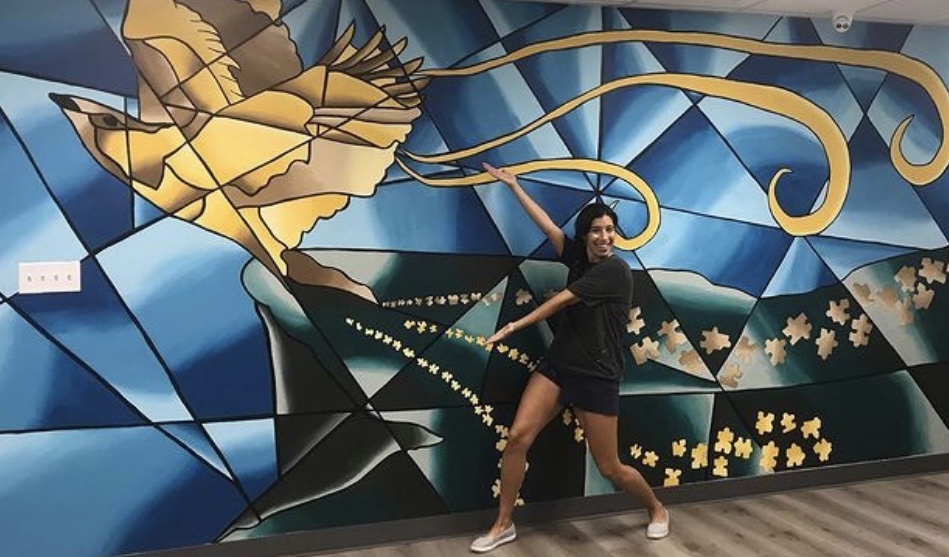 By Debbie Wright
Julie Milstead is a local artist and educator. She has partnered with Creative Waco to bring works of art alive all across the city. Her day job is with kids at Midway Middle School, and she takes her role as an educator very seriously.
She translated this love in her life into a recent Mural for The Cove, which is a teen nurturing center designed to provide a safe space for students experiencing homelessness to access the resources they need to thrive. It is a partnership with Creative Waco and their "artprenticeship." The mural shows a beautiful mosaic-style yellow bird trailed by puzzle pieces.
Harold Brown, the Cove's community relations coordinator, said the puzzle pieces represent all the people that help the Cove students and the bird itself represents the Cove students and their ability to overcome and soar above anything that comes their way. Milstead said this was an amazing experience where she was able to work with some beautiful souls.
Not only has she worked on The Cove mural, she also worked on some fun Baylor-inspired murals on windows downtown. Since Baylor Homecoming was canceled in 2020, artists took to the walls of Waco to celebrate and depict scenes of Baylor throughout our town. If you get the chance to swing by the Hippodrome and Raleigh on 8th Street and Austin Avenue you can find her two bear pieces. One is reminiscent of the Baylor Sailor bear in a colorful pop art tile-grid style, and the other is a stylized balloon bear.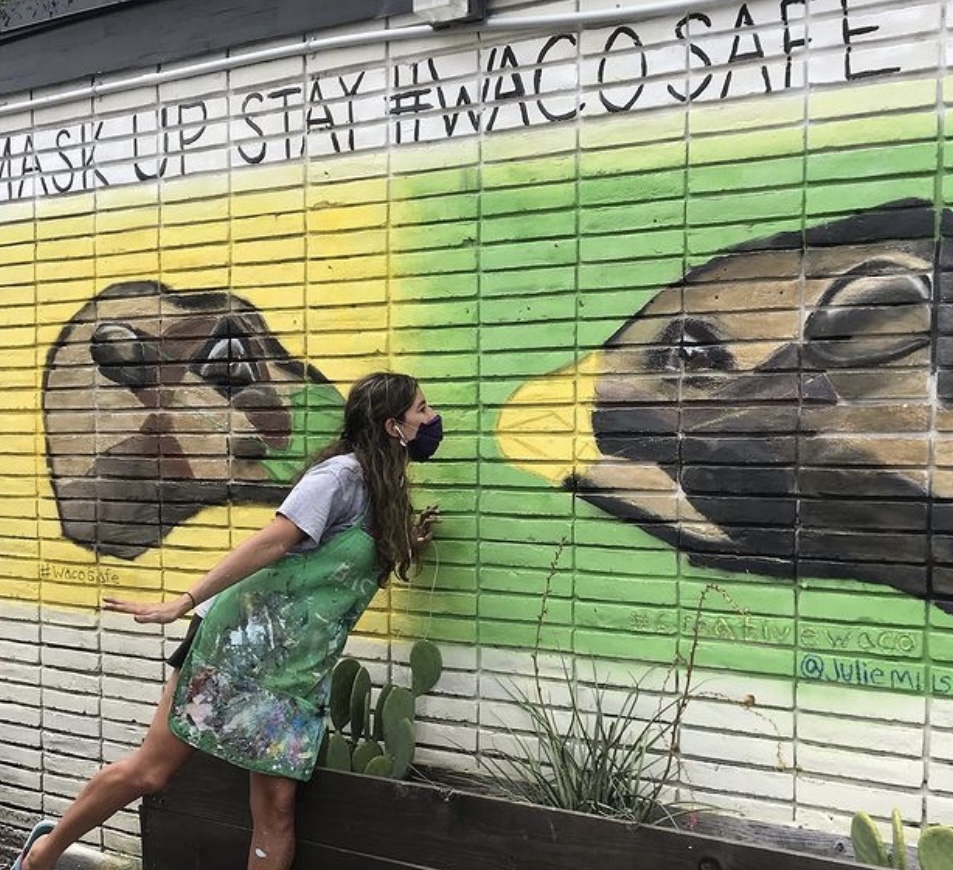 I actually ran into Julie at one of my favorite coffee locations, Pinewood Coffee Bar, off Austin Ave., while she was in the process of painting some beautiful bears wearing masks with the fabulous Fiona Bond. This piece was a part of the #WacoSafe mural project, and she calls this painting "COVID Kisses." In 2020, she also participated in the #WeChalkWaco campaign in partnership with MC Art Supplies.
Milstead has worked all over Waco, and you might have even seen some of her works in the past at Dichotomy and not even known it.
Though she is a talented artist who has worked with many mediums — including painting on sidewalks, walls, glass, shoes, tables, drum rims, and even gaming controllers — she works a lot with acrylic paint to bring her abstract designs to life on canvas. Her abstract works are visually stunning with bright colors and texture.
One of my personal favorite collections is her Waco Cityscapes collection, and you can find one featured at The Brazos Theatre. To find more of her art and follow her on her journey on Instagram @julie_milstead_artists. There you can see her many loves and the things she is inspired by, like her travels, her family, and even Jujitsu.
---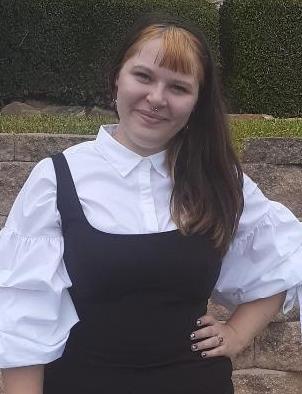 Debbie Wright runs the local Know Waco Podcast, which features upcoming events and activities happening in and around the Waco area. She is a recent Texas Tech graduate, with a major in communications and minor in public relations. She has lived in the Waco area for 10 years and loves to work with local creatives and artists.
The Act Locally Waco blog publishes posts with a connection to these aspirations for Waco. If you are interested in writing for the Act Locally Waco Blog, please email Ferrell Foster at [email protected].
(Visited 358 times, 1 visits today)