Mayor's opening remarks for Jan. 27 COVID-19 press conference
By Mayor Dillon Meek
I want to thank our hospital personnel and our health district and city staff members working around the clock while being caring and compassionate and undoubtedly exhausted. Thank you!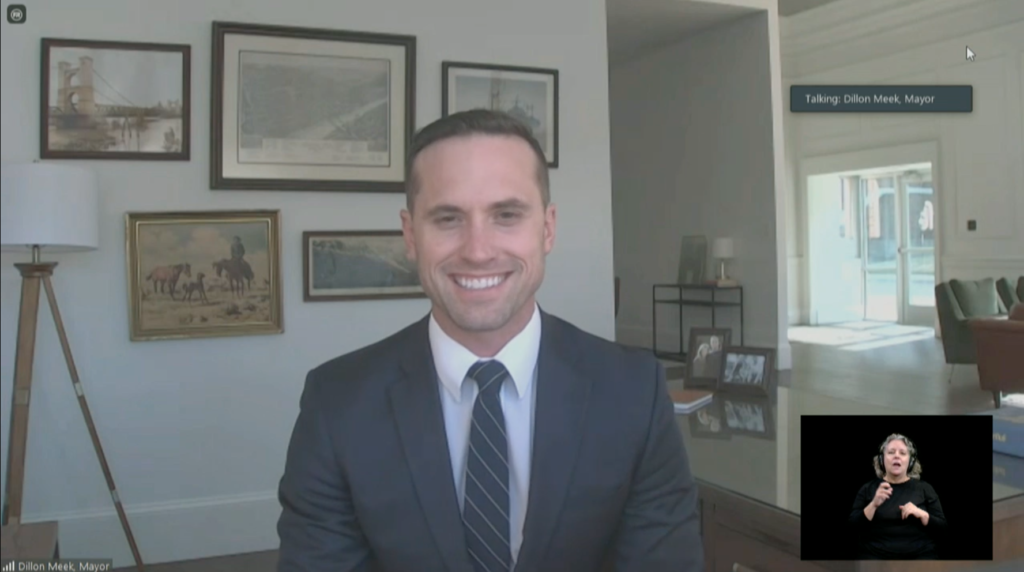 Our local hospital systems, our city staff, our county judge, and myself are in close, regular contact with one another as we discuss and monitor data regarding our hospital capacity and hospital personnel and monitor whether or not there will be a need for an alternative care site. To date, this still seems more improbable than probable. Our hospitals and our Waco-McLennan County Office of Emergency Management have developed robust plans to keep our population safe should the number of hospital patients increase to a degree of serious alarm.
Our local doctors continue to advise us of the seriousness of this virus, and I urge our community to also make wise decisions in the days ahead by following these doctors' calls to wear masks in public, follow safe distancing protocol, and wash hands. Following this doctor-endorsed protocol makes this situation not fearful.
As a reminder, at the present time, Texas mayors and local governments have almost no policy-making authority. Gov. Abbot has implemented and has control of the regulations and mandates – from wearing masks to closures of bars to occupancy requirements. The governor has issued an order stating we cannot issue more restrictive orders than him. We have not heard any word from the governor's office that this might change.
The Waco-McLennan County Emergency Operations Center is working with the Texas Department of Emergency Management and DOCS Health Testing to provide free COVID-19 testing to the community. When you register online, it does ask for your insurance information. You do not have to have insurance to receive a test. For people with insurance, there is no out-of-pocket cost or copay to get the test. Please go to COVIDwaco.com to register.
The Emergency Management Center previously received a refrigerated trailer to be used as a temporary morgue. This refrigerated truck is currently housing 19 remains.
Vaccinations
This is a time for hope! People in McLennan County are getting vaccinated and we celebrate that.
As a reminder, there are many local organizations giving vaccines; we call these " vaccine providers" or just providers. A list of these providers is on COVIDwaco.com and includes CVS, HEB, Brookshire Brothers, Baylor Scott and White, Ascension Providence. One of these many providers is our Waco-McLennan County Public Health District.
Of these providers, two were selected by the state to serve as vaccination Hubs to get vaccinations quickly to all eligible 1A and 1B recipients, regardless of residence. These two hubs are the public health district and Ascension Providence. Hub sites get larger quantities of vaccines than other providers. This week, the public health district received approximately 1,500 doses and Providence received 1,950 doses.
As a reminder, local government has no authority or control over any provider but does work to collaborate and partner with providers when they are able and willing.
Public Health District vaccination clinic
Yet again, staff was able to administer all doses without wasting any vaccine. Many vials even contained more than the average 10 doses per vial and staff made sure to utilize all of it — 1,618 people were vaccinated in the two-day clinic. I am so thankful for the care and effort our staff, partners, and volunteers put into every aspect of these events.
We have received another shipment of 1,500 doses and are hosting another vaccine clinic this week at the Waco Convention Center on Thursday, Friday, and Saturday. We were glad to be able to make a weekend clinic day available for those who are unable to make it in during the normal workweek.
We did not open a registration portal for appointments for this clinic. Staff worked from the waitlist to schedule appointments and reached out by email and by phone to the contact information provided in the waitlist. Staff is working diligently to make sure this is a fair and equitable process.
I acknowledge that many citizens have tried to register for the vaccine with us and were unsuccessful, and that this process has been frustrating for so many. The registration process was unable to accommodate the initial volume, but processes have improved, and the website will be continually updated to provide clarity. Be encouraged to continue to log on to the website, read updates in emails, and sign up for the public health district's waiting list.
If you did not get an appointment for this week's clinic, please be patient. Demand continues to far outweigh supply and the Health District is still only receiving 1,500 doses per shipment. We will continue to get consistent shipments of vaccine allocations from the state, and we will continue to move through the waitlist and to host clinics. We are not scheduling appointments until the allocations have been physically received.
If you have signed up through any of the prior lists, you are on the waitlist. We did not throw out any of the previous lists or contact information.
Please, continue to encourage those you know who are eligible for a vaccine to get on the waitlist, or help them register if they are unable. Just make sure that the name on the waitlist is the name of the eligible individual getting the vaccine. The waitlist link is available online at COVIDwaco.com (look for the big red button labeled Vaccine Waitlist Registration) and the call-center is available to assist with any questions or registration at 254-750-1890.
You are being responsible, good citizens in signing up for the waitlist. The list is 20,000 – a testament to how well our citizens are responding and Waco should be proud. Your Public Health District is committed to working through the list, and residents should know that, by signing up, they are helping Waco understand who needs a vaccine and how to best get it to people with different needs.
As we continue to move forward with these clinics, it is so evident that these events are a community effort. So much goes on behind the scenes that makes these clinics run smoothly. I would like to thank our community partners who have helped the Public Health District make these clinics happen:
• Baylor Scott and White-Hillcrest
• Baylor University, Louise Herrington School of Nursing in Dallas
• McLennan Community College, School of Nursing
• Tarleton State University, School of Nursing
• American Medical Response, EMS services
• Central Texas Medical Reserve Corps and all who have volunteered through that great organization
• Heart of Texas Red Cross
• McLennan County
• City of Waco Fire Department, Office of Emergency Management, Police, IT, Waco Convention Center, and the many employees who have pivoted to help work the call-center on weekends and after hours
• I would particularly like to highlight this week that Waco Transit is providing free rides to the Public Health District vaccine clinic through the Demand Response Van Service. Call 254-750-1620 24-hours in advance of your appointment to schedule your ride.
• City and county leadership and the Public Health District staff are working hard with limited information about shipments of vaccines. Communications are and will continue to be challenging, and your patience is appreciated. We will continue to communicate through our weekly update emails, our website, this press conference, social media, town hall meetings (one of which was recently done with a variety of leaders including Commissioner Pat Miller and Council Member Andrea Barefield).
Some telephone numbers to call
• Public Health District-supported bilingual call center (254-750-1890) to provide vaccine information and/or assist clients with registration for the vaccine clinic through the online registration portal,
• City Public Information bilingual Hotline (254-750-5606) with recorded, up-to-date COVID-19 and vaccine messages and resources.