County census data #2: Racial & ethnic population changes
By Jeremy Rhodes
The first wave of data released from the 2020 US Census is here, and many of the demographic shifts that we've seen across the country and the state are mirrored in our Waco community. In this series of posts, I am presenting some of the demographic changes we see in our county from 2010 to 2020. The first post presented numbers regarding general population growth and decline. This second post will show an overview of racial and ethnic changes in the county.
The census website advises caution when comparing the racial and ethnic composition of 2010 to that of 2020. According to their website, "data comparisons between the 2020 Census and 2010 Census race data should be made with caution, taking into account the improvements we have made to the Hispanic origin and race questions and the ways we code what people tell us."
With that caveat in mind, from 2010 to 2020, the U.S. saw the most dramatic growth among two racial and ethnic groups: Latinos and multiracial people. The U.S. saw a 23% increase in Latinos, while the state of Texas saw a 21% increase in Latinos. In McLennan County, the Latino population increased by 23.6%, or an addition of 13,116 people. Multiracial Americans also saw significant growth throughout much of the United States. In McLennan County, multiracial people now make up 11.8% of the population, which is an increase of 428.6%.
The following table shows a more detailed racial and ethnic makeup for the county, in comparison to Texas and the entire U.S.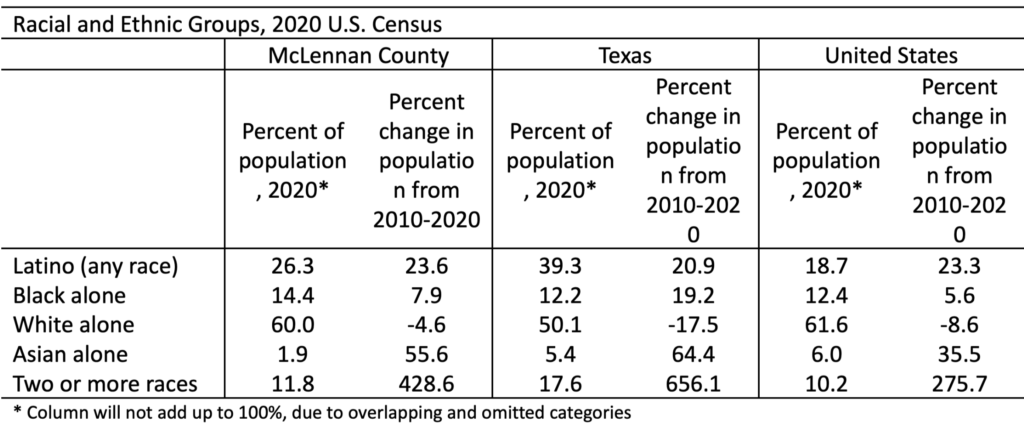 The tremendous growth of multiracial people is caused by multiple factors. The most obvious factor has to do with lessening stigma against interracial relationships. As we come to see more and more interracial pairings, we will have more biracial children being born.
Second, the Census Bureau has improved the way they ask the race/ethnicity question by creating two separate questions for race and ethnicity, which experts believe will provide a more accurate portrait of how people identify (this change is expected to also improve our count of Latinos in America).
Third, there is evidence that multiracial individuals are more willing to identify as such than in the past. For example, a person who has one Black parent and one Latino parent is now less likely to choose between those two identities, and more likely to identify as both.
The next post in this series will display maps that show where we have seen the growth and decline for specific racial/ethnic groups in Waco. If you have any questions about this, or if you would like Jeremy to give an overview of these changes to your group, staff, or organization through Zoom or in person, please contact Jeremy Rhodes at [email protected].
Jeremy Rhodes, Ph.D., is director of research and community impact for Prosper Waco.
The Act Locally Waco blog publishes posts with a connection to these aspirations for Waco. If you are interested in writing for the Act Locally Waco Blog, please email Ferrell Foster at [email protected].