Dr Pepper Museum marks first year of civil rights exhibit; new Bottling Room exhibit coming
By Mary Beth Farrell
November marks the one-year anniversary of the opening of the "Sit Down to Take a Stand" Waco lunch counter exhibit at the Dr Pepper Museum. The lessons learned in the process of creating this exhibit and living with its impact have shaped the staff and board in ways we could not have anticipated.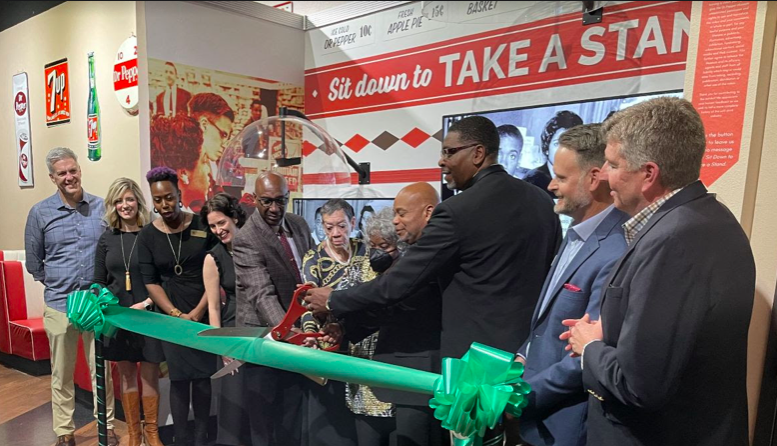 Thank you to our exhibit committee members – Dexter Hall, Anthony Betters Sr., Gary Myles, Dr. Stephen Sloan, and Joy Summar-Smith – for leading us to a better understanding of the influence our Soda Fountain could have on visitors.
Over 2.7 million visitors have come to the museum since we opened in 1991, and the Soda Fountain – the original home of the Dr Pepper float – has been a favorite part of the experience for so many. However, before the civil rights movement, people of color were denied service at locations throughout Waco, including local soda fountains.
In the reexamination of our exhibits and the stories they tell, we realized the nostalgia surrounding soda fountains that people found in our space was not substantive enough to carry us through the next 31 years. The result of this reflection is "Sit Down to Take a Stand," a recreated lunch counter that features audio from local sit-in participants, video from sit-ins in Houston, and photographs from across the South creating a moving, immersive experience for museum visitors.
The exhibit is in the Soda Fountain so all visitors can access it without paying admission. The Soda
Fountain was also redesigned with a 1960s theme to reflect a time when all patrons were welcome while keeping the vintage feel visitors expect.
"Sit Down to Take a Stand" is only the beginning. In February 2023, the most iconic space in the Museum – the historic Bottling Room – will reopen to the public featuring the stories of the workers who operated the bottling plant. Unfortunately, this exhibit hasn't been updated since the museum opened in 1991 and currently tells the story of nostalgia from the perspective of those running the company, largely leaving out the contributions of everyday workers.
If you have never visited the museum or it's been a while since you've stopped by, now is the time! In addition to telling the stories of Dr Pepper and the soft drink industry in a way we have never done before, the experiences the museum has to offer are one-of-a-kind. Make-A-Soda, Taste-A-Soda, the Extreme Pepper Experience, and the Paranormal Experience take your visit to the next level.
To support the historic Bottling Room renovation, visit our website and donate to our annual Challenge Grant. Our Challenge Grant goes to the preservation of our historic buildings and our collection. With every dollar donated, Keurig Dr Pepper will match the donations up to $100,000.
Mary Beth Farrell is director of development & communications for the Dr Pepper Museum.